8.7 seconds…that is exactly how long it took for me to become a big fan of the 2008 Yamaha Jog 50. That my fellow scooter riders is exactly how long it takes the Jog to hit 50kph. Now 8.7 seconds also happens to be the fastest 0-50kph (0-31MPH) time we've ever recorded for a 50cc machine. The ironic part is that the bike it knocked off to become number one was also a Yamaha Jog; a 1988 model nonetheless. So it seems that in twenty years time things have only improved a total of one second; 9.7 to 8.7 seconds. I'm not sure you could really call that progress. In fairness back in the eighties manufactures weren't hamstrung by the currently ridiculous 50cc power output restrictions so older bikes tend to develop more power than modern equivalents.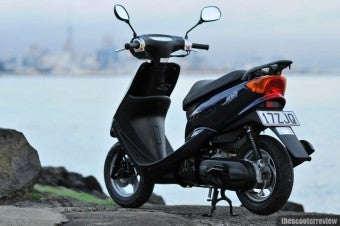 So the Jog…well it's a scooter. I'm such an observant man. The jog reminds me of what I wrote about the Honda Lead 100, it isn't the flashest looking machine in the Milky Way. It won't turn heads as you ride down High St and it certainly won't increase the quality and frequency of your love life escapades. What the Jog will do however is zap you around town at as close to warp speed as you can get on a 50cc machine. This isn't actually that close…with a max speed of 61kph it's actually a hell of a long way from warp speed. The two words; Jog and Warp should probably never be used in the same sentence. Let's invent a new speed, Jog speed. Jog speed is fast compared to say, a normal scooter, a wombat or maybe a parking meter.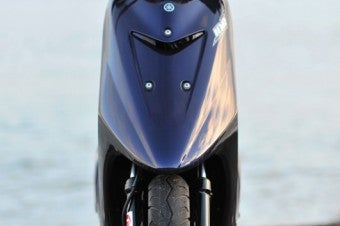 Let's get some facts sorted before we delve further into Jog speed; the Jog seems strong in virtually all departments. It's a fantastic handling scooter and absolutely loves to be thrown into corners with abandon. The suspension also does a nice job of absorbing bumps considering it only runs small 10inch wheels. The brakes feel strong and provide better than average stopping power for a 50cc bike and as the numbers prove, it's one of the fastest 50cc scooters available. The Jog also features an under seat storage area actually designed by someone with a brain. See a vast portion of 50cc machines have a hard time taking a full face helmet in their storage areas…not the Jog; it easily takes a full face helmet. The Jog also treats you with remote seat access on the ignition so you don't have to keep pulling the key out to open the seat. I guess it comes down to time; Yamaha has been making the entry level Jog for so long that they've simply ended up with a solid scooter in nearly all departments.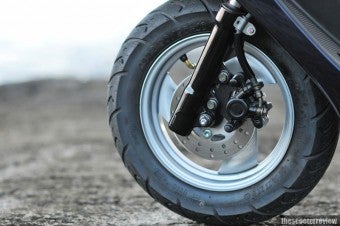 The other departments. There are only two areas where the Jog doesn't stand out, styling and fuel consumption. Now don't get me wrong, the Jog is not an ugly scooter it's just…well it's just pretty dull to look at. I certainly didn't find myself looking back at it as I walked away. Not that I do that too often, I'm too busy checking myself out in shop windows. We returned 2.8L/100kms – 67MPG on our fuel economy test which is not an especially good number but still pretty solid. Our test bike was brand new so I imagine the economy will increase as the engine beds in. We're going to re-test it when we run the Jog in our 2008 50cc comparison test shortly so check back.
Update we re-tested the Jog and returned 2.8L/100kms - 85MPG which is good for a two stroke and much more in line with the manufacturers claims.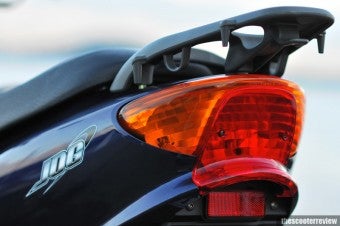 Summing up the Yamaha Jog 50. That is pretty easy…it has JOG SPEED, man that is everything. Everything else is irrelevant. Line this thing up next to a wombat and the poor hairy little guy won't even know which way you went. Hey, line it up next to every other 50cc scooter we've tested and all they'll see is your rump as you moon them into the distance. Really though, the Jog is right at the very top of my list when it comes to sensibly priced 50cc scooters. The Jog has been one the best 50cc machines for a long long time and for good reason. It really does almost everything well. If you're in the market for a 50 then the Jog should be the very first bike you ride. I doubt you'd buy anything else for similar money once you've tried it. Besides everything else will just feel…slow.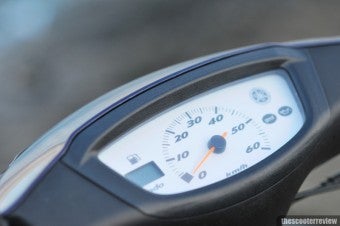 Price
$2199 NZ $1995 AUS
Lap Time
42.8 (Slippery track conditions)
0-50km/h
8.7 Seconds
Top Speed
61
Fuel Economy
2.8L/100kms - 85MPG (re-tested, was much improved from first test)
Speedo Accuracy

50kph displayed = 48kph actual

---

Pros:

Fast, great handling, good storage, superb all round ability

Cons:

Pretty average looking...that's about it.

---

Handling
Performance
Fuel Consumption
Value for money
Ease of use
Styling
Build quality

---

Overall Score

86%
Manufacturer Specifications
| | |
| --- | --- |
| Max power at shaft | --- |
| Max torque | --- |
| Engine Type | Single-cylinder 2 stroke |
| Cylinder Capacity | 49cc |
| Seat height | 710mm |
| Dry weight | 69kg |
| Kerb weight | --- |
| Fuel tank capacity | 5.7 liters |
| Starting | Electric & Kickstart |
| Transmission | CVT "Twist and Go" |
| Storage volume | --- |
| Cooling | Air Cooled |
| Bore X stroke | --- |
| Compression ratio | --- |
| Chassis | Steel Tube |
| Front suspension | Telescopic fork |
| Rear suspension | Unit swingarm |
| Front brake | Disc |
| Rear brake | Drum |
| Front wheel/tyre | 90/90-10" |
| Rear wheel/tyre | 900/90-10" |
| Length | 1670mm |
| Width | 640mm |
| Wheelbase | 1190mm |
| Max speed (km/hr) | --- |
| Type approval | --- |
| Consumption (ECE applicable text cycle) | --- |
| Consumption @km/h - km/l | --- |
| Audible Indicator | yes |
| Full helmet storage | yes |
| Glove box | yes |
| Fuel Guage | yes |
| Trip Meter | no |
| Seat release (via remote control) | no |
| Seat release (remote, ignition/switch) | yes |
| Alarm | no |
Comments
(24)


Subscribe to this comment's feed
Last Updated ( Friday, 20 February 2009 11:18 )