Page 2 of 3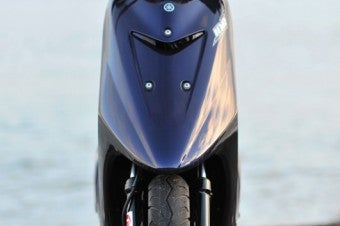 Let's get some facts sorted before we delve further into Jog speed; the Jog seems strong in virtually all departments. It's a fantastic handling scooter and absolutely loves to be thrown into corners with abandon. The suspension also does a nice job of absorbing bumps considering it only runs small 10inch wheels. The brakes feel strong and provide better than average stopping power for a 50cc bike and as the numbers prove, it's one of the fastest 50cc scooters available. The Jog also features an under seat storage area actually designed by someone with a brain. See a vast portion of 50cc machines have a hard time taking a full face helmet in their storage areas…not the Jog; it easily takes a full face helmet. The Jog also treats you with remote seat access on the ignition so you don't have to keep pulling the key out to open the seat. I guess it comes down to time; Yamaha has been making the entry level Jog for so long that they've simply ended up with a solid scooter in nearly all departments.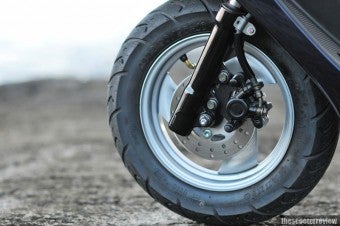 The other departments. There are only two areas where the Jog doesn't stand out, styling and fuel consumption. Now don't get me wrong, the Jog is not an ugly scooter it's just…well it's just pretty dull to look at. I certainly didn't find myself looking back at it as I walked away. Not that I do that too often, I'm too busy checking myself out in shop windows. We returned 2.8L/100kms – 67MPG on our fuel economy test which is not an especially good number but still pretty solid. Our test bike was brand new so I imagine the economy will increase as the engine beds in. We're going to re-test it when we run the Jog in our 2008 50cc comparison test shortly so check back.
Update we re-tested the Jog and returned 2.8L/100kms - 85MPG which is good for a two stroke and much more in line with the manufacturers claims.
Last Updated ( Friday, 20 February 2009 11:18 )