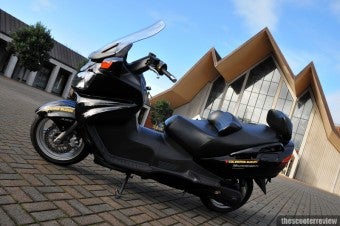 This must be a dream…but it feels so real, the smell of sawdust on the floor, the crowds, and the breeze blowing through the big top. I look in the mirror and see myself… resplendent in a gleaming white one-piece zip up suit… complete with cape, and a helmet decorated with 5 large red stars running from forehead to neck. Something very strange is going on, I don't think I am going to like it one little bit… a gentleman dressed in red enters wearing a top hat…"are you ready for the big one?" "Big what?" I asked him. Why the world record distance attempt for a human being fired from a cannon of course! The blood drained from my face, I was as white as my suit… "but, but…" I mumble " I don't WANT to be shot out of a cannon!"
Too late now he told me… and you should see the new cannon… it is a monster!… You should beat the record by miles… I have money on you going two hundred kilometres!
I didn't get it, how could anyone be propelled 200kms, from a cannon , without being torn to shreds? I began my slow walk to the stage, I could barely put one foot in front of the other. Attendants shoved me into the dark maw of an enormous black tube… the crowd stilled and I heard a match being struck…a gentle "fizzing" sound… BOOOM! I woke up screaming, in a cold sweat, sheets knotted around me… then I realised… today was the day… I was going to ride the "big boy" the Suzuki Burgman 650… the cannon began to look appealing.
The plan was simple, use this tool for what is was designed for (bearing in mind as tools go the Burgman is more Howitzer than Hammer)… a nice weekend jaunt into the country, a 200km trip each way with some gentle suburban riding at both ends… perhaps a nice hotel and a steak. This is sounding less daunting by the minute. First things first, does it work?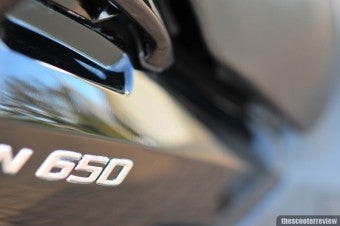 Any large capacity Maxi Scooter is basically a touring motorcycle and to this end the Burgman has it's pros and cons. Storage is, as would be expected, good, there is plenty of space to wedge a weekends worth of clothes and supplies without too much hassle. There are stacks of aftermarket panniers, top boxes etc available as well if you need to bring the kitchen sink. Unfortunately access is a major issue, the seat does not hinge up far enough, making getting into the storage area difficult, this is where something like Piaggio's X8 takes storage space honours due to the dual opening system with a rear opening (boot?) and properly hinged seat.
On the road is where the big Burgman comes into it's own with good, confidence inspiring handling and reasonable power output it chews highway miles without effort and more importantly without tiring the rider. Good quality suspension components and tyres allow an aggressive rider to "have a go" at a few sport bikes through the twisties if that is your bent. High speed however, around the 100mph (160kph) mark, on less than perfect roads, the chassis develops a somewhat disturbing "shimmy" when pushed. As I mentioned, touring is comfortably achieved although there is a fair bit of buffeting from wind coming over the top of the screen onto the helmet of even "average" sized riders. This could be repaired with a slightly redesigned or taller screen, or potentially with one of the aftermarket "winglet" devices available that redirect airflow at the top of the screen.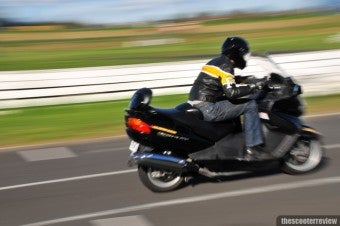 Performance is something you probably consider high on your priority list when looking for a two wheeled touring machine. Does it accelerate and stop well enough for safe passing and emergency braking? Well this is where it gets a little complicated… I will cover the last one first. The brakes on the Burgman 650 really are very good with sturdy callipers gripping twin discs up front and a single in the rear, the brakes are pretty much up to the task of slowing down Suzuki's behemoth 650. Acceleration is a bit of a subjective topic, now the Suzuki is pretty quick for a scooter, and with "power mode" on, as quick or quicker to accelerate than Honda's Silver Wing. Both bikes are however lacking in horsepower to make overtaking easy. Roll on acceleration is OK. But when you are going up a hill at 80kph and want to overtake the stock truck in front of you, you need to be able to just turn the throttle to pass safely. On a machine that runs at over 230kgs and only makes 55 odd hp this is never going to be the case… a bit more planning is needed… it will make the pass it just takes longer than I would consider ideal for a vehicle that is clearly designed for chewing up long highway miles. This is the equivalent of a GT or Gran Tourer in the car world, just to remind you a genuine GT car tends to be a big, comfortable vehicle with big horsepower… this combo makes touring comfortable and simple… the Burgman is half way there… it is a big heavy comfortable vehicle which unfortunately makes less than adequate power. All the major manufacturers are going to have to watch out, with the new GP800 from Piaggio on the scene now the power numbers will be forced upward to compete, I say bring it on!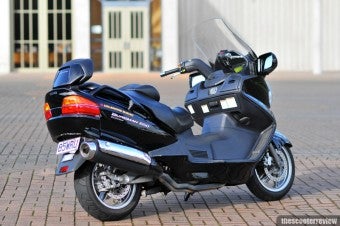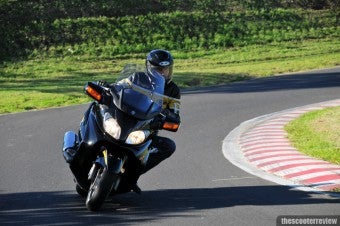 Now I mentioned, "power mode" in the last paragraph… this is one of the many gadgets that Suzuki have included in the Burgman's reasonably large repertoire thereof. First; power mode, this is controlled by one of about 318 thousand buttons on the left handle bar. The CVT on the Burgman is electronically controlled (rather than by weights etc) the power button basically changes the way the transmission shifts "gears" effectively it just allows higher engine revs to develop. This button does improve acceleration, however it also induces a "jerky" quality to the ride, it feels very similar to "chain lash" on a conventional motorbike, the sensation is like constantly moving the throttle on and off… which can be pretty unsettling, especially in slippery conditions. The next gizmo on the list is the "manual shift" option… you hit the Drive/Manual button, which is also on the left handle bar area, the bike then allows you to control when the transmission "changes gear" this is effectively a user controlled version of the "power button" It works about as well as you would expect of an electronic version of a gear change. To me this seems to be virtually pointless. The entire point of a CVT is so you don't have to mess around with gears etc. This is not an "on the limits" racing machine. The Burgman is a big, comfortable mile muncher, so why on earth would you want to change gears? Even with the gizmos, gear changes and gadgetry the Burgman transmission never really felt, right… in what we began calling "slush mode" (full auto, no power mode) it was OK but a bit slow. In both "manual" and "power" modes the transmission was a bit of a nuisance. Personally I would have been happier if Suzuki had just thrown away all the toys and built a smooth, efficient gearbox as Honda did with the Silver Wing… That bikes transmission made good use of the engine power, was always smooth and always predictable… how it should be.
You may be wondering to yourself how on earth Mr Suzuki managed to cram so many buttons onto one little area near the left hand grip? Wonder no more, there was no science involved… they just crammed them in! What this means in the real world is that if you try to use the turn signal, at night… wearing gloves you will, first of all lurch into power mode…. Then manual mode, then you will blind oncoming traffic with the high beam then you will put it into 2nd gear, and, as your front wheel slides from under you and you fly from the bike, you will hit the turn signal switch with your left knee…unfortunately by this point it doesn't really need to be on any more. Is it really all that bad? Yes, there are no fewer than 9 possible button position controls on that one control surface. The one you need most often, the turn signal, is recessed and the same black as it's mounting. This is a joke; One suspects that nobody rode the Burgman before it left the factory, or at least not at night… wearing gloves.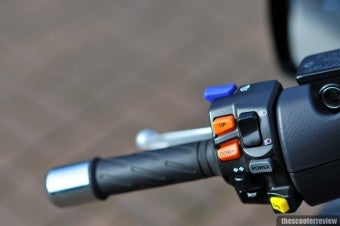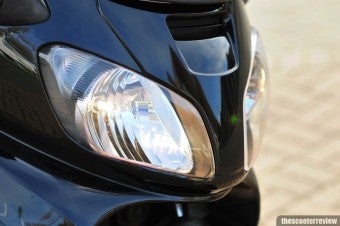 So what do you get really? From a small field of competitors the Burgman 650 is somewhere in the middle, it is not the worst of the big maxis, and in some areas, power for example… or gizmos it ranks quite high. All in all this is a reasonably priced touring machine that will get you to your destination in comfort. It will also give you some entertainment on the way with reasonable performance when cornering. You shouldn't loose too many limbs buying fuel every time you ride it, as it is "reasonably" frugal. It is however pretty awkward to manoeuvre at low speed due to its high seat and weight. This along with the set-up of the controls and the less than perfect nature of the transmission set-up would lead me, personally in a different direction. However it is definitely worth a ride as these can now be picked up for reasonable outlay second hand. If I understand correctly the new '08 Burgmans, both the 650 and the 400 have addressed some of the failings of this "05 model… if this is the case (and we will test them soon) the Burger will come back into the picture.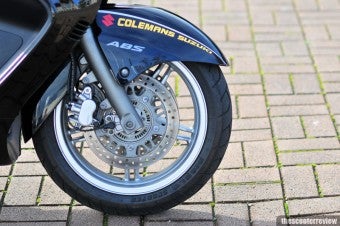 However as we are also about to test the new GP800 which appears to be the new benchmark for this category… If it is as good as it sounds on paper, Suzuki, Honda and Yamaha are going to have to go away and have a very long think about what a Maxi scooter should be. 50 horsepower is going to be a figure associated with the "also rans" Power figures are now closing on one hundred horsepower… and no doubt heading toward 200… that will be a happy day!
With regard to fuel economy for this bike, on our test we managed to get 45mpg on the open road. The knowledgeable owners at the Burgman USA forums advise that an average of between 42 and 48 mpg is about right over a longer period of time with the worse end of the spectrum achieved around town and the potential to squeeze 50mpg with careful freeway riding.
Price
USA $7799 (MSRP new)

0-50km/h

0-100

3.1 Seconds

7.3 Seconds

50-80km/h

Lap Time

2.7 Seconds

42.6 Seconds

Fuel Economy
5.2L/100kms - 45MPG
Speedo Accuracy

50kph displayed = 46kph actual

---

Pros:
Comfort, Touring Capability, Gizmos
Cons:
Weight, Storage access, Gizmos


---

Handling
Performance
Fuel Consumption
Value for Money
Ease of Use
Styling
Build quality

---

Overall Score

74%
Manufacturer Specifications
| | |
| --- | --- |
| Max power at shaft | 56hp (41kw) @7000rpm |
| Max torque | [email protected] |
| Engine Type | twin-cylinder, DOHC, Fuel injected 4 stroke |
| Cylinder Capacity | 638 cc |
| Seat height | 750mm (29.5 in.) |
| Dry weight | 238kg (524 lbs.) |
| Kerb weight | --- |
| Fuel tank capacity | 15 litre (4.0 gal.) |
| Starting | Electric only |
| Transmission | SECVT (Suzuki Electronic CVT) "Twist and Go" Automatic Transmission |
| Storage volume | |
| Cooling | Liquid Cooled |
| Bore X stroke | 75.5 x 71.3mm |
| Compression ratio | 11.2:1 |
| Chassis | High Tensile Steel tube |
| Front suspension | Telescopic, oil damped. 41mm inner tubes. 105mm of travel |
| Rear suspension | Aluminum Swingarm with Twin shockand adjustable preload |
| Front brake | Dual hydraulic disc. 260mm rotor with twin piston caliper |
| Rear brake | Single hydraulic disc, 250mm rotor with twin piston caliper |
| Front wheel/tyre | 120/70-R15 |
| Rear wheel/tyre | 160/60-R14 |
| Length | 2260mm (89.0 in.) |
| Width | 810mm (31.9 in.) |
| Wheelbase | 1595mm (62.8 in.) |
| Max speed (km/hr) | --- |
| Type approval | --- |
| Consumption (ECE applicable text cycle) | --- |
| Consumption @km/h - km/l | --- |
| Audible Indicator | yes |
| Full helmet storage | yes |
| Glove box | yes (several small compartments) |
| Fuel Guage | yes |
| Trip Meter | yes |
| Seat release (via remote control) | no |
| Seat release (remote, ignition/switch) | yes |
| Alarm | no |
Comments
(15)


Subscribe to this comment's feed
Last Updated ( Friday, 08 August 2008 13:57 )