Page 2 of 4
Any large capacity Maxi Scooter is basically a touring motorcycle and to this end the Burgman has it's pros and cons. Storage is, as would be expected, good, there is plenty of space to wedge a weekends worth of clothes and supplies without too much hassle. There are stacks of aftermarket panniers, top boxes etc available as well if you need to bring the kitchen sink. Unfortunately access is a major issue, the seat does not hinge up far enough, making getting into the storage area difficult, this is where something like Piaggio's X8 takes storage space honours due to the dual opening system with a rear opening (boot?) and properly hinged seat.
On the road is where the big Burgman comes into it's own with good, confidence inspiring handling and reasonable power output it chews highway miles without effort and more importantly without tiring the rider. Good quality suspension components and tyres allow an aggressive rider to "have a go" at a few sport bikes through the twisties if that is your bent. High speed however, around the 100mph (160kph) mark, on less than perfect roads, the chassis develops a somewhat disturbing "shimmy" when pushed. As I mentioned, touring is comfortably achieved although there is a fair bit of buffeting from wind coming over the top of the screen onto the helmet of even "average" sized riders. This could be repaired with a slightly redesigned or taller screen, or potentially with one of the aftermarket "winglet" devices available that redirect airflow at the top of the screen.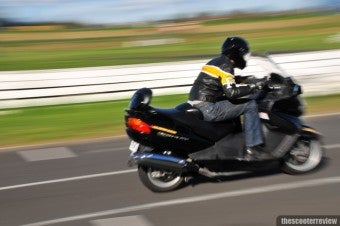 Performance is something you probably consider high on your priority list when looking for a two wheeled touring machine. Does it accelerate and stop well enough for safe passing and emergency braking? Well this is where it gets a little complicated… I will cover the last one first. The brakes on the Burgman 650 really are very good with sturdy callipers gripping twin discs up front and a single in the rear, the brakes are pretty much up to the task of slowing down Suzuki's behemoth 650. Acceleration is a bit of a subjective topic, now the Suzuki is pretty quick for a scooter, and with "power mode" on, as quick or quicker to accelerate than Honda's Silver Wing. Both bikes are however lacking in horsepower to make overtaking easy. Roll on acceleration is OK. But when you are going up a hill at 80kph and want to overtake the stock truck in front of you, you need to be able to just turn the throttle to pass safely. On a machine that runs at over 230kgs and only makes 55 odd hp this is never going to be the case… a bit more planning is needed… it will make the pass it just takes longer than I would consider ideal for a vehicle that is clearly designed for chewing up long highway miles. This is the equivalent of a GT or Gran Tourer in the car world, just to remind you a genuine GT car tends to be a big, comfortable vehicle with big horsepower… this combo makes touring comfortable and simple… the Burgman is half way there… it is a big heavy comfortable vehicle which unfortunately makes less than adequate power. All the major manufacturers are going to have to watch out, with the new GP800 from Piaggio on the scene now the power numbers will be forced upward to compete, I say bring it on!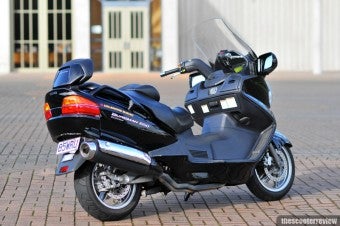 Last Updated ( Friday, 08 August 2008 13:57 )