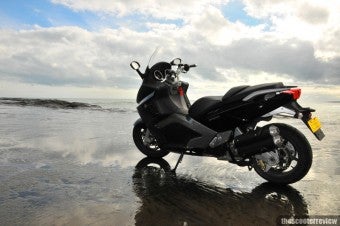 For as long as scooters have been available they have suffered from somewhat of an image problem. "Scooters are for people who can't ride real motorcycles" is something I've often heard. In fact someone said these very words to me while I was testing this very bike. He said, "Get a real bike." What on earth does that mean? Maybe he meant one that goes fast. Hmmm, can't be that, this scooter goes fast, probably faster than the idiot who mentioned the 'real bike' has ever gone on two wheels. Maybe it's something to do with the handling? Nope again, this scooter handles. Hell, it handles as well as any 'cruiser motorcycle' I've ridden. Is it gears then; does a real motorcycle have gears? Ahh, no again. There's a rash of new automatic motorcycles hitting the market shortly and they'll all be 'real motorcycles'. It seems there's no real designation for a 'real motorcycle'. The next time someone mentions the 'real motorcycle' to me I'll get them to explain it to me. Clearly I'm not quite astute or pig headed enough to understand it.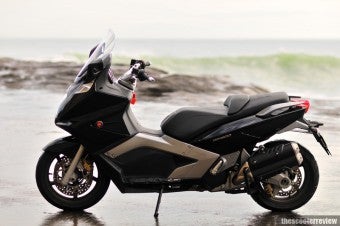 So I'm riding the GP800 and one could say I was moving at a 'slightly illegal' velocity. I crest a rise at a stupendous speed and what do I see in the distance…the pig headed 'real motorcycle' guy on his Harley Davidson. Well in a few brief seconds i'm mere meters from his rear tire. Mr. Harley man sees me in his mirrors and suddenly turns on new found speed. Sadly for him it's not enough, not nearly enough at all. To add insult to injury I decide to pass him on the outside of the next corner. The corner arrives and I casually lean the bike over then blast pass Mr. Harley…oh and I waved at him as I went past.
After a few more kilometers of spirited riding I pulled over at a scenic lookout where most motorcycles riders stop to shoot the breeze. A few minutes later Mr. Harley drove by, he looked over and surprisingly decided not to stop after seeing me sitting there smiling. Seems the 'real motorcycle rider' was passed by the 'not real motorcycle rider' and he was a bit embarrassed by it all. He was riding a 'real motorcycle' but I feel he was lacking in the 'real man department'. Seems us scooter folks have a secret weapon…the Gilera GP800. Watch out motorcycle people, change is in the air…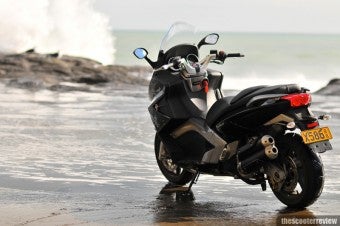 The GP800 is the maxi scooter we should have had years ago. It boggles my mind that it's taken this long for someone somewhere in the world to realize that if you attach a powerful motorcycle engine to a CVT transmission you instantly create the perfect motorcycle. Imagine this. You stop at the lights, no searching for neutral, no swapping feet to change gears then hold yourself with the rear brake if you're on a hill. Just stop, look around, relax, and when the light turns green it's simply twist and shazzammmm, you launch off at rocket speed ahead of all traffic and continue on your way.
The GP800 runs an 834cc V-twin engine that makes 75hp and 75nm of torque. Not massive numbers compared to powerful motorcycles but massive in comparison to any other maxi scooter. Combine the torque on this engine with a fantastic CVT transmission and you get rapid and effortless acceleration. We clocked the Gilera at 5.4 seconds to 100kph (62MPH) which is enough to frighten most average motorcycles and pretty much all but the most rapid cars. The real knockout though is it takes absolutely no skill at all. No riding the clutch, no battling wheelie's; just twist and go…go fast. Not once in the entire time I rode the GP800 did anything - be it bike, car, plane, cheetah - nothing beat me to the next traffic light.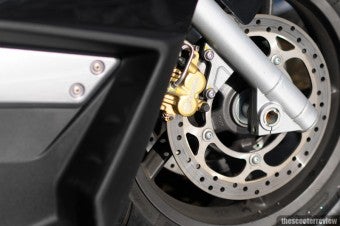 Handling wise the GP800 is superb for a scooter but still a fair way off a high performance motorcycle. The suspension does a fantastic job of dealing with bumpy roads at normal riding speeds but, if you really try and press on the bikes weight starts to show its hand and the Gilera begins to feel a little unsettled. It's certainly up to cruising at a far more rapid pace compared to every other scooter built to date. A Burgman 650 would have ABSOLUTELY NO chance of keeping up with the Gilera GP800, neither in a straight line or through a section of twisty corners.
Gilera thankfully fitted a powerful set of Brembo discs that provide more than adequate stopping power for any normal riding and I didn't experience any really noticeable fade even during high speed riding. I am however a little surprised the GP800 doesn't come standard with ABS brakes as it seems like a feature all powerful bikes should have nowadays. In fact Honda have committed to running ABS on every bike they produce by 2010.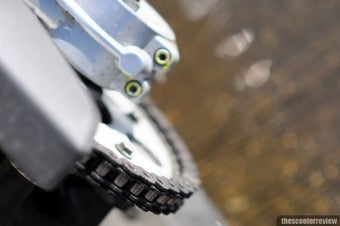 Ease of use wise the Gilera is pretty similar to most maxi scooters. The bike returned 4.5L/100kms (56MPG) which is actually surprisingly good for such a powerful and heavy machine. Don't expect to return that sort of MPG if the bike is ridden in anger though. The GP800 features a fantastic and class leading set of instruments to keep you up to date with all relevant information; it even has an outside temperature gauge. This is not as useful as a temp gauge in a car as…well, you're on the outside and when it's cold you tend to know it already. Gilera also give you a proper key with a remote release for the seat. In my book it's almost worth buying the bike for this alone.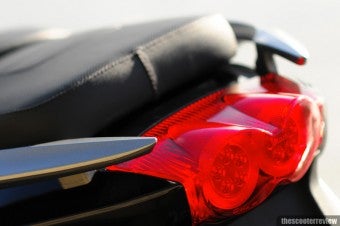 The bad bits. The GP800 is a fantastic scooter but like most bikes it's not perfect. The biggest issue with the GP800 is weight. Like most maxi scooters it simply weighs far more than it should. When I first heard about the GP800 I thought all my Christmas's had come at once; then I saw how much it weighed. 235kgs (518lbs) is WAY too much for any kind of performance two wheeled vehicle. The weight makes the bike a pain in the ass to move around and blunts all of its performance figures. Hopefully Gilera and any competing brands will keep any new performance scooters to well under 200kgs in future. Storage on the GP800 is rather poor compared to competing maxi's with no glove box up front and an under seat storage area that barely holds a single full face helmet. Finally the powered windscreen is great idea but serves no real purpose as the highest setting is still too low, even for a midget. Oh…forget the centre stand too, it's damn near impossible to get the bike on it. Gilera should really sell the bike with a six month supply of Stanazol; powerful steroids are needed.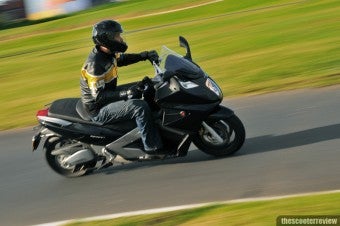 Summing up the Gilera GP800. Gilera really have moved the game on with the GP800, it is far and away a vastly superior bike to any other maxi scooter on the market. This is a scooter that totally blurs the line between scooter and motorcycle. The GP800 is perfectly capable of fast motorway cruising, long distance riding , aggressive A-road carving and it still beats the average motorcycle hands down in town because of its simple CVT transmission. Put simply…if you're in the market for a large capacity do everything bike for all types of riding, there is only ONE bike even worth considering. The Gilera GP800. The world's first Superscooter.
Price
UK £6,499 NZ $17,990 Euro $9,450
0-50km/h
2.8 Seconds
0-100km/h
5.4 Seconds
50-80km/h
2.2 Seconds
Lap Time
41.1 Seconds
Fuel Economy
4.5L/100kms - 56MPG
Speedo Accuracy

50kph displayed = 44kph actual - 100kph displayed = 94 actual

---

Pros:

Fast, handles well, genuine motorcycle alternative

Cons:
Way to heavy, poor storage


---

Handling
Performance
Fuel Consumption
Value for money
Ease of use
Styling
Build quality

---

Overall Score

84%
Manufacturer Specifications
| | |
| --- | --- |
| Max power at shaft | 55.16 Kw (75 HP) @ 7250 rpm |
| Max torque | 76.4 Nm at 5,750 rpm |
| Engine Type | 90 Degree V-Twin, 4 stroke |
| Cylinder Capacity | 839.3cc |
| Seat height | 790mm |
| Dry weight | 235kg |
| Kerb weight | --- |
| Fuel tank capacity | 16 litres |
| Starting | Electric |
| Transmission | "Twist and Go" Automatic Transmission (CVT)Belt driven |
| Storage volume | n/a |
| Cooling | Water cooled |
| Bore X stroke | 88.0 x 69.0 mm |
| Compression ratio | 10.5:1 |
| Chassis | Double cradle, high strength steel tube trellis |
| Front suspension | Ø 41 mm Telescopic fork, 135mm travel |
| Rear suspension | Single shock placed laterally, seven position spring preload |
| Front brake | 300mm semi floating double disc Brembo, braided hoses |
| Rear brake | 280mm Disc, floating caliper twin piston |
| Front wheel/tyre | 120/70-16" |
| Rear wheel/tyre | 160/60-15" |
| Length | 2240 mm |
| Width | 800 mm |
| Wheelbase | 1593 mm |
| Max speed (km/hr) | 200km/h+ |
| Type approval | Euro3 |
| Consumption (ECE applicable text cycle) | --- |
| Consumption @km/h - km/l | --- |
| Audible Indicator | no |
| Full helmet storage | yes (med size only) |
| Glove box | no |
| Fuel Guage | yes |
| Trip Meter | yes |
| Seat release (via remote control) | yes |
| Seat release (remote, ignition/switch) | no |
| Alarm | no (anti theft system inc) |
Comments
(20)


Subscribe to this comment's feed
Last Updated ( Thursday, 27 November 2008 15:39 )