Page 2 of 3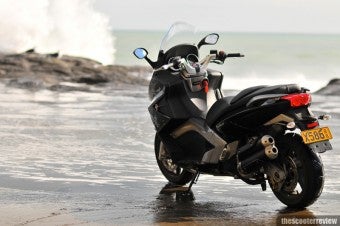 The GP800 is the maxi scooter we should have had years ago. It boggles my mind that it's taken this long for someone somewhere in the world to realize that if you attach a powerful motorcycle engine to a CVT transmission you instantly create the perfect motorcycle. Imagine this. You stop at the lights, no searching for neutral, no swapping feet to change gears then hold yourself with the rear brake if you're on a hill. Just stop, look around, relax, and when the light turns green it's simply twist and shazzammmm, you launch off at rocket speed ahead of all traffic and continue on your way.
The GP800 runs an 834cc V-twin engine that makes 75hp and 75nm of torque. Not massive numbers compared to powerful motorcycles but massive in comparison to any other maxi scooter. Combine the torque on this engine with a fantastic CVT transmission and you get rapid and effortless acceleration. We clocked the Gilera at 5.4 seconds to 100kph (62MPH) which is enough to frighten most average motorcycles and pretty much all but the most rapid cars. The real knockout though is it takes absolutely no skill at all. No riding the clutch, no battling wheelie's; just twist and go…go fast. Not once in the entire time I rode the GP800 did anything - be it bike, car, plane, cheetah - nothing beat me to the next traffic light.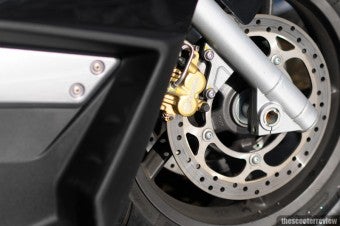 Handling wise the GP800 is superb for a scooter but still a fair way off a high performance motorcycle. The suspension does a fantastic job of dealing with bumpy roads at normal riding speeds but, if you really try and press on the bikes weight starts to show its hand and the Gilera begins to feel a little unsettled. It's certainly up to cruising at a far more rapid pace compared to every other scooter built to date. A Burgman 650 would have ABSOLUTELY NO chance of keeping up with the Gilera GP800, neither in a straight line or through a section of twisty corners.
Gilera thankfully fitted a powerful set of Brembo discs that provide more than adequate stopping power for any normal riding and I didn't experience any really noticeable fade even during high speed riding. I am however a little surprised the GP800 doesn't come standard with ABS brakes as it seems like a feature all powerful bikes should have nowadays. In fact Honda have committed to running ABS on every bike they produce by 2010.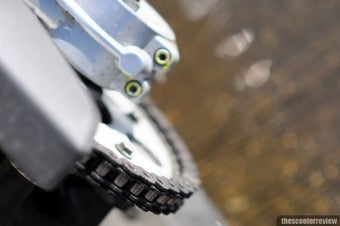 Ease of use wise the Gilera is pretty similar to most maxi scooters. The bike returned 4.5L/100kms (56MPG) which is actually surprisingly good for such a powerful and heavy machine. Don't expect to return that sort of MPG if the bike is ridden in anger though. The GP800 features a fantastic and class leading set of instruments to keep you up to date with all relevant information; it even has an outside temperature gauge. This is not as useful as a temp gauge in a car as…well, you're on the outside and when it's cold you tend to know it already. Gilera also give you a proper key with a remote release for the seat. In my book it's almost worth buying the bike for this alone.
Last Updated ( Thursday, 27 November 2008 15:39 )