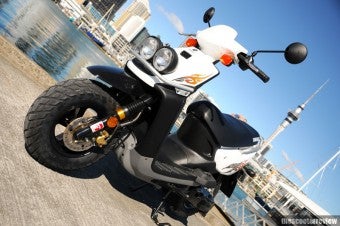 BeeeeeeeeeeeeeeeeeeWeeeeeeeeeeeeeeeeee, it's obviously a competition we don't know about; that's right scooter manufactures are in a heated battle to come up with the world's daftest names. Yamaha are now in the running. I'm not sure if they can take out the all time leaders; the "Man Boy" and the "Duck". Just imagine a friend asking you what you're riding. 'Oh..ahh I'm riding a Man Boy'. Your friend looks on in shock and says. "Really, I didn't know you'd been to Thailand".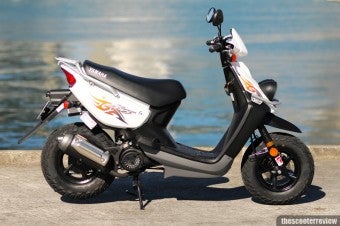 Let's get into the meat. Forget the name, the BeeWee is a fun bike to ride. This little scooter is an inner city traffic weapon. You'll go from mere commuter to a road carving battle warrior. Well, you probably won't be that cool; I mean what kind of road warrior rides a BeeWee. I can see Mel Gibson standing there talking to Humongous the leader of the underworld. "You think you can escape in your Interceptor?" Mel would be like, "ahh yeah like, I'm not driving the interceptor anymore, I'm on ahh…a BeeWee. Look, I know it sounds a bit naff but it's great fun…ahh come on guys stop laughing at me…okay okay it's a bit gay. Ahh hell, you're right I'm a girly wee man boy… just kill me"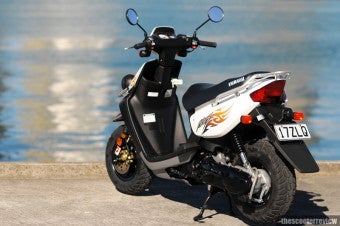 Mel Gibson would ride a BeeWee, he'd buy a black one and peel off the BeeWee stickers. If you even mentioned the name he'd probably just shoot you…or bash you with his bible. It's not just the strange looks of the Beewee that give it street cred, it's the way it rides. The 100cc two stroke motor is surprisingly peppy and makes the much loved two stroke buzz. I imagine the high reving sound of the engine implies more speed as by numbers alone the BeeWee isn't terribly rapid. Off the line it's considerably slower than it should be due to a poor choice in rollers. These could be easily changed to increase the bikes speed off the line. As it is the BeeWee gets up and starts moving once you hit about 30kph (18MPH). It tops out around 90kph (56MPH) so is actually useable on the freeway/motorway provided there aren't any major hills on your commute.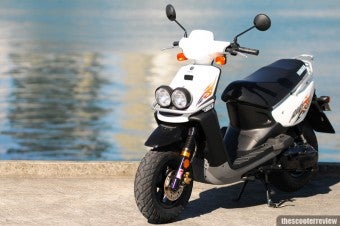 The large sidewall tires on the Yamaha give a surprisingly nice ride for such a small scooter. They simply iron out most of the road imperfections you'd feel on a similar sized scooter. The tires also seem to provide strong grip regardless of the fact that they're a wet weather design. Braking wise the BeeWee is a bit of a let down. In keeping the BeeWee to such an aggressive price Yamaha had to skimp somewhere and it appears they did so with the front brake. Don't get me wrong, the bike stops well enough it's just the front brake requires more effort than some. It's possible a simple pad material change could solve the problem.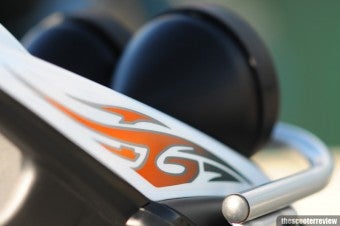 Ease of use wise the BeeWee is pretty solid. I imagine most people would find the Yamaha pretty easy to live with. The scooter weighs in at fairly light 91kgs but feels lighter as it's nice and easy to move around when parking etc. Seat height is about perfect at 765mm and means people of nearly any height will find the BeeWee easy to ride. There's a seat release off the key, a small glove box up front and a nice set of clear but old school gauges. Fuel consumption is also superb for a two stroke scooter. We returned 2.9L/100kms (81MPG) on out test which is the best result we've had so far for a large cc two stroke bike.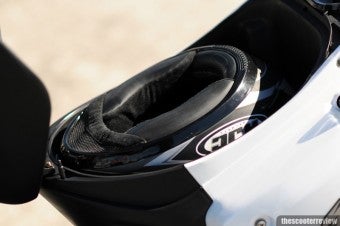 The bad bits. There's not really much wrong with the BeeWee, as I mentioned earlier the front brake could be stronger and the initial acceleration is a bit on the weak side. I'm certain both of these issues could be solved once you owned the bike. What can't be fixed though is the riding position. It's certainly a deal breaker for taller folk. If you're under about five foot ten you'll likely squeeze onto the BeeWee just fine. However, it you're taller than that then certainly look at a different scooter. If not you'll be riding on the pillion seat as your legs will hit the console if you don't. The bike will take a pillion just fine, provided you're both shortish. Sadly the two large headlights are a bit narrow beamed for my liking and don't light up enough of road's edges especially while turning.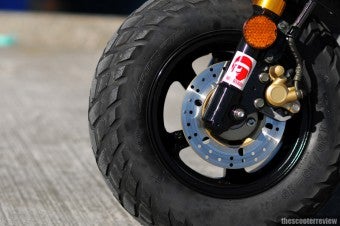 Summing up the BeeWee. If you're looking for a small inner city scooter with style and a more exciting engine than the average dull four stroke then the BeeWee should be on top of your list. If you're a tall lad/lass then move on to something like the Vespa S 125. Finally, the best part of the BeeWee is it's price. In most markets the BeeWee is simply incredible value. It's without doubt one of the best value for money scooters on the market. Try it.
Price
NZ $2,995 Aus $2,995
0-50km/h
7.6 Seconds
0-100km/h
---

50-80km/h
12.5 Seconds
Lap Time
---

Fuel Economy
2.9L/100kms - 81MPG
Speedo Accuracy

50kph displayed = 46kph actual

---

Pros:

Fantastic value for money, unique style

Cons:
Small floor area, not for tall people

---

Handling
Performance
Fuel Consumption
Value for money
Ease of use
Styling
Build quality

---

Overall Score

79%
Manufacturer Specifications
| | |
| --- | --- |
| Max power at shaft | --- |
| Max torque | --- |
| Engine Type | Single-cylinder 2-stroke |
| Cylinder Capacity | 101 cc |
| Seat height | 765mm |
| Dry weight | 91kg |
| Kerb weight | --- |
| Fuel tank capacity | 5.7 liters |
| Starting | Electric |
| Transmission | "Twist and Go" Automatic Transmission (CVT) |
| Storage volume | n/a |
| Cooling | Air cooled |
| Bore X stroke | 52 x 47.6mm |
| Compression ratio | 6.6:1 |
| Chassis | Steel Tube |
| Front suspension | Telescopic fork |
| Rear suspension | Swingarm with hydraulic single shock |
| Front brake | 150mm Disc |
| Rear brake | Drum |
| Front wheel/tyre | 120/90-10 |
| Rear wheel/tyre | 130/90-10 |
| Length | 1890 mm |
| Width | 705 mm |
| Wheelbase | 1270 mm |
| Max speed (km/hr) | 90kph |
| Type approval | --- |
| Consumption (ECE applicable text cycle) | --- |
| Consumption @km/h - km/l | --- |
| Audible Indicator | yes |
| Full helmet storage | yes |
| Glove box | yes |
| Fuel Guage | yes |
| Trip Meter | no |
| Seat release (via remote control) | no |
| Seat release (remote, ignition/switch) | yes |
| Alarm | no |
Comments
(2)


Subscribe to this comment's feed
Last Updated ( Friday, 20 February 2009 11:30 )