Page 2 of 3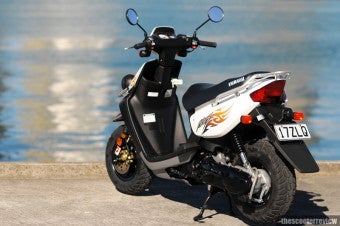 Mel Gibson would ride a BeeWee, he'd buy a black one and peel off the BeeWee stickers. If you even mentioned the name he'd probably just shoot you…or bash you with his bible. It's not just the strange looks of the Beewee that give it street cred, it's the way it rides. The 100cc two stroke motor is surprisingly peppy and makes the much loved two stroke buzz. I imagine the high reving sound of the engine implies more speed as by numbers alone the BeeWee isn't terribly rapid. Off the line it's considerably slower than it should be due to a poor choice in rollers. These could be easily changed to increase the bikes speed off the line. As it is the BeeWee gets up and starts moving once you hit about 30kph (18MPH). It tops out around 90kph (56MPH) so is actually useable on the freeway/motorway provided there aren't any major hills on your commute.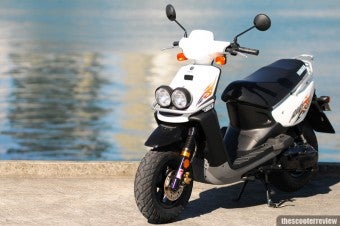 The large sidewall tires on the Yamaha give a surprisingly nice ride for such a small scooter. They simply iron out most of the road imperfections you'd feel on a similar sized scooter. The tires also seem to provide strong grip regardless of the fact that they're a wet weather design. Braking wise the BeeWee is a bit of a let down. In keeping the BeeWee to such an aggressive price Yamaha had to skimp somewhere and it appears they did so with the front brake. Don't get me wrong, the bike stops well enough it's just the front brake requires more effort than some. It's possible a simple pad material change could solve the problem.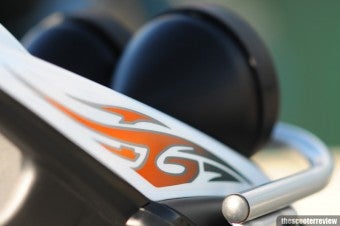 Ease of use wise the BeeWee is pretty solid. I imagine most people would find the Yamaha pretty easy to live with. The scooter weighs in at fairly light 91kgs but feels lighter as it's nice and easy to move around when parking etc. Seat height is about perfect at 765mm and means people of nearly any height will find the BeeWee easy to ride. There's a seat release off the key, a small glove box up front and a nice set of clear but old school gauges. Fuel consumption is also superb for a two stroke scooter. We returned 2.9L/100kms (81MPG) on out test which is the best result we've had so far for a large cc two stroke bike.
Last Updated ( Friday, 20 February 2009 11:30 )