Page 2 of 3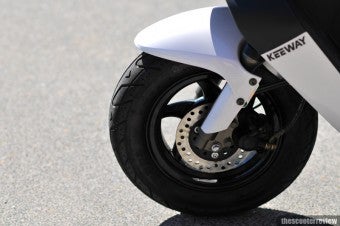 As far as handling is concerned the Flash is reasonable, 12" wheels tend to do away with the twitchiness of a 10" or smaller wheel but the reasonably high centre of gravity and the steering geometry make the Flash much more twitchy than I would have expected. Braking is quite strong from the disc and drum combination with plenty of power to lock both wheels easily. The feedback from the levers was less than ideal but this most likely had a lot to do with the very low kilometres on the bike we tested.

The flash is fairly easy to use on a day-to-day basis, with a reasonably sized under seat compartment. The low weight of the Flash means moving it around, parking and the like are easily done. There is a side stand with an engine cut-off and a centre stand provided. The centre stand is a bit of a problem, it is heavy to use and located in the same place as the kick-start, which makes it awkward to access.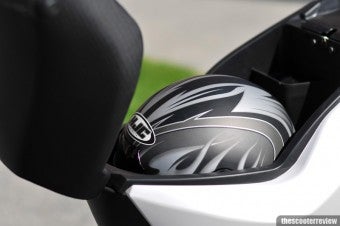 Ok so… I have left it as long as humanly possible… performance, or the lack thereof. The Flash is, as I mentioned earlier a restricted 50cc bike. Unfortunately for us but fortunate for the prospective buyer the Flash tested was a HEAVILY restricted model. It turns out the local importer had to bring in the 45kph restricted model because there were none of the proper ones floating around. The importer removes the restrictions before sale here rendering it by all accounts a MUCH better performing machine. The one tested had the full gamut of restrictions from a top speed restrictor (these tend to be easily removed by cutting a wire) as the top speed was somewhere in the 45kph (28mph) range.
Last Updated ( Thursday, 25 September 2008 18:57 )