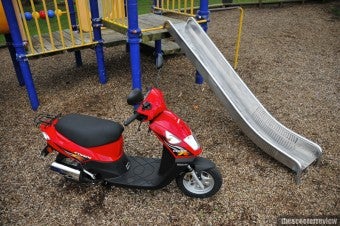 If you just want a quick summary of Daelim Cordi, here it is. It's small light and about average for a 50cc scooter. Now if you want a bit more detail read on…be warned given the Cordi is not the most exciting scooter ever made I 'may' go a little off topic.
Have you ever wanted a scooter that would fit in a backpack? I have, I mean think about it. You jump off the ferry open the backpack and wammo…seconds later you're scootering along…perfect. With the Daelim Cordi it's fairly unlikely but equally it is plausible. If the lads at Mythbusters did a show on scooter backpacking they'd have to agree. Okay…the Cordi wouldn't fit in a regular backpack and at 77kgs it wouldn't be something you'd want to carry for very long. Oh and you'd look like a complete idiot carrying it, but… if you'd didn't mind straining you're back, looking like a twat and possibly setting yourself on fire from a hot exhaust this is the scooter backpacking model you've always dreamed of. In fairness I'd have to say that if you're dreaming of scooters that will fit in a backpack…you really need to get out more. Then again we can't really control what we dream about, I once had a dream about a large spiny Cuttlefish having 'relations' with an ant eater…and I'm not even 'in to' Cuttlefish, I much prefer a Rock Cod; now that's a hot fish.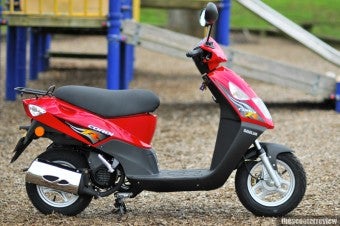 The Cordi is very much an old school scooter, lightweight, two stroke, simple design and miniscule 10 inch wheels. I imagine if the average human was to describe a 50cc scooter the Cordi is about what they'd come up with. Interestingly nowadays scooter manufactures are adding either gizmos or bigger frames to give 50cc models a broader audience.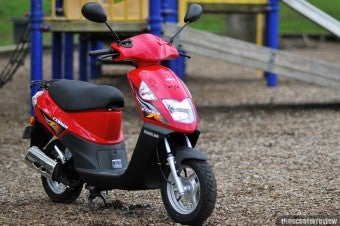 The Cordi's strongest aspect is its performance, given that it doesn't weigh much and has a perky little two stoke motor the Cordi hits 50kph in just 9.1 seconds. That puts it in amongst the quickest 50cc scooters we've tested. The Cordi also winds up to a useful top speed of 65kph (40MPH) so you can actually keep up with most city traffic. Hills are a mixed bag. The little Daelim will hold its speed on most hills but doesn't like reaccelerating halfway up a gradient. If you have to stop for some reason halfway up a steep hill it'd probably be faster to get off the scooter and push it up. To be fair to the Cordi it's likely just a form of exhaust restriction which is easily removed.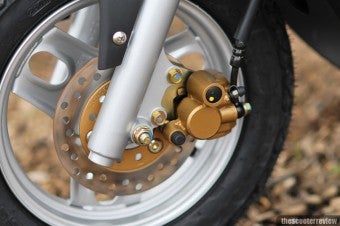 Handling is a mixed bag. Now if you were to ride the Cordi on a glass smooth road then it would be one of the best handling 50cc scooters around, however if the road is like, well a normal road…bumpy, then you may feel the Cordi was designed to kill you. Full speed around a bumpy corner is actually a lot of fun, not 'wow what a lovely day for a ride' more 'holy crap I'm gonna die…no, no I'm alive', you know like base jumping. As I said on smooth rides the bike is a pleasure; on the average city road it can be pretty bumpy due to its small wheels, lightweight and average suspension. The Cordi does run a disc brake up front but sadly it's a little on the weak side so the braking is only about average for a 50cc scooter.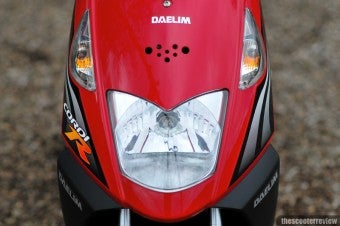 Living with the Cordi is going to be fairly easy; the bikes tiny size and weight make it dead easy to move around and put on the centre stand. Fuel consumption is very good for a two stroke and averages around 2.9L/100kms (81MPG). Unfortunately Daelim neglected to include remote opening for the under seat storage area or any kind of glove box up front. Also on the downside the storage area won't take a full face helmet unless you have a micro head. Being so small the Daelim feels a little like a toy but will suit smaller riders or learners as its about as intimidating as a house fly wearing boxing gloves. Picture it, a fly on the ground buzzing, trying desperately to lift up two boxing gloves…not very intimidating.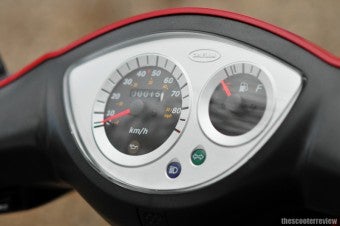 Summing up the Daelim Cordi. This is a tricky one. The Cordi seems quite well built and comes from a quality Korean manufacture. The 50cc scooter market is awfully competitive and many scooters are simply more convenient to own than the Cordi. I don't see the Cordi swaying the average purchaser from bikes like the Yamaha Jog. The Jog costs approx the same money, performs slightly better and has more features. If your Daelim dealer will offer you an extra aggressive price on the Cordi then I'd give it a test ride as it is certainly rapid. Call it a yes…but only if the price is right. Oh and if you're tall or heavy person, this is definitely not the scooter for you. If someone saw you riding it they'd think you stole it from a child.
Price
NZ $1,995 USA $1,780
0-50km/h
9.1 Seconds
0-100km/h
---
Top Speed
65kph (40MPH)
Lap Time
---
Fuel Economy
2.9L/100kms - 81MPG
Speedo Accuracy

50kph displayed = 45kph actual

---

Pros:

Affordable, one of the fastest 50cc scooters, lightweight

Cons:
Bumpy ride, average brakes, won't take a full face helmet

---

Handling
Performance
Fuel Consumption
Value for money
Ease of use
Styling
Build quality

---

Overall Score

77%
Manufacturer Specifications
| | |
| --- | --- |
| Max power at shaft | --- |
| Max torque | --- |
| Engine Type | Single-cylinder 2-stroke |
| Cylinder Capacity | 49.5cc |
| Seat height | 730mm |
| Dry weight | 77kg |
| Kerb weight | --- |
| Fuel tank capacity | 4.8 liters |
| Starting | Electric |
| Transmission | "Twist and Go" Automatic Transmission (CVT) |
| Storage volume | n/a |
| Cooling | Air cooled |
| Bore X stroke | --- |
| Compression ratio | --- |
| Chassis | Steel Tube |
| Front suspension | Telescopic fork |
| Rear suspension | Swingarm |
| Front brake | Disc |
| Rear brake | Drum |
| Front wheel/tyre | 90/90-10 |
| Rear wheel/tyre | 90/90-10 |
| Length | 1694 mm |
| Width | 665 mm |
| Wheelbase | --- |
| Max speed (km/hr) | --- |
| Type approval | --- |
| Consumption (ECE applicable text cycle) | --- |
| Consumption @km/h - km/l | --- |
| Audible Indicator | yes |
| Full helmet storage | yes (very small size only) |
| Glove box | no |
| Fuel Guage | yes |
| Trip Meter | no |
| Seat release (via remote control) | no |
| Seat release (remote, ignition/switch) | no |
| Alarm | no |
Comments
(2)


Subscribe to this comment's feed
Last Updated ( Thursday, 27 November 2008 15:21 )