Page 2 of 3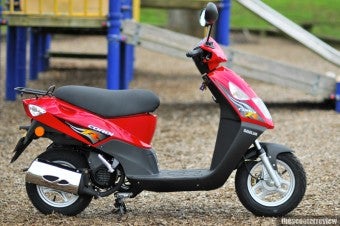 The Cordi is very much an old school scooter, lightweight, two stroke, simple design and miniscule 10 inch wheels. I imagine if the average human was to describe a 50cc scooter the Cordi is about what they'd come up with. Interestingly nowadays scooter manufactures are adding either gizmos or bigger frames to give 50cc models a broader audience.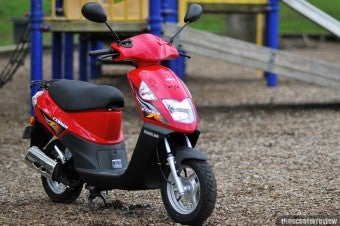 The Cordi's strongest aspect is its performance, given that it doesn't weigh much and has a perky little two stoke motor the Cordi hits 50kph in just 9.1 seconds. That puts it in amongst the quickest 50cc scooters we've tested. The Cordi also winds up to a useful top speed of 65kph (40MPH) so you can actually keep up with most city traffic. Hills are a mixed bag. The little Daelim will hold its speed on most hills but doesn't like reaccelerating halfway up a gradient. If you have to stop for some reason halfway up a steep hill it'd probably be faster to get off the scooter and push it up. To be fair to the Cordi it's likely just a form of exhaust restriction which is easily removed.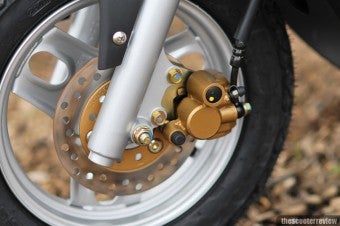 Handling is a mixed bag. Now if you were to ride the Cordi on a glass smooth road then it would be one of the best handling 50cc scooters around, however if the road is like, well a normal road…bumpy, then you may feel the Cordi was designed to kill you. Full speed around a bumpy corner is actually a lot of fun, not 'wow what a lovely day for a ride' more 'holy crap I'm gonna die…no, no I'm alive', you know like base jumping. As I said on smooth rides the bike is a pleasure; on the average city road it can be pretty bumpy due to its small wheels, lightweight and average suspension. The Cordi does run a disc brake up front but sadly it's a little on the weak side so the braking is only about average for a 50cc scooter.
Last Updated ( Thursday, 27 November 2008 15:21 )