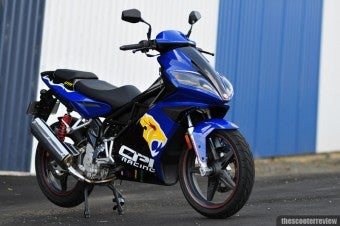 So, do you ride an all singing all dancing 1 million horsepower motorcycle on weekends, but want something for your daily commute? Or perhaps you are an urban Valentino Rossi and love nothing more than carving up traffic on the inner city racetrack. Maybe you are just looking for a modern, adult machine that won't blow the bank account out of the water…If you fit any of these criteria (and a few beyond) the CPI GTR is the machine for you.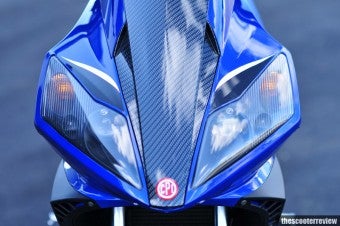 What you get with the GTR is… well, a lot. Although I must admit the name is misleading…you certainly don't get any sort of "Gran Tourismo" this is not a bike for long distance, comfortable cruising. A more suitable name would be something more along the lines of "R" or even "hyper race speed style extreme"… probably wouldn't fit on the side of the bike but you get the idea. The GTR is built for performance, not for comfort. First of all it is incredibly stiff with a ladder type (think Ducati) chassis construction and a non step-through design. This chassis rigidity is great for aggressive riding… if fact CPI have managed to make a less twisty chassis than many motorcycles and it is light years ahead of most, if not all other scooters.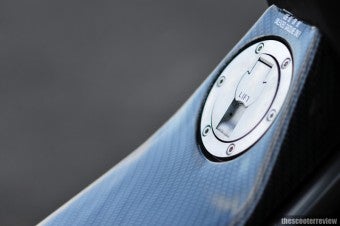 The next link in the performance chain is suspension and wheels, the suspension as you would expect is tuned with performance over comfort in mind the front features hydraulic forks and the rear is an oil pneumatic unit with a preload adjustment. The Wheels are probably the single largest unusual and standout decision in the design of the GTR… 17" wheels are seldom seen on anything other than motorcycles, yet here we have them. Often the downside of such a large wheel option on a scooter results in very sluggish steering response and direction change… the GTR's set-up somehow manages to bypass this problem. Obviously direction change and turning circle are less than what you would see on a 10" wheel equipped machine but still probably as good as most 13" arrangements with the marked advantage of incredible corner stability, fairly hard cornering at 75kph (46mph) didn't phase it in the least.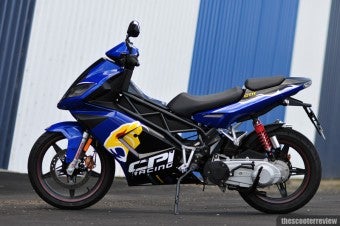 I have to comment now that the GTR is also probably one of THE coolest looking scooters you will lay your eyeballs on, racy without the awkwardness of other "sport styled" machines yet without trying too hard. The basic aesthetic just works, even the massive wheels don't look out of place and this is a very unusual thing on any scooter… in my opinion most large wheeled, mid size scooters just look odd. The ladder frame has a big part to do with the styling, as does the large, motorcycle styled front "fairing" and tail piece. I doubt there is a better "motorcycle" style scooter available today.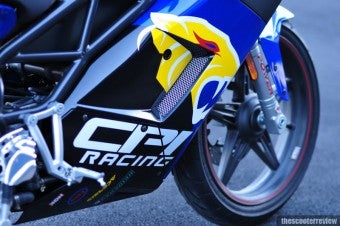 So does the 187cc engine manage to uphold the image that the styling and handling would indicate… well… yes… to a point. The CPI makes good use of it's 13 odd horsepower with 0-50kph (30mph) of 5.5 seconds and a top speed around 100kph (62mph) but really I would have liked just a little bit more from such an outwardly sports oriented machine. If it made, somewhere in the mid 15 to 25hp realm (preferably the upper end of that spectrum) you could really use it for a weekend canyon thrash, and worry a few "real" motorcycles along the way and not stretch the capability of the rest of the bike … if CPI made a version with 30 or 40hp and called it the HRSSE-RRSR (Real racing, spectacular race) it would be party time… and sign me up now!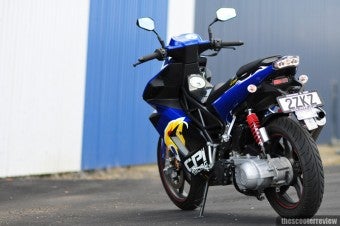 However I realise that to build a product costs money… the more bells, whistles and R&D in a bike the more you pay and the CPI is very, very affordable. In fact… for a retail price similar to a 125cc budget machine the GTR, exactly as it is, is one hell of a package.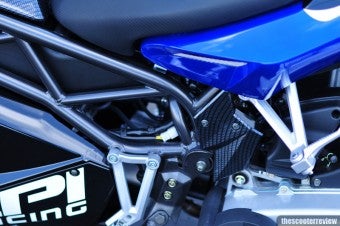 So is it perfect… no, of course not, there's no such thing. I already mentioned that I would have liked to see a little more power but further to that this race inspired machine has a few unavoidable foibles that go with the design… and a few that need some work. Unsurprisingly there is no under seat storage, however you do get a small compartment under the pillion seat which is big enough to stash a thin wet weather outfit. The design means motorbike like foot pegs and bent legs which is great for moving around on the bike… unfortunately with no motorcycle like fuel tank to grip with your knees the seat causes a few problems. First of all it is hard like a plank, but who cares… goes with the territory. My main bugbear with the is the angle… it slopes forward quite sharply, this means that you have to push back on the bars to maintain position… especially under braking, this is just a detail… obviously pulled from sport bike design but without considering the lack of a tank. Now I suspect the front of the seat would be easy enough to space up a bit to make it more flat but it is something the company should consider with the next evolution. One last … the GTR features both a side and centre stand… good so far… unfortunately I was wary of  as they were both very upright… not a huge problem but I was always a little worried it was going to fall over in a stiff breeze.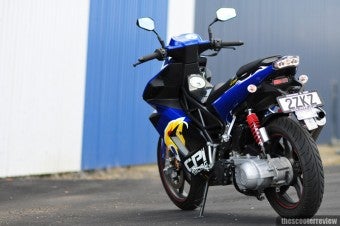 Before I wind up I must mention that the GTR has some of the best instruments I have seen, featuring trip meter and clock along with the more usual odometer and speed display… all this is controlled via a toggle switch on the right handle bar. The GTR's race design is further highlighted by a lap timer… which I must admit I couldn't figure out how to work… I maintain that this is due to my technical ineptitude more than any design fault.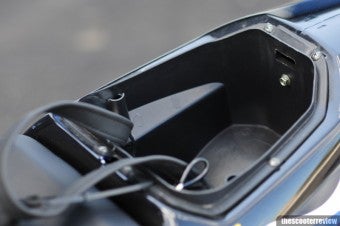 Overall this is one hell of a package… superb handling, cornering and stopping with it's twin disc brake combo. Absolutely fantastic, modern styling that fits well with how the bike rides. Performance is a little less exciting than I would have expected but still plenty of fun around town with fairly effortless overtaking and potential for the occasional highway jaunt. The minor foibles… uncomfortable seat and suspect stands are easily ignored when you figure out how much fun you are having for so little money. All in all, if you don't absolutely need luxury and storage but do want to have an absolute blast and ride something that looks great…well you can't go too far past the CPI Hyper Race Speed Style Extreme… I mean GTR.
Price
NZ $3,490 USA $3,900


0-50km/h

0-100km/h

5.5 Seconds

22.6 Seconds

50-80km/h
8.8 Seconds

Top Speed
110kph (68MPH)
Lap Time
---
Fuel Economy
3.5L/100kms - 67MPG
Speedo Accuracy

50kph displayed = 48kph actual

---

Pros:

Handling, Style, Performance

Cons:
Storage, Stands, Seat


---

Handling
Performance
Fuel Consumption
Value for money
Ease of use
Styling
Build quality

---

Overall Score

83%
Manufacturer Specifications
| | |
| --- | --- |
| Max power at shaft | 13HP |
| Max torque | 1.3kg/m |
| Engine Type | Carburator fueled, Single-cylinder 4-stroke |
| Cylinder Capacity | 187cc |
| Seat height | --- |
| Dry weight | 135kg |
| Kerb weight | --- |
| Fuel tank capacity | 9 liters |
| Starting | Electric & Kick |
| Transmission | "Twist and Go" Automatic Transmission (CVT) |
| Storage volume | --- |
| Cooling | Liquid cooled |
| Bore X stroke | --- |
| Compression ratio | --- |
| Chassis | --- |
| Front suspension | Hydraulic fork |
| Rear suspension | Hydraulic (external reservoir) |
| Front brake | 280mm Disc |
| Rear brake | Disc |
| Front wheel/tyre | 110/70 - 17" |
| Rear wheel/tyre | 120/70 - 17" |
| Length | 1960 mm |
| Width | 690 mm |
| Wheelbase | --- |
| Max speed (km/hr) | --- |
| Type approval | Euro 2 |
| Consumption (ECE applicable text cycle) | --- |
| Consumption @km/h - km/l | --- |
| Audible Indicator | yes |
| Full helmet storage | no |
| Glove box | no |
| Fuel Guage | yes |
| Trip Meter | yes |
| Seat release (via remote control) | no |
| Seat release (remote, ignition/switch) | no |
| Alarm | no |
Comments
(7)


Subscribe to this comment's feed
Last Updated ( Thursday, 27 November 2008 15:17 )