Page 2 of 3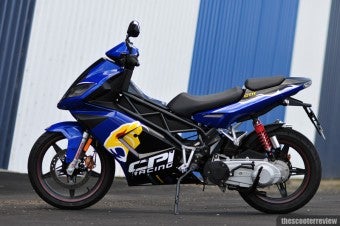 I have to comment now that the GTR is also probably one of THE coolest looking scooters you will lay your eyeballs on, racy without the awkwardness of other "sport styled" machines yet without trying too hard. The basic aesthetic just works, even the massive wheels don't look out of place and this is a very unusual thing on any scooter… in my opinion most large wheeled, mid size scooters just look odd. The ladder frame has a big part to do with the styling, as does the large, motorcycle styled front "fairing" and tail piece. I doubt there is a better "motorcycle" style scooter available today.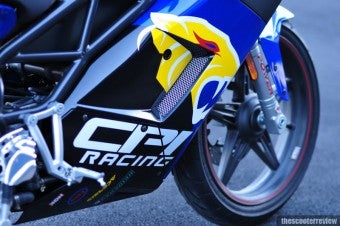 So does the 187cc engine manage to uphold the image that the styling and handling would indicate… well… yes… to a point. The CPI makes good use of it's 13 odd horsepower with 0-50kph (30mph) of 5.5 seconds and a top speed around 100kph (62mph) but really I would have liked just a little bit more from such an outwardly sports oriented machine. If it made, somewhere in the mid 15 to 25hp realm (preferably the upper end of that spectrum) you could really use it for a weekend canyon thrash, and worry a few "real" motorcycles along the way and not stretch the capability of the rest of the bike … if CPI made a version with 30 or 40hp and called it the HRSSE-RRSR (Real racing, spectacular race) it would be party time… and sign me up now!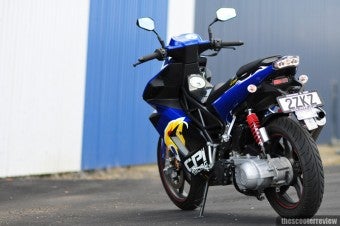 However I realise that to build a product costs money… the more bells, whistles and R&D in a bike the more you pay and the CPI is very, very affordable. In fact… for a retail price similar to a 125cc budget machine the GTR, exactly as it is, is one hell of a package.
Last Updated ( Thursday, 27 November 2008 15:17 )