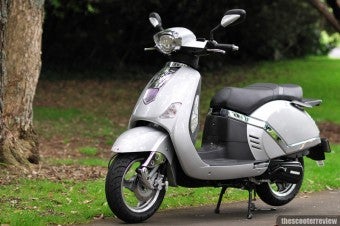 LuxoBarge… This is a term, derived from the words Luxury and Barge (large wallowing boat for transporting heavy stuff) usually reserved for large, European (or occasionally Japanese) sedans. They are big, heavy, super comfortable couches on wheels… well I am going to nominate the Urban Bravo 150 as the first LuxoScoot we have ever tested.
The test bike was one of a handful brought into the country as evaluation models for a potential production run by a local importer. We were very fortunate to get our hands on one, and have some input to changes that need to be made for the production model.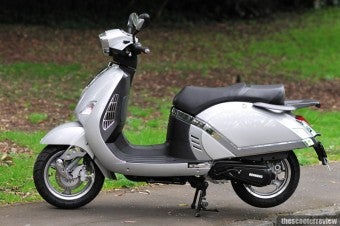 Lets start with the styling, the Bravo is very much a retro scooter with it's design obviously influenced by old Italian machines from Vespa or Lambretta, this is seldom a bad option as they are some of the most identifiable and desired scooters around. The Bravo is BIG, big and long yet somehow managing to be low slung at the same time… it is like some sort of Italian submarine on wheels. It really does cut a fairly imposing figure whether moving or parked.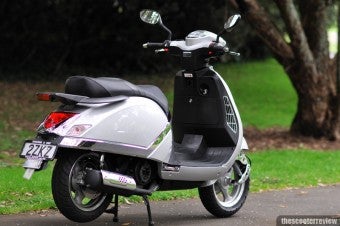 The LuxoBarge tag fits very well when we start talking about comfort; the seat is huge, wide and long with ample room for large behinds and pillion passengers. The wide seat does make it a little awkward for shorter people to get their feet down easily but with a bit of practice you can slide forward a bit and manage the procedure. The suspension is again set up with comfort rather than corner attack in mind, in fact don't try to attack any corners with too much vigour, especially left hand bends as the centre stand will scrape at a very gentle lean angle. This is not a real issue as the bike is very much a cruising machine… for this purpose it is an absolute joy to use.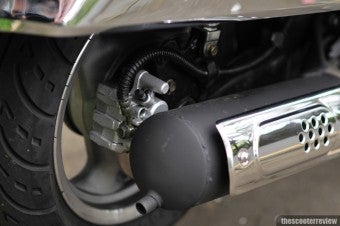 The engine and transmission combination is one of the smoothest I have ever used, it is not fast… it is however faster than it seems. The 150cc 4-stroke will gladly drag the heavy Bravo and a rider along the street without complaint and will tackle hills without missing a beat. Acceleration is brisk without being in any way blistering… as with every part of this bike it is achieved without any fuss or complaint. Then there are the brakes, I normally whinge and complain, so I must congratulate Urban for throwing discs front AND back... Thanks guys, I'm glad someone gets it! I thought it would take me a while to get the knack of riding this bike as my normal riding style is far from relaxed but I felt instant affinity with what was quickly nicknamed "The Whale". The mode of riding is simple, get on, turn throttle, ride… and ride… and ride, this is very much a machine that inspires wandering. You will be looking for excuses to find a new café to visit… preferably further from home just to sit on the Bravo a bit longer.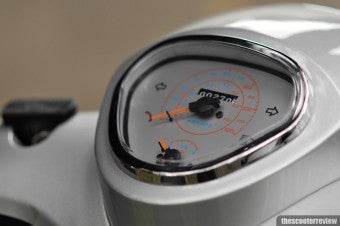 I mentioned that this was an evaluation model; as such not everything was perfect the inboard plastics were… well plasticy but those are being replaced with better quality material, the seat fabric is also being upgraded. Urban Bravo badges are obviously yet to be included. The headlight is currently rubbish but again thanks to this test that is being replaced by a high power unit, while we are on lights the turn signal indicators on the dash are impossible to see and don't include any sort of audible warning so we are hoping there was time to rectify this before the line is manufactured. Also the speedometer is very nearly the worst tested to date with the display showing nearly 10km faster than you are actually going… good for avoiding speeding tickets but not much else… again the importer was informed and this issue should be repaired in the production version. I would have liked to see the stand scraping issue repaired but I believe this is part and parcel with the design and you are going to have to live with it. There is also a better rear rack being added that will take a top box to lend some extra storage.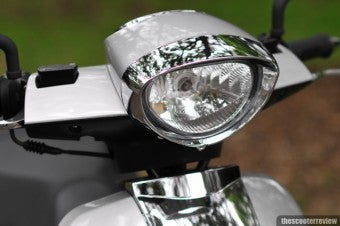 All in all if you are looking for a comfortable, city cruiser that has the styling and fun to use on a daily basis and won't look out of place among it's European compatriots the Urban Bravo 150 could well be your guy. With a sensible sticker price and the most comfortable ride this side of a Maxi Scooter you could do much, much worse. Keep an eye out for the production version, which should be available very soon, throw your significant other on the back and ride the whale (Bravo… not significant other) into the sunset.
Price
NZ $3590

0-50km/h
8.3 Seconds
0-100km/h
---
50-80km/h
3.8 Seconds
Lap Time
---
Fuel Economy
2.57L/100kms - 91MPG
Speedo Accuracy

50kph displayed = 40kph actual

---

Pros:
Super comfort, Great Style, Smooth Engine/Trans

Cons:
Heavy, Awkward for small riders, not much lean angle.

---

Handling
Performance
Fuel Consumption
Value for money
Ease of use
Styling
Build quality

---

Overall Score

74%
Manufacturer Specifications
| | |
| --- | --- |
| Max power at shaft | --- |
| Max torque | --- |
| Engine Type | 4-stroke |
| Cylinder Capacity | 150 cc |
| Seat height | --- |
| Dry weight | --- |
| Kerb weight | --- |
| Fuel tank capacity | --- |
| Starting | Electric |
| Transmission | "Twist and Go" Automatic Transmission (CVT) |
| Storage volume | --- |
| Cooling | --- |
| Bore X stroke | --- |
| Compression ratio | --- |
| Chassis | --- |
| Front suspension | --- |
| Rear suspension | --- |
| Front brake | Disc |
| Rear brake | Disc |
| Front wheel/tyre | 12" |
| Rear wheel/tyre | 12" |
| Length | --- |
| Width | --- |
| Wheelbase | --- |
| Max speed (km/hr) | --- |
| Type approval | --- |
| Consumption (ECE applicable text cycle) | --- |
| Consumption @km/h - km/l | --- |
| Audible Indicator | no |
| Full helmet storage | yes |
| Glove box | yes |
| Fuel Guage | yes |
| Trip Meter | no |
| Seat release (via remote control) | no |
| Seat release (remote, ignition/switch) | no |
| Alarm | no |
Comments
(1)


Subscribe to this comment's feed
Last Updated ( Thursday, 27 November 2008 14:57 )