Page 3 of 3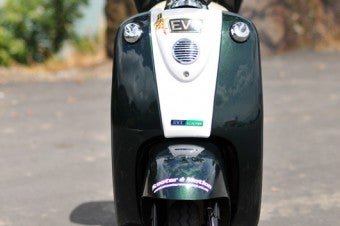 While most aspects of the bike are pretty much the same as a petrol powered scooter there are some subtle differences. One is the driveline; there is no CVT, therefore when then the bike isn't being given power (basically in neutral) there is absolutely no drag, no belts, no gears or cogs. You have to change your riding style to make the most of this; otherwise you end up wasting power and use the brakes too much. As you crest a hill, you can release the throttle and is rolls along like a pedal powered bike, slowly getting faster… yes faster as it is effectively freewheeling and being powered by gravity… hows that for carbon neutral? Gravity powered scooter haha. Its very weird to be rolling down the street on a scooter that feels like it isn't even running.

The other subtle difference is the balance of the electric scooter. Its much heavier in the rear than the front, due to the batteries, on the model tested there was a rear disk brake fitted but not a front one.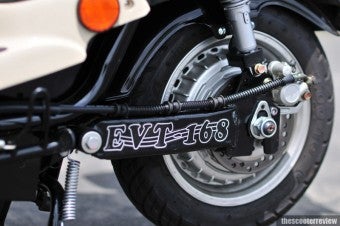 Overall the EVT would be a useful transport device for anyone, especially a lighter person who's daily commute was relatively short… and preferably quite flat. If you live in an apartment in the city and work nearby this would be perfect. In fact in quite a few Asian cities the electric machines find favour because they can be ridden… or at least parked inside and there are no emissions of any sort. There are only two really annoying aspects to the machine, one is the lack of storage but this is at least partially solved by the top box. The other is the very irritating BEEP BEEP BEEP The entire time.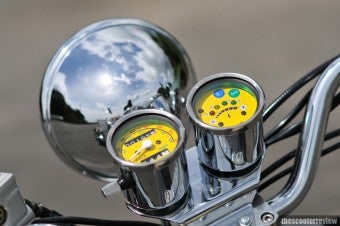 This infernal beeping is warning you that you are overloading the electric motors, it happens frequently when at "full noise" or on hills and is a warning to reduce power, if you don't pay attention to this warning you can overheat and damage the electric motor. Essentially you can't give full throttle on hills etc… there is sound reasoning for this and wringing the throttle doesn't actually make the bike go faster in these circumstances but it is a strange process and feels wrong after riding regular machines where more wrist = more speed. There is also that little advantage whereby it is virtually free to run… oh and if you are the sneaky type you can have a lot of fun with the silent running… just watch out for pedestrians they don't hear you coming and tend to step out into the street as you are about to hit them.
Price
NZ $3,495 USA $2,899, UK £1,850
0-50km/h
16.4 Seconds
0-100km/h
---
Top Speed
50kph (30MPH)
Lap Time
---
Fuel Economy
40km per charge

Speedo Accuracy

50kph displayed = 48kph actual

---

Pros:

Cost;Under 1c per km to run, Quiet, Green

Cons:
Slow, Quiet, Limited Storage


---

Handling
Performance
Range

Value for money
Ease of use
Styling
Build quality

---

Overall Score

67%
Manufacturer Specifications
| | |
| --- | --- |
| Max power at shaft | 2kw |
| Max torque | --- |
| Engine Type | 48 volt brushless electric hub motor |
| Cylinder Capacity | --- |
| Seat height | --- |
| Dry weight | 128kg |
| Kerb weight | --- |
| Fuel tank capacity | NA |
| Starting | Electric |
| Transmission | "Twist and Go" Automatic Transmission (CVT) |
| Storage volume | --- |
| Cooling | --- |
| Bore X stroke | --- |
| Compression ratio | --- |
| Chassis | --- |
| Front suspension | --- |
| Rear suspension | --- |
| Front brake | Drum |
| Rear brake | Disc |
| Front wheel/tyre | 3.0 - 10" |
| Rear wheel/tyre | 3.0 - 10" |
| Length | 1652 mm |
| Width | 830 mm |
| Wheelbase | 1215mm |
| Max speed (km/hr) | --- |
| Type approval | --- |
| Consumption (ECE applicable text cycle) | --- |
| Consumption @km/h - km/l | --- |
| Audible Indicator | no |
| Full helmet storage | no |
| Glove box | no |
| Fuel Guage | charge gauge |
| Trip Meter | no |
| Seat release (via remote control) | no |
| Seat release (remote, ignition/switch) | no |
| Alarm | no |
Comments
(1)


Subscribe to this comment's feed
Last Updated ( Friday, 23 January 2009 10:58 )