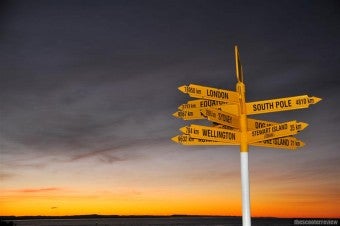 Now it may seem just a wee bit odd that a small island hanging off the southern tip of New Zealand, yes that's correct... the Southern end... the end making a desperate lunge for Antarctica, would be a strange location for a scooter destination. If I told you there were a grand total (total, every side street and dirt road included) of 26km (about 16 miles) of road it would probably seem stranger still. Well these facts are indeed accurate, yet this place provided some of the most fun scootering I have enjoyed in ages.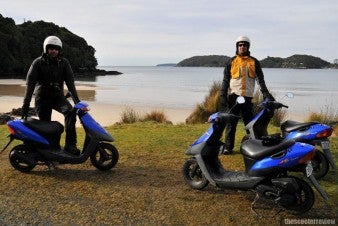 I suppose I should start at the beginning... Hollywood, our friend James (he's pretty much a car guy but don't hold that against him) and myself decided that it was well and truly time to explore New Zealand's South Island, based out of  "heliparajetbungytown" (that's Queenstown, adventure capital of Earth for those that didn't guess). The last time Hollywood and I got down to this part of the world it was for a two week long motorcycle extravaganza in the summer and it was STUNNING! If you want to go somewhere incredibly beautiful for a ride the central/lower bit of the South Island should be way up on your list. Anyway the idea was to scope out roads for new video stories, along with perhaps some new photographic locations for bike and scooter tests further down the road... ok that was artistic licence... we were there on holiday. The only rule was that we couldn't say no to any far out ideas, get out of the comfort zone so to speak (there were a few proviso's concerning illegality, death and the like).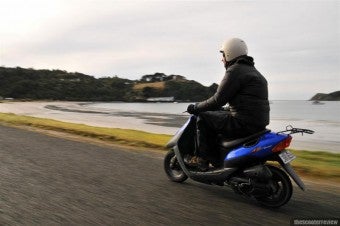 So when James came out with "any of you guys been to Stewart Island? It is the southern most point of NZ you know!" We said "No", packed our bags and jumped on a ferry. An hour later we were across the Fauveaux Straight and in Half Moon Bay on the island. I have to be honest here... I wasn't expecting much (other than being able to tell the 99% of New Zealanders that had never visited how much they were missing). Truth be told, I pictured bush, rugged coastline, bush, crashing waves, lots of grey, bush, rain... bush and people married to relatives (well there are only 300 odd full time residents) I am glad to say, as tends to be the case with preconceptions, all were unfounded!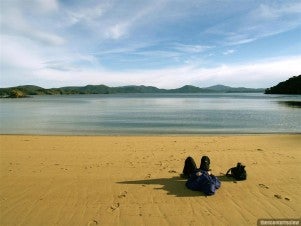 We were greeted by a glorious sunny day, a cute little town, the clearest water to be found this side of the Great Barrier Reef and some of the friendliest people this side of anywhere. We were picked up from the wharf by the proprietor of the motel (cheers Loosie) we had booked and given the tour of the town with running commentary, it was a short tour but they are very proud of their community centre on Stewart Island... how 300 people raised 3 million bucks to get it built I will never know. We got to our motel (The Bay Motel), which by the way I would gladly recommend to anyone (and no they haven't bribed me) anyway... I am getting distracted, on the drive we noticed some well loved Suzuki SJ50's parked out the front of the store and an evil plan came to mind, rent them and travel every one of those 26kms of road on the island...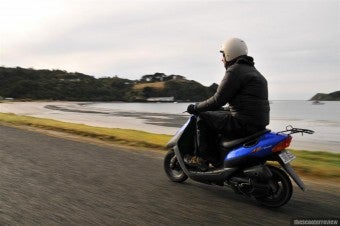 And that is precisely what we did, bar a small section of road that the friendly rental lady assured was impassable by anything other than 4WD trucks... we were still willing to give it a shot until she mentioned that the aforementioned 4WD's tended to travel it at high speed and treated mopeds with the same sort of casual running over reserved for Possums and mud puddles... enough said. A 50cc scooter is probably the ideal way to see the island, we saw the most beautiful beaches, took photos of rare birds and went searching for Kiwi's (the birds, not the locals) at midnight in formation scooter attack mode. We didn't see any but that didn't reduce the giggling any.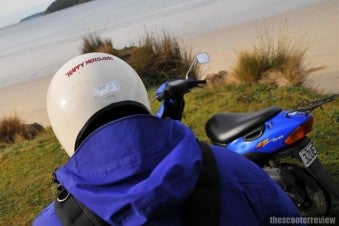 Completely aside from the saddle based touristing there is so much to do there another, longer trip is in the planning stages, 3 day hike along the coast (90% of the island is national park land... bush, I got that part right at least), fishing charter... as much to see the Albatrosses (yes they have them too) as to catch fish, an excursion along the coast in the semi-submersible glass bottomed/sided boat thing and a trip over to Ulva Island, a bird sanctuary which is home to some exceptionally rare birds we need to shoot (with a camera... yes ok there may be some slightly nerdish tendencies in the group) Long story short Stewart Island is an absolutely brilliant place whether you want to fang around on scooters or hit some natural beauty I highly recommend it... and I never thought I would say that. If you want to enjoy it in its pristine state go in winter... but take your wets. If you don't mind sharing the place with a few other tourists go in summer but be sure to drop into the D.O.C Centre, awesome place with friendly staff... and rent some scooters... you won't regret it!
Comments
(6)


Subscribe to this comment's feed
Last Updated ( Thursday, 03 September 2009 01:38 )