Page 1 of 3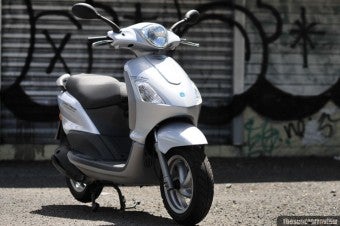 Chitalian? No, sounds too much like some kind of spiced tea… We shall settle for Eurasian then… Confused? Ok let me explain, this little 125cc machine from Italian manufacturer Piaggio is built in their very own factory in China… Now before you start talking about selling out and low quality product let me set things straight. This little Fly is based on Italian tooling; it really is a genuine Piaggio Machine right down to the fact that all the Italian parts and accessories bolt right on, with no "I need a bigger hammer" type modification. What it does mean however is that you can have a genuine Italian scooter for a similar price to a Japanese equivalent… Surprised? So was I!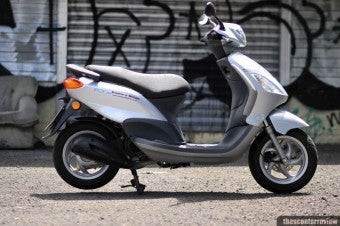 So, to use a horrible pun… Does it 'Fly'? Well in truth not really, let me qualify that. The Piaggio Fly 125 is a very capable commuter, with reasonable acceleration and great poise and handling, however with its reasonably high weight (added admittedly to my reasonably high weight) and fairly ordinary 10.5 horses it is a little more sluggish than I would have imagined, and slower than other 125cc machines I have ridden. That said, as an inner city commuter machine, with its useful under seat compartment (full face helmet will fit) and lockable 'glove box' it works well. And for traffic work it really is solid. The Fly will slice up traffic with the best, it feels sturdy and balanced at all times, including the short trip I made on some wet roads. Cornering is balanced, smooth and predictable other than its somewhat annoying tendency to scrape the stand around left hand bends at quite sedate lean angles, again this could be my extra weight but you would definitely notice it two up. Unfortunately I didn't have a chance to play with the adjustable rear shock absorber's four preload settings, stiffening the rear up may have solved this minor problem . Under brakes the Fly is fairly inspired, considering its relatively high curb weight it stops well, the disc front and drum rear were reliable and progressive. This combined with good, chunky tyres provided a stable easily controllable performance and handling package.
One thing I can say about this scooter is that the styling works, it has modern, yet classical lines, it manages to look current without trying too hard too be cool. The other thing you notice after living with the Fly for a little while is the detailing; It has modern lights, functional easy to read dash, quality seat fabric etc, etc, etc. The sum total of all these quality parts is a very sturdy and solid feeling scoter and this is quite apparent from the very second you begin to ride.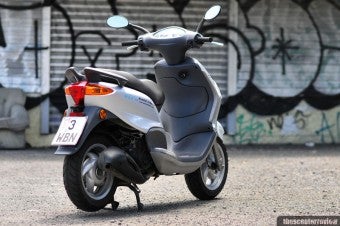 A couple of small niggles that posed a bit of a problem for a tall rider (I am 6'3" so noticed these) The seat was a little close to the front fairing, this meant that for a comfortable seating position I was perched on the ledge between the rider and pillion. The other downside of being a giant rider on this scooter is this; to see the dashboard you have to look completely away from the road… in fact it feels like you are looking straight down, this feels just a little dangerous and I haven't noticed it on other scooters I have ridden. It seems to be just a problem with sitting so far toward the front of the machine. I don't have the same problem when sitting back further on the 'perch' or even the pillion seat.
Last Updated ( Friday, 08 August 2008 13:11 )