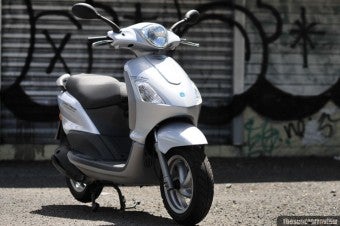 Chitalian? No, sounds too much like some kind of spiced tea… We shall settle for Eurasian then… Confused? Ok let me explain, this little 125cc machine from Italian manufacturer Piaggio is built in their very own factory in China… Now before you start talking about selling out and low quality product let me set things straight. This little Fly is based on Italian tooling; it really is a genuine Piaggio Machine right down to the fact that all the Italian parts and accessories bolt right on, with no "I need a bigger hammer" type modification. What it does mean however is that you can have a genuine Italian scooter for a similar price to a Japanese equivalent… Surprised? So was I!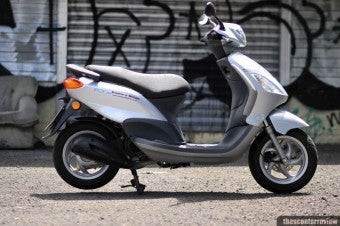 So, to use a horrible pun… Does it 'Fly'? Well in truth not really, let me qualify that. The Piaggio Fly 125 is a very capable commuter, with reasonable acceleration and great poise and handling, however with its reasonably high weight (added admittedly to my reasonably high weight) and fairly ordinary 10.5 horses it is a little more sluggish than I would have imagined, and slower than other 125cc machines I have ridden. That said, as an inner city commuter machine, with its useful under seat compartment (full face helmet will fit) and lockable 'glove box' it works well. And for traffic work it really is solid. The Fly will slice up traffic with the best, it feels sturdy and balanced at all times, including the short trip I made on some wet roads. Cornering is balanced, smooth and predictable other than its somewhat annoying tendency to scrape the stand around left hand bends at quite sedate lean angles, again this could be my extra weight but you would definitely notice it two up. Unfortunately I didn't have a chance to play with the adjustable rear shock absorber's four preload settings, stiffening the rear up may have solved this minor problem . Under brakes the Fly is fairly inspired, considering its relatively high curb weight it stops well, the disc front and drum rear were reliable and progressive. This combined with good, chunky tyres provided a stable easily controllable performance and handling package.
One thing I can say about this scooter is that the styling works, it has modern, yet classical lines, it manages to look current without trying too hard too be cool. The other thing you notice after living with the Fly for a little while is the detailing; It has modern lights, functional easy to read dash, quality seat fabric etc, etc, etc. The sum total of all these quality parts is a very sturdy and solid feeling scoter and this is quite apparent from the very second you begin to ride.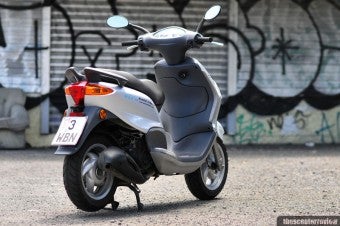 A couple of small niggles that posed a bit of a problem for a tall rider (I am 6'3" so noticed these) The seat was a little close to the front fairing, this meant that for a comfortable seating position I was perched on the ledge between the rider and pillion. The other downside of being a giant rider on this scooter is this; to see the dashboard you have to look completely away from the road… in fact it feels like you are looking straight down, this feels just a little dangerous and I haven't noticed it on other scooters I have ridden. It seems to be just a problem with sitting so far toward the front of the machine. I don't have the same problem when sitting back further on the 'perch' or even the pillion seat.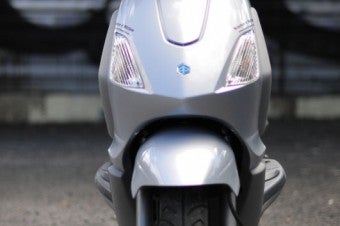 Another minor but noticeable improvement could have been made with the addition of pillion foot pegs rather than the existing extended tray system Piaggio have opted for. This is not a huge complaint but seems strange considering just how good all the other detailing is on the bike. Where they have let the pillion down in the peg department they have gone some way to redeeming themselves with a comfortable seat and seriously sturdy, easy to hold grab bars that somehow also manage to look pretty damn cool.
My overall impression of the Piaggio Fly 125 is that of a well-priced, capable, fuel efficient, urban commuter, with good storage, predictable reliable handling and good braking ability. The detailing on the whole is immaculate. So as long as you are not interested in traffic light Grand Prix or extended Highway use and have less freakish dimensions than myself you should find this stylish scoot fits the bill.
Oh and don't forget it IS more or less Italian… that must count for something?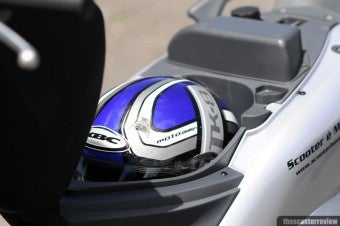 0-50km/h
7.4 seconds

0-80km/h
16.7 seconds

50-80km/h
11.3 Seconds
L/100kms
3.2L/100kms - 73MPG

Speedo Accuracy

50kph displayed = 46kph actual

80kkph displayed (overtaking) = 73kph actual

---

Pros:

Solid reliable handling, Reasonable brakes, Good storage, Beautiful detailing, Great Fuel efficiency, Well built, Italian

Cons:

Overweight, Underpowered, Unsuitable for tall riders, No trip meter

---

Handling

Performance

Fuel Consumption
Value for money
Ease of use
Styling
Build quality

---

Overall Score

73%




Manufacturer Specifications
Details:

Economical 125cc four-stroke engine

Electric start

Constant Variable Automatic Transmission (CVT)

Available in two seat height options

Under seat lockable storage compartment

Convenient shopping bag hook and lockable glove compartment for extra storage

Fuel gauge and digital clock included in dash

Front disc brake and powerful rear drum for strong, predictable and safe stopping in all conditions

Alloy wheels

Low-emission, environmentally friendly Euro 2 compliant

2 Year unlimited Kilometre warranty

Engine Type Single cylinder 2-valve Air-cooled 4-stroke

Cylinder Capacity 124 cc

Bore X stroke 57 x 48.6 mm

Max power at shaft 7.8 Kw (10.5 HP) at 8,000 rpm

Max torque 10 Nm at 7,000 rpm

Starting Electric

Transmission Automatic Transmission (CVT) with Automatic Clutch

Chassis Steel Tube with reinforced plates

Front suspensions 32 mm telescopic hydraulic fork

Rear suspensions Hydraulic single shock absorber, spring pre-load adjustable to 4 positions

Front brake 200 mm disk, floating calliper with twin pistons

Rear brake 140 mm drum

Front tyre/rear tyre Tubeless 120/70-12", Tubeless 120/70-10"

Length 1870 mm

Width 735 mm

Wheelbase 1330 mm

Seat height 785 mm

Dry weight 112 kg

Fuel tank capacity 7.2 litres

Max speed (km/hr) 94 km/h

Type approval Euro 2

Consumption (ECE applicable text cycle)28km/l (ECE 40 test cycle)

Comments

(0)


Subscribe to this comment's feed
Last Updated ( Friday, 08 August 2008 13:11 )