Page 2 of 3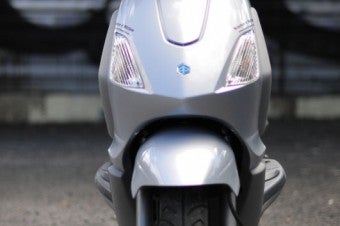 Another minor but noticeable improvement could have been made with the addition of pillion foot pegs rather than the existing extended tray system Piaggio have opted for. This is not a huge complaint but seems strange considering just how good all the other detailing is on the bike. Where they have let the pillion down in the peg department they have gone some way to redeeming themselves with a comfortable seat and seriously sturdy, easy to hold grab bars that somehow also manage to look pretty damn cool.
My overall impression of the Piaggio Fly 125 is that of a well-priced, capable, fuel efficient, urban commuter, with good storage, predictable reliable handling and good braking ability. The detailing on the whole is immaculate. So as long as you are not interested in traffic light Grand Prix or extended Highway use and have less freakish dimensions than myself you should find this stylish scoot fits the bill.
Oh and don't forget it IS more or less Italian… that must count for something?
Last Updated ( Friday, 08 August 2008 13:11 )