Page 1 of 3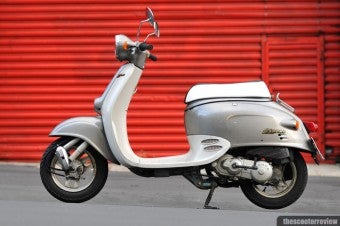 Imagine a baby scooter born in the regimented, structured world of Japan, then whisked away to live in Italy raised by an old couple, say, Mario and Gabriella. He is named Giorno and he lives with this Italian couple in a small villa. This youngster is raised on pizzas and pasta, he goes to a small, country school just outside of Rome, he looks Italian, he speaks Italian, but he is Japanese.
I can't think of any other way the Giorno could have come into being. The other option, however unlikely is that Honda thought they could build a retro styled scooter and sell millions of units. The later however is an unfathomably boring story and I like my one much better.
So yes, the Honda Giorno is a retro styled scooter. Now I'm sure there are large bunch of Italian scooter guys who are upset that Honda copied this particular genre, unfortunately for them it isn't the first or last time this would happen, both by the Japanese and many others. However it must be said that imitation is the sincerest form of flattery so those die hard fans shouldn't be too disappointed. Take a look you'll see that Honda have done a damn fine job with their take on this style. There isn't a sharp line anywhere on the bodywork. Circular button shaped indicators pop out of the front and rear with the round headlight mounted proudly. The dash features a very nice chrome surround. Even the numbers on the speedometer are scripted in a retro style.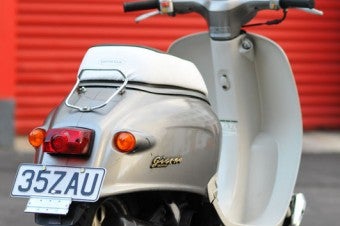 There is chrome and there are simple soft lines, BUT there is one big difference, one thing that separates the Giorno from many of the Italian scooters. Metal, steel and iron! The Giorno has enough steel to make perhaps half a panel of an Italian scooter. Almost all the bodywork is plastic. Now you could say, boo, hiss, it is awful - it needs to be made from metal, but does it? Metal is far heavier than plastic, so the Honda is light. Cost, plastic is cheaper to produce, so the Giorno is cheap and of course plastic will never rust. Due to the heavy use of plastic the featherweight Honda performs well in our 0-50kph test, 12.6sec was recorded from the restricted model that was tested. A faster time could be achieved with the factory restrictions removed.
Last Updated ( Friday, 08 August 2008 12:44 )