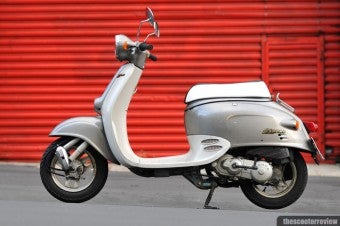 Imagine a baby scooter born in the regimented, structured world of Japan, then whisked away to live in Italy raised by an old couple, say, Mario and Gabriella. He is named Giorno and he lives with this Italian couple in a small villa. This youngster is raised on pizzas and pasta, he goes to a small, country school just outside of Rome, he looks Italian, he speaks Italian, but he is Japanese.
I can't think of any other way the Giorno could have come into being. The other option, however unlikely is that Honda thought they could build a retro styled scooter and sell millions of units. The later however is an unfathomably boring story and I like my one much better.
So yes, the Honda Giorno is a retro styled scooter. Now I'm sure there are large bunch of Italian scooter guys who are upset that Honda copied this particular genre, unfortunately for them it isn't the first or last time this would happen, both by the Japanese and many others. However it must be said that imitation is the sincerest form of flattery so those die hard fans shouldn't be too disappointed. Take a look you'll see that Honda have done a damn fine job with their take on this style. There isn't a sharp line anywhere on the bodywork. Circular button shaped indicators pop out of the front and rear with the round headlight mounted proudly. The dash features a very nice chrome surround. Even the numbers on the speedometer are scripted in a retro style.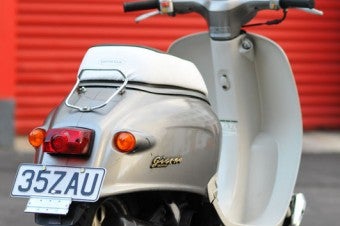 There is chrome and there are simple soft lines, BUT there is one big difference, one thing that separates the Giorno from many of the Italian scooters. Metal, steel and iron! The Giorno has enough steel to make perhaps half a panel of an Italian scooter. Almost all the bodywork is plastic. Now you could say, boo, hiss, it is awful - it needs to be made from metal, but does it? Metal is far heavier than plastic, so the Honda is light. Cost, plastic is cheaper to produce, so the Giorno is cheap and of course plastic will never rust. Due to the heavy use of plastic the featherweight Honda performs well in our 0-50kph test, 12.6sec was recorded from the restricted model that was tested. A faster time could be achieved with the factory restrictions removed.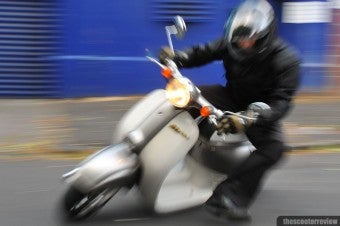 The cool retro speedometer looks great and is accurate, only showing 1kph under the actual speed at 50kph. The dash does have annoying lights that flash if you exceed 30kph. This form of warning beacon is however fairly common on many of the Japanese 50cc bikes.
The Giorno, handles well, it feels like it has a longer wheelbase than other Honda scooters. It also features softer suspension, which made it comfortable to ride over unkempt, uneven city streets. The soft set-up however means that potholes can bottom out the suspension unsettling the rider. If you weigh over 80kg, it maybe a good option to upgrade the suspension… or perhaps just buy something else. It is easy to throw into corners, and light enough for almost anyone to place it on the stand. The large under seat compartment gobbles up a full-face helmet with ease.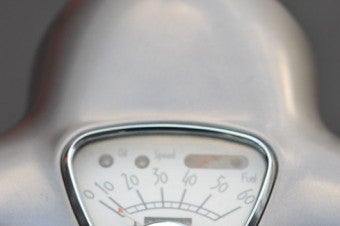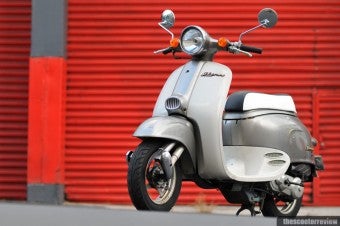 Just so you know; it isn't all roses, there are a few thorns in this retro styled bouquet; the brakes on the 1997 model tested were drum brakes front and rear, unfortunately these are far from the best option when it comes to stopping in a hurry. The 50cc Honda engine, is limited to 55kph, this is just barely enough for city streets, hills scrub off 10km pretty quickly, so a little more power either from the factory or by de-restricting would be great. Increased power should provide the capability to cruise in the 50 -60kph range, and to hold a speed up hills that will prevent the Giorno from becoming a speed bump. There are many bolt-on accessories that can give the Honda engine enough power to be a more capable machine at minimal cost; de-restriction would be a very good start.
The Honda Giorno certainly isn't the same as every other scooter that has come out of Japan. If you are looking for a 50cc scooter with style you've found it - it has a great reliable engine and great looks. If you've looked at the Italian scooters and like the looks but not the price tag, go have a test ride of the Giorno, you may well be surprised.
Price
$1690 NZ
0-50km/h
12.6 Seconds
Top Speed
---
Fuel Economy
2.8L/100kms - 84MPG
Speedo Accuracy

50kph displayed = 49kph actual

---

Pros:

Italian style – Japanese price, Light, good gas mileage, easy to move about, good storage, plastic body

Cons:

Weak Brakes, limited peed/power, plastic body, soft suspension.

---

Handling
Performance
Fuel Consumption
Value for Money

Ease of Use

Styling
Build quality

---

Overall Score

77%
Manufacturer Specifications
| | |
| --- | --- |
| Max power at shaft | 3.6 KW (5.6 HP) @ 6500 RPM |
| Max torque | 0.68kgm at 5500 rpm |
| Engine Type | Single-cylinder 2 stroke |
| Cylinder Capacity | 49cc |
| Seat height | 720mm |
| Dry weight | 64kg |
| Kerb weight | 69kg |
| Fuel tank capacity | 4.2 liters |
| Starting | Electric & Kickstart |
| Transmission | CVT "Twist and Go" |
| Storage volume | --- |
| Cooling | Force air cooled |
| Bore X stroke | 39.0 x 41.4 mm |
| Compression ratio | 7.0 |
| Chassis | Steel Tube |
| Front suspension | Bottom-link |
| Rear suspension | Unit swingarm |
| Front brake | Drum |
| Rear brake | Drum |
| Front wheel/tyre | 90/90-10" 50J |
| Rear wheel/tyre | 90/90-10" 50J |
| Length | 1660mm |
| Width | 630mm |
| Wheelbase | 1175mm |
| Max speed (km/hr) | 55km (restricted) |
| Type approval | --- |
| Consumption (ECE applicable text cycle) | --- |
| Consumption @km/h - km/l | --- |
| Audible Indicator | no |
| Full helmet storage | yes |
| Glove box | no |
| Fuel Guage | yes |
| Trip Meter | no |
| Seat release (via remote control) | no |
| Seat release (remote, ignition/switch) | no |
| Alarm | no |
Comments
(0)


Subscribe to this comment's feed
Last Updated ( Friday, 08 August 2008 12:44 )