Page 1 of 3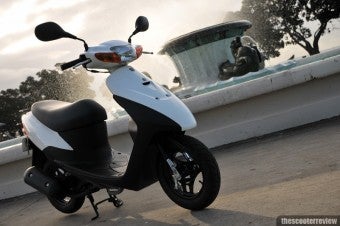 So, your empire has crumbled, your state of the art space battle station has been blown to kingdom come. You have to sell off what remains of your assets so you can purchase some nice corner lot on a virtually unknown planet in the Azphiddy quadrant to hide, regroup and plan your next endeavour. Should you make another attempt at ruling the galaxy… or should you just open that haberdashery that your mum always wanted you to?
You always were better with a sewing machine than a planet-killing laser! First however, the task at hand, selling off the remaining inventory… but who in the cosmos is going to buy 385,263 "Storm Trooper" uniforms? Then you have it! The perfect pitch… you meander off to Japan on the near forgotten planet "Earth" and talk to the design team at Suzuki. "Have I got a deal for you…!"
Now the smart chaps and chapettes at Suzuki saw something in the truckloads of Black and White plastic… they saw the new AZ50… they didn't, it would appear see a great name… they did however use the galactic army surplus to put together an interesting evolution of the humble 50cc scooter. Don't get me wrong the AZ is still a pretty humble device, but it has been modernised enough to make it look new, while retaining the "classic?" idea of what a Japanese 50 should look like. A shortening and rounding of the traditional "duck bill" front and the use of some good quality plastics (which may or may not deflect laser fire) come together to create a good looking update on the traditional design.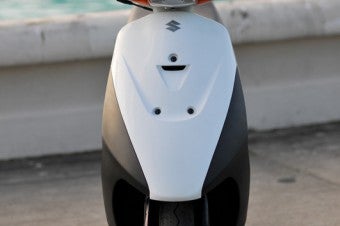 Last Updated ( Wednesday, 06 August 2008 15:04 )