Page 2 of 3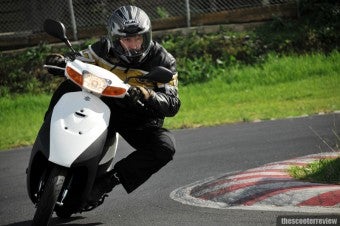 Now we got the new AZ50 from Suzuki for our 2008, 50cc comparison test, doing this meant that more so than in most reviews we got to ride it back to back with most of it's available competition. In a field of around 13 bikes it fared very well indeed. Along with the Suzuki Jog and the Vespa S 50 I rate it in the top 3 bikes of the test, at least in the "riding/performance" stakes. This is a very lightweight bike with a two-stroke engine and gearbox combination that is set up just right. The combination provides a tractability that is seldom found in a 50cc machine. Even with my superior weight, our de-restricted test bike had no problem trucking up most medium sized hills and was a dream on the flat. Acceleration was brisk and I never had to worry about being run down from behind if I nipped to the front of the queue at the traffic lights.
The handling was good; the suspension was quite soft but didn't bottom out as badly as many in its class do. The brakes were my first real concern; drums front and rear are not particularly awe-inspiring. That said however, they did pull the bike up effectively and I never had any heart in mouth moments. The problem with drums is more to do with service intervals than stopping power. Something that your life depends on shouldn't need to be adjusted at home every few weeks… the likelihood of the adjustment being done is slim… I am fairly mechanically minded and I seldom get around to doing it. This is downright dangerous if you don't have the safety net of at least one brake (i.e. a disc up front) that is still in tip top condition.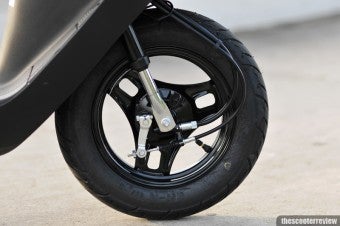 The other small issue I had was with the front shock, now as I say it worked fine. I am just a little concerned; looking at the front shock absorber I saw a very small, very basic looking tube. Now I apologize in advance to mister Suzuki if I am proved wrong but it just doesn't look very sturdy. It gives a distinct impression that it will wear out fast. The soft feel of the suspension just adds to this sense of the unit being just a bit under engineered… or to be perfectly blunt… it looked and felt cheap.
Last Updated ( Wednesday, 06 August 2008 15:04 )