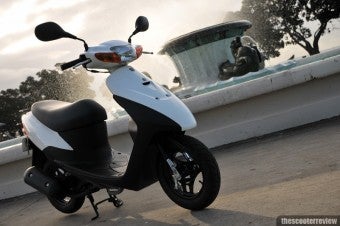 So, your empire has crumbled, your state of the art space battle station has been blown to kingdom come. You have to sell off what remains of your assets so you can purchase some nice corner lot on a virtually unknown planet in the Azphiddy quadrant to hide, regroup and plan your next endeavour. Should you make another attempt at ruling the galaxy… or should you just open that haberdashery that your mum always wanted you to?
You always were better with a sewing machine than a planet-killing laser! First however, the task at hand, selling off the remaining inventory… but who in the cosmos is going to buy 385,263 "Storm Trooper" uniforms? Then you have it! The perfect pitch… you meander off to Japan on the near forgotten planet "Earth" and talk to the design team at Suzuki. "Have I got a deal for you…!"
Now the smart chaps and chapettes at Suzuki saw something in the truckloads of Black and White plastic… they saw the new AZ50… they didn't, it would appear see a great name… they did however use the galactic army surplus to put together an interesting evolution of the humble 50cc scooter. Don't get me wrong the AZ is still a pretty humble device, but it has been modernised enough to make it look new, while retaining the "classic?" idea of what a Japanese 50 should look like. A shortening and rounding of the traditional "duck bill" front and the use of some good quality plastics (which may or may not deflect laser fire) come together to create a good looking update on the traditional design.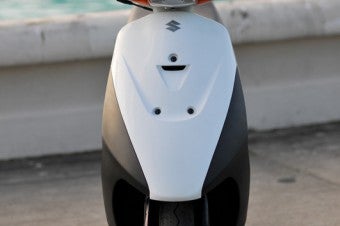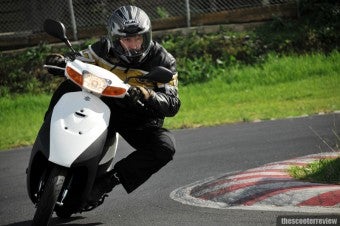 Now we got the new AZ50 from Suzuki for our 2008, 50cc comparison test, doing this meant that more so than in most reviews we got to ride it back to back with most of it's available competition. In a field of around 13 bikes it fared very well indeed. Along with the Suzuki Jog and the Vespa S 50 I rate it in the top 3 bikes of the test, at least in the "riding/performance" stakes. This is a very lightweight bike with a two-stroke engine and gearbox combination that is set up just right. The combination provides a tractability that is seldom found in a 50cc machine. Even with my superior weight, our de-restricted test bike had no problem trucking up most medium sized hills and was a dream on the flat. Acceleration was brisk and I never had to worry about being run down from behind if I nipped to the front of the queue at the traffic lights.
The handling was good; the suspension was quite soft but didn't bottom out as badly as many in its class do. The brakes were my first real concern; drums front and rear are not particularly awe-inspiring. That said however, they did pull the bike up effectively and I never had any heart in mouth moments. The problem with drums is more to do with service intervals than stopping power. Something that your life depends on shouldn't need to be adjusted at home every few weeks… the likelihood of the adjustment being done is slim… I am fairly mechanically minded and I seldom get around to doing it. This is downright dangerous if you don't have the safety net of at least one brake (i.e. a disc up front) that is still in tip top condition.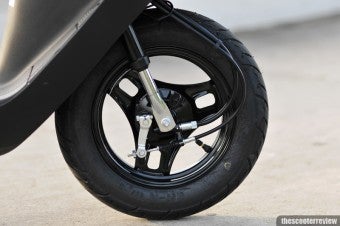 The other small issue I had was with the front shock, now as I say it worked fine. I am just a little concerned; looking at the front shock absorber I saw a very small, very basic looking tube. Now I apologize in advance to mister Suzuki if I am proved wrong but it just doesn't look very sturdy. It gives a distinct impression that it will wear out fast. The soft feel of the suspension just adds to this sense of the unit being just a bit under engineered… or to be perfectly blunt… it looked and felt cheap.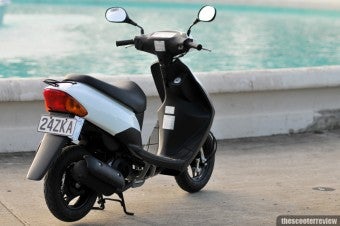 Now as good as it is to ride there are a few problems with this bike for day-to-day use, in other words how easy it would be to live with. It does have storage under the seat for a full-face helmet, which is great, and sorely lacking in many 50cc scooters, unfortunately there is no front glove box of any sort. Also missing are some things that I consider very useful if not absolutely necessary… these things include; a fuel gauge, a "high beam" warning light, some sort of pillion apparatus… pegs at least, a side stand etc, etc. The AZ unfortunately had none of these things.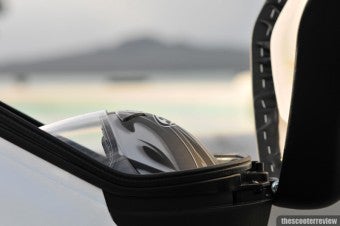 So what do we have? We have an updated, classic workhorse from Suzuki, it looks good and has been put together with some high quality materials, plastics and the like. The new AZ50 has a distinctly useful engine and gearbox combo that makes this a thoroughly capable commuting machine. Unfortunately it is let down in a few departments such as the decision to put drum brakes all round and install some fairly ordinary suspension components along with missing fuel gauge and the likes. Had the bean counters been a little looser with the allocation of funds to rectify these minor issues this already "good" machine could have been awesome. All this being said the bike is well worth a test ride. The sweet engine and gearbox package along with the updated styling makes this one of the top options, and realistically one of only very few worth considering for the price.
Price
$1995 NZ
0-50km/h
9.6 Seconds

Top Speed

Lap Time

60

46.0 Seconds

Fuel Economy
3.6L/100kms - 65MPG
Speedo Accuracy

50kph displayed = 48kph actual

---

Pros:

Fast, good handling, large underseat compartment, all round ability, styling

Cons:
Brakes, suspension, lack of amenities (fuel guage etc)

---

Handling
Performance
Fuel Consumption
Value for money
Ease of use
Styling
Build quality

---

Overall Score

74%
Manufacturer Specifications
| | |
| --- | --- |
| Max power at shaft | --- |
| Max torque | --- |
| Engine Type | Single-cylinder 2 stroke |
| Cylinder Capacity | 49cc |
| Seat height | 705mm |
| Dry weight | 72kg |
| Kerb weight | --- |
| Fuel tank capacity | 5.3 liters |
| Starting | Electric & Kickstart |
| Transmission | CVT "Twist and Go" |
| Storage volume | --- |
| Cooling | Air Cooled |
| Bore X stroke | 41.0mm x 37.4mm |
| Compression ratio | 7.2:1 |
| Chassis | Steel Tube |
| Front suspension | --- |
| Rear suspension | --- |
| Front brake | Drum |
| Rear brake | Drum |
| Front wheel/tyre | 3.00 x 10" |
| Rear wheel/tyre | 3.00 x 10" |
| Length | 1670mm |
| Width | 605mm |
| Wheelbase | 1140mm |
| Max speed (km/hr) | --- |
| Type approval | --- |
| Consumption (ECE applicable text cycle) | --- |
| Consumption @km/h - km/l | --- |
| Audible Indicator | yes |
| Full helmet storage | yes |
| Glove box | no |
| Fuel Guage | no |
| Trip Meter | no |
| Seat release (via remote control) | no |
| Seat release (remote, ignition/switch) | no |
| Alarm | no |
Comments
(4)


Subscribe to this comment's feed
Last Updated ( Wednesday, 06 August 2008 15:04 )