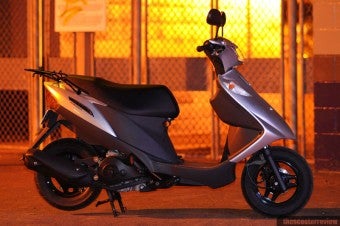 The UZ125 Address? What kind of name is that, who's address is it? Mine, someone I know; is it where I'm going or is it where I've been? Is it implying that I can go to an address? I mean…all scooters can go to an address. Maybe this one is different, maybe you can mail it. Maybe it comes with stamps… a lot of stamps…they go by weight nowadays. Mailing it could be an issue; it would probably go something like this.
95kg international parcel to Florida please. "Do you want fast post?" Ah no…just regular post thanks. "Okay no problem….that will be one million dollars please" Ahh one million, but it's an Address. "Yes sir I know it's an address; in Florida". No, the package it's a Suzuki Address. "Suzuki?...ahh I don't see that, I've just got Tampa Florida, do you want to re address it?" What no…no it's a SUZUKI ADDRESS, it's a scooter. "Scooter…is that a town or a city..."
Now there's an idea for a comparison test, best scooter to mail…yes it's a dumb name. Anyway on with the review…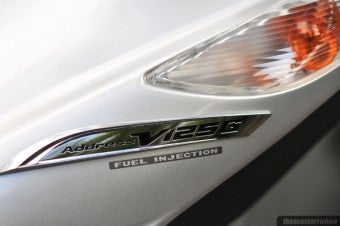 Suzuki is and always has been one of the larger players in the scooter market and the UZ125 represents many years of progress in the category. The UZ125 sits in what we call the budget 125cc category; it's built to an entry level price point and competes with models like the Piaggio Fly 125, Kymco Agility 125 and Sym Orbit 125.
The Suzuki's major weapon is its performance, with a maximum power output of 11 horsepower it leads the category on power output and is around the lightest too at just 95kg. This adds up to a few saved seconds in all of our performance tests. There are quicker 125s, but not at this price point. The Suzuki Address 125 has proven a very popular scooter for inner city couriers for this very reason; when your life depends on punching away from lights quickly and making small gaps while lane splitting it's hard to go past the Suzuki. Combine the brisk performance with solid reliability and low running costs and you can quickly see why the Suzuki is so popular.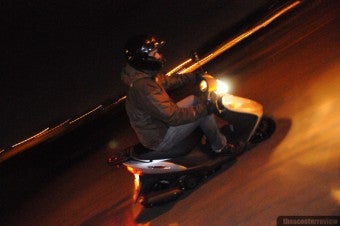 The low weight and ten inch wheels make the UZ125 highly maneuverable and one of the best handling small frame scooters around. On smooth roads the Suzuki is straight up fun to chuck into corners. Suspension is pretty average though and combined with the small wheels it can get pretty choppy over bumpy sections with heavier riders, but as they say; you get what you pay for. There's no free lunch etc…Suzuki did see fit to include a few extra features like an alarm and a 12 Volt socket under the seat for charging phones etc…but they decided to give us a drum rear brake and a pretty average front disc brake. Now take note; lose the marketing gimmicks; I really don't care if I can charge my damn i-pod. Use the money you could save not including these semi useless features on a nice solid set of disc brakes on both wheels. With twin discs the UZ125 would be the near perfect scooter. (We're going to experiment with upgrading the front disc on our long term test scooter.) In fairness the Suzuki's competitors are all similarly weak in the braking department so it's just what to expect at this price.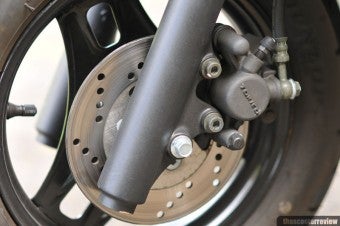 Using the Suzuki is pretty straight forward; it's got a great side stand and is very easy to put on the centre stand when needed. Storage is good as it handles a regular sized full face helmet and also has a small front bucket storage area for gloves etc. Unfortunately the front storage is not covered or lockable so those prior mentioned gloves will be stolen or sopping wet if it rains. Still useful though for quick drop-ins of the sneaky ice cream that you don't want to melt in the under seat cooker (under seat storage compartments tend to get warm on most scooters). The UZ125 will travel at 100kph provided you're on flat ground and aren't riding into a headwind so is quite useable for motorway/freeway commuting in the slow lanes. It tops out at around 105kph which is considerably better than most entry level 125cc scooters.
A bit of a let down is the low apparent build quality; now don't get me wrong, we're not talking about reliability. Just the general fit and finish, we only test most scooters over a period of three days so are not able to comment on reliability; that's what the long term fleet is for. The Suzuki uses rather cheap plastics and generally doesn't feel as solid or as well finished as say the Piaggio Fly 125.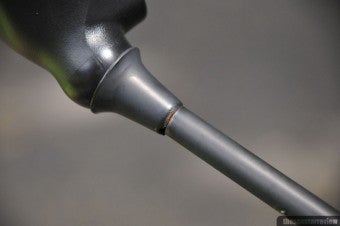 Summing up is pretty straight forward. If you want the fastest and most fun smaller bodied 125cc scooter around; buy the Suzuki. If you're more concerned about smoother handling and general all round quality, buy something more refined, it's that simple.
Speedometer accuracy
Displayed Actual
50km/h 46km/h
100km/h 94km/h
0-50km/h
6.0 Seconds
0-80km/h
15 Seconds

50-80km/h
10.5 Seconds
Fuel Economy


3.1L/100kms - 76MPG

---

Pros:
Light weight, low cost, good power, awesome in traffic
Cons:
Average build quality

---

Handling
Performance
Fuel Consumption
Value for money
Ease of use
Styling
Build quality

---

Overall Score

76%
Manufacturer Specifications
| | |
| --- | --- |
| Max power at shaft | 11.5hp at 7,500 rpm |
| Max torque | 1.2kg/m @ 6000 rpm |
| Engine Type | Fuel injected SOHC, Single Cylinder, 4-stroke |
| Cylinder Capacity | 124 cc |
| Seat height | --- |
| Dry weight | 94kg |
| Kerb weight | --- |
| Fuel tank capacity | 6Litres |
| Starting | Electric & Kickstart |
| Transmission | CVT "Twist and Go" |
| Storage volume | --- |
| Cooling | Forced Air Cooled |
| Bore X stroke | 53.5mm x 55.2mm |
| Compression ratio | 10.0:1 |
| Chassis | --- |
| Front suspension | Telescopic Fork |
| Suspension | Oil Dampened, Coil sprung swingarm |
| Front brake | 220 mm disk |
| Rear brake | 130mm Drum Brake |
| Front wheel/tyre | 90/90 - 10" 50J |
| Rear wheel/tyre | 100/90 - 10" 56J |
| Length | 1750 mm |
| Width | 635 mm |
| Wheelbase | 1235 mm |
| Max speed (km/hr) | --- |
| Type approval | --- |
| Consumption (ECE applicable text cycle) | --- |
| Consumption @km/h - km/l | --- |
| | |
| --- | --- |
| Audible Indicator | yes |
| Full helmet storage | yes |
| Glove box | yes |
| Fuel Guage | yes |
| Trip Meter | no |
| Seat release (via remote control) | no |
| Seat release (remote, ignition/switch) | yes |
| Alarm | yes |
Comments
(4)


Subscribe to this comment's feed
Last Updated ( Friday, 08 August 2008 12:58 )