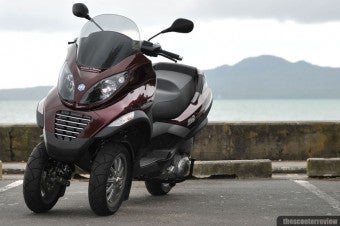 Now…what if you were born with a third arm? Would it be good or would it be bad? I guess people would point and stare and that I imagine could get uncomfortable, but not if you liked the attention. Now…what if this extra arm was fully functional and you were say…a boxer. I bet you'd want to keep that extra arm. This brings us to the Piaggio MP3 250 RL, it has as you've probably noticed, three wheels; two up front and one in back. Why you ask? Because Piaggio think it's better than two of course.
Now you ask the million dollar question, is it better? Well to put it simply…for a majority of people, yes it's better. The additional front wheel allows you to stop quicker; it certainly feels more secure when riding on poor surfaces and unquestionably it's safer in the rain. Would I buy one, you know what? If they make a sportier model with a larger engine I very well might do just that. You may be wondering how it all works, I'll sum it up quickly, it just does. If you'd like to know the technical aspects of the three wheel design just scroll down to the links which go into more technical detail. What I'll do here is give you the basic run down on what the Piaggio MP3 250 is actually like to ride and use.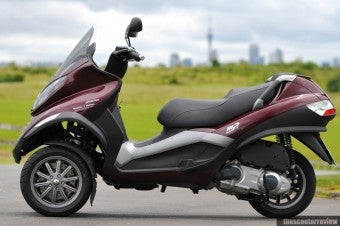 The MP3 is quite large and rather threatening when first viewed but quickly grows on you. All that size has its benefits though; storage and lots of it. The under seat storage area is gigantic in scooter terms and holds all manner of strange shaped objects due to its extreme length. I was able to easily store my ice axe and walking poles…because scooters are regularly used for mountain climbing. Obviously not, but knowing I could sure makes me think. Now there's an idea for a ridiculous test. "Best Mountain Scooter" the MP3 would surely win as the roads in are always gravel and the two front wheels would be far better on a dirt road…like that's relevant to anything. Then again maybe you commute form a farm…who knows…anyway back on track now.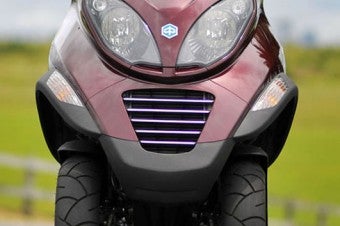 Performance is fairly good around town with smooth power from the 250cc four stroke engine. Off the line the MP3 is a little sluggish as the clutch take up is slow and the overall weight is fairly high at 213kg. That being said it certainly makes it smooth on take off and great for riding two up as the pillion passenger doesn't get jerked around. Pillion passengers get a nice comfortable ride on the MP3 and it ranks with the best around for two up travel. Through city traffic it won't match a small bodied scooter like a Gilera Runner but you'd be surprised how close they'd actually be. The MP3 will make it through fairly small gaps because although it appears broader its actual width is nearly the same as a normal two wheel scooter from mirror to mirror. The suspension is great and really shows off how much better modern scooters handle compared to the days of old; the rear even has adjustable pre-load so you can tune it to different rider weights.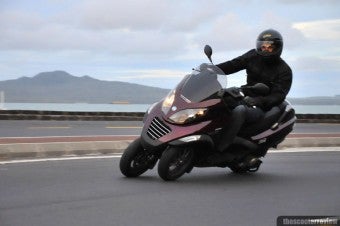 One of the unique features of the MP3 design is the elecro-hydraulic front wheel locking system; it is operated via a small switch next to the right grip. This means that when parking you simply lock the front wheels in position, then pull on the small handbrake and step off. No hauling the bike on to its centre stand, no worrying about angles on hills…just park and walk. You'd be surprised how quickly you get used to it and how much simpler it makes using a large scooter. The party trick though is the ability to lock the front wheels when stopping at traffic lights etc before you come to a stop. Depending on how fast you decelerate the bike allows you to lock the front wheels when you drop below approximately 10kph. This means you hit the switch as you approach the lights and don't even need to put your feet on the ground. When the lights turn green you simply twist the throttle and take off. The bike automatically unlocks the front wheels as you leave. It's surprising how quickly you'll begin to use this feature and then you'll wonder how you ever did without it. It works perfectly, even with a pillion.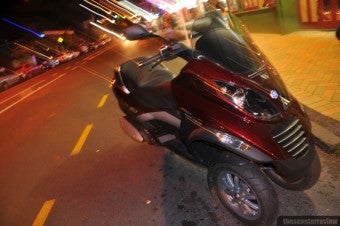 Braking is by handled by discs at both ends and is reported to be faster than any two wheeled scooter by about 20% due to the added traction of the two front wheels. This is something we'll be testing in our upcoming "Super Scooter Battle" but on seat of the pants feel alone the MP3 definitely appears to stop quicker than any normal 250cc scooter, especially considering its high weight. The MP3 is all about stability. Put simply, there isn't a more stable more confidence inspiring scooter or motorbike for that matter made. As any bike rider knows a front wheel slide while turning in wet weather normally ends in one thing…an accident. Not so with the MP3, the added traction and stability of the front wheels mean a front wheel slide is unlikely and even recoverable. For that reason alone the MP3 becomes the bike of choice for anybody commuting in a wet location. If the MP3 isn't a hit in places like Seattle and the London then there's something wrong with the world.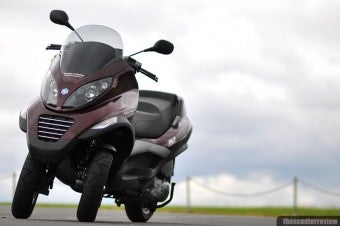 Fuel economy was about average for a 250cc machine and quite good considering the increased weight and the fact that we rode the bike far harder than the average user will. I imagine you'll see about a twenty percent improvement over our results with normal usage.
There were a few negatives aspects of the MP3 design. It is heavy (213kg); those locking front wheels sometimes cause you to forget it. Scooter manufactures are rather lazy with the design of their larger models with most nearing this weight. Considering a 1000cc 190 horsepower motorcycle weighs in at less than 180kg it seems rather ridiculous that a 250cc 22.5 horsepower scooter could weigh 213kg; three wheels or not. Because of this it really needs to be ridden like a motorbike and reversed into parking spaces that slope downhill in anyway; it's rather difficult to haul it out if you forget. It could do with a little more power off the line as the clutch engagement is rather gentle. This I imagine will be solved by the new 400cc version which we'll be testing shortly. Finally the MP3 like most new technologies is rather expensive. You'll pay a high price to be an early adopter with this model.
Summing up; it looks like Piaggio have done something amazing with the MP3; they've invented an entirely new category of vehicle that actually works. I imagine it will be the first of many new three wheeled models from Piaggio and other manufactures as they scramble to imitate. In fact Piaggio Groups own sister brand Gilera has recently announced (26/12/07) the Fuoco 500ie; this looks like it was built for me personally. I'll be the first one in line for a test ride.
0-50km/h
5.7 Seconds
0-100km/h
17.5 Seconds
50-80km/h
5.7 Seconds
Fuel Economy
4.2L/100kms - 56MPG
Speedo Accuracy

50kph displayed = 43kph actual - 100kph diplayed = 91 actual

---

Pros:

Very stable, fantastic confidence in the wet, comfortable, solid brakes, loads of storage space, remote unlocking of under seat storage, gets tons of attention, totally unique

Cons:

Heavy, bit slow of the line, gets tons of attention, expensive

---

Handling
Performance
Fuel Consumption
Value for money
Ease of use
Styling
Build quality

---

Overall Score

72%
Manufacturer Specifications
Max power at shaft

22.5 bhp (16.5 Kw) at 8,250 rpm

Max torque

21 Nm at 6,750 rpm

Engine Type

Single-cylinder QUASAR, 4-stroke, 4-valve, electronic injection, catalysed

Cylinder Capacity

244.3 cc

Seat height
780mm
Dry weight
204kg
Kerb weight
---
Fuel tank capacity
12 litres
Starting
Electric
Transmission

'Twist and go' automatic CVT, torque server

Storage volume
n/a
Cooling
Water cooled
Bore X stroke
72 x 60 mm
Compression ratio

10.5 :1

Chassis
Twin cradle:

T

ubes in high tensile steel
Front suspensions

Parallelogram composed of four aluminium arms supporting two steering tubes, cantilevered suspension – Travel: 85 (mm)

Suspensions

Two dual effect hydraulic shock absorbers and adjustable spring preload – Travel: 110 (mm)

Front brake

Two stainless steel disks, Ø 240 mm and floating calliper with two pistons, Ø 30 mm

n
Rear brake

Stainless steel disk, Ø 240 mm and calliper with opposite pistons, Ø 30 mm

Front tyre
Tubeless 120/70-12"

51P
Rear tyre
Tubeless 130/70-12"

62P
Length
2130 mm
Width
7450 mm
Wheelbase
1490 mm
Max speed (km/hr)
125 km/h
Type approval
Euro3
Consumption (ECE applicable text cycle)
(ECE 40 cycle)

23 km/l
Consumption @km/h - km/l
---
Audible Indicator
no
Full helmet storage
yes
Glove box
yes
Fuel Guage
yes
Trip Meter
yes
Seat release (via remote control)
yes
Seat release (remote, ignition/switch)
yes
Alarm
no
Comments
(3)


Subscribe to this comment's feed
Last Updated ( Wednesday, 06 August 2008 15:09 )