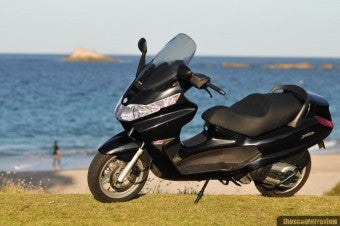 Does anybody actually know what the definition of a maxi scooter is? I mean it…I've asked lots of people and I constantly get conflicting answers; some say storage, some say engine size, others talk about larger wheels and pillion comfort. Now that is all well and good…but where's the line. Is it say, 160kg…then you're a maxi? So you're at the store on your Vespa, you pick up bag of oranges….wammo, you're a maxi. That's it bud you've past the line…do not pass go do not collect $200.
I believe a maxi is a combination of all those things; it's basically an underpowered automatic touring motorcycle masquerading as a scooter. Obviously you get the advantages of a scooter with an automatic transmission and built in storage, so a maxi scooter is always going to be superior to a motorbike around town, but... the X8s 34 horsepower really is about well…100hp less than a touring motorcycle. So one has to ask, is it enough to tour on? Straight up…yes, I was surprised as it works just fine.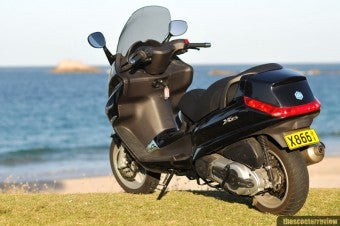 I took the Piaggio X8 400ie on a four hundred km round trip with a pillion to really test it's performance over long distance. First off the X8 is a total pleasure to sit on; the feet forward position is about as comfortable as you can get on any kind of bike. You have the option to move your feet back to the conventional vertical position if you feel you need more control when cornering. Pillion comfort is also high with a three hour trip being easily completed without a single stop. Storage space is rather generous and will fit fairly long objects due to its unique dual opening design. There's enough room for two overnight bags so you and your pillion can ride without a backpack if desired.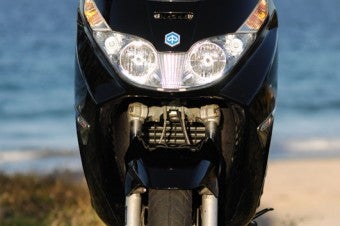 The 400cc engine only makes 34hp but does make 37.6 Nm of torque which is reached at a relatively low 5,500 rpm; this gives the X8 400 surprising brisk acceleration. We clocked it at 8.9 seconds to 100km which is ample quick for most riding. Given that you can do this with a simple twist of the throttle and no gear changes the number doesn't really illustrate quite how it feels, it's basically the same speed as a reasonably fast car to 100kp/h but does it completely effortlessly time and time again. Out on the open road the X8 will comfortably overtake slow moving traffic even with a pillion. Our travel time over the test route was approximately 30mins faster in each direction due to the ease of overtaking slow moving traffic on a bike. Apart from it's limited tank range the X8 makes a great bike for long trips as it cruises effortlessly at 100-120kph (62-75MPH). Fuel consumption on our test ride was about 5L/100kms (47MPG) which is pretty good considering the bike was ridden fairly hard and two-up the majority of the time.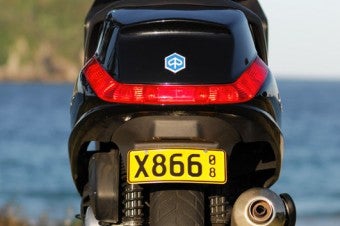 The X8 run twin disc brakes on the front wheel and a single disc on the back wheel; this gives the X8 solid braking for such a heavy machine. The brakes aren't linked on the left lever like on some maxi scooters. This isn't a problem for anybody coming from motorcycle riding or anybody who rides quickly for that matter. Most knowledgeable riders trail brake into corners with just the rear brake to help the bike turn in while decelerating. Linked brakes make this difficult unless they have a built in delay or pressure sensor.
Handling wise the X8 is pretty easy to sum up; solid. The X8 is not the most nimble of maxi scooters; it's also not the slowest handler either. The X8 does nothing surprising; which is exactly what you want from anything with two wheels. The X8 seems to perform best through medium speed corners where its weight is felt less; it also rolls from corner to corner with a steady and predictable manner. The suspension handles most road irregularities with ease and generally gives you a smooth ride. The rear shocks also have adjustable settings for preload to cover different rider weights.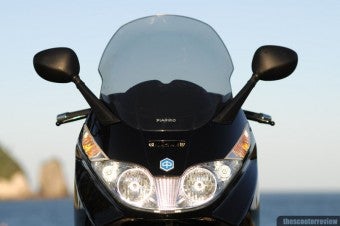 Around town the Piaggio X8 is surprisingly nimble; you won't keep up with a rider on a 125cc in the heaviest traffic as the maxi is always going to be more challenging to move around quickly; but at the traffic's light you'll blast past lesser small cc scooters like they're mere bugs. I had a great time riding the X8 around town and always looked forward to jumping back on it.
The X8 is beautifully made and really does feel like its going to last you many years. Styling wise I think Piaggio really nailed most of the design; it looks both modern and somewhat traditional without looking like its trying too hard. The only real let down is the rear end treatment. Obviously with such a large storage area the back of the scooter was never going to be svelte, although I'm sure that Piaggio could have got the bodywork closer to the frame to narrow the rear bodywork.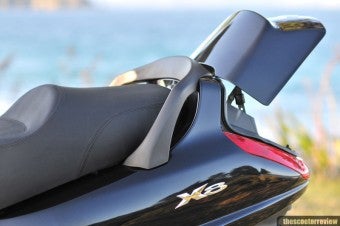 Ease of use is about as good as it gets for a maxi; bonuses like the remote release on the key to both the forward and rear under seat storage areas really make quick trips a breeze. There's also a small non lockable compartment upfront which is great for smaller items like a garage door opener. The only real ease use issue is the centre stand; it's pretty easy to get the 198kg bike on to it; getting it off is somewhat harder. On flat ground it's not too bad, but park the X8 on any kind of uphill slope and getting it off the centre stand involves a strange kind of dynamic body launch into the handlebars. This probably won't effect anybody over 80kg, but if you're shorter or don't weigh a hell of a lot then you might want to have a few goes at this on your test ride. Piaggio could certainly do a better job of the centre stand in future.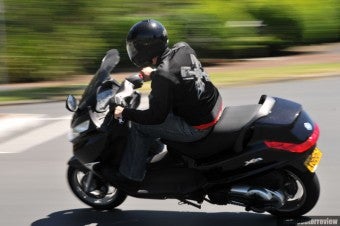 Summing up; the X8 is probably Piaggio's best all rounder in the maxi scooter class. It handles well and its 400cc engine delivers smooth reliable power. We'd like to see an increase in fuel tank size from its limited 12 liter tank to say a 16 liter tank and a better implemented centre stand design but apart from that X8 is pretty much as good as it gets. The X8 400ie is also very competitively priced in some markets so is definitely got to be near the top of any 400cc maxi buyers shopping list. Give it a test ride; you'll most likely find it hard to pass up.
0-50km/h
3.9 Seconds
0-100km/h
8.9 Seconds
50-80km/h
3.6 Seconds
Fuel Economy
5L/100kms - 47MPG
Speedo Accuracy

50kph displayed = 45kph actual - 100kph diplayed = 92 actual

---

Pros:

Awesome storage space, solid brakes, predictable handling, great build quality.

Cons:
Small 12 liter fuel tank, windscreen is far too low for most riders, hard to get off center stand.

---

Handling
Performance
Fuel Consumption
Value for money
Ease of use
Styling
Build quality

---

Overall Score

83%
Manufacturer Specifications
| | |
| --- | --- |
| Max power at shaft | 25 Kw (34 HP) at 7,500 rpm |
| Max torque | 37.6 Nm at 5,500 rpm |
| Engine Type | Single-cylinder Liquid cooled Fuel Injected 4-valve 4-stroke |
| Cylinder Capacity | 399 cc |
| Seat height | 790mm |
| Dry weight | 198kg |
| Kerb weight | --- |
| Fuel tank capacity | 12 litres |
| Starting | Electric |
| Transmission | "Twist and Go" Automatic Transmission (CVT) with Automatic Clutch |
| Storage volume | n/a |
| Cooling | Air Cooled |
| Bore X stroke | 85.8 mm x 69 mm |
| Compression ratio | --- |
| Chassis | Steel Tube |
| Front suspension | Ø 35 mm telescopic hydraulic fork - 94mm travel |
| Rear suspension | Two dual effect shock absorbers and four-position spring preload, 90mm travel |
| Front brake | Stainless steel Ø 240mm disc, floating caliper with two pistons |
| Rear brake | Stainless steel Ø 240mm disc caliper with opposed piston |
| Front wheel/tyre | Tubeless 120/70-14" |
| Rear wheel/tyre | Tubeless 140/70-14" |
| Length | 2184 mm |
| Width | 760 mm |
| Wheelbase | 1540 mm |
| Max speed (km/hr) | 155 km/h |
| Type approval | Euro3 |
| Consumption (ECE applicable text cycle) | 18.5 km/litre |
| Consumption @km/h - km/l | --- |
| Audible Indicator | no |
| Full helmet storage | yes |
| Glove box | yes |
| Fuel Guage | yes |
| Trip Meter | yes |
| Seat release (via remote control) | yes |
| Seat release (remote, ignition/switch) | yes |
| Alarm | no |
Comments
(3)


Subscribe to this comment's feed
Last Updated ( Friday, 08 August 2008 13:39 )