Page 3 of 4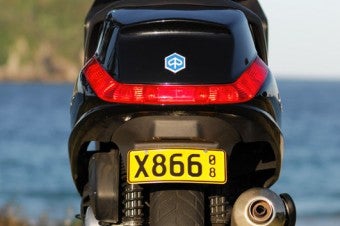 The X8 run twin disc brakes on the front wheel and a single disc on the back wheel; this gives the X8 solid braking for such a heavy machine. The brakes aren't linked on the left lever like on some maxi scooters. This isn't a problem for anybody coming from motorcycle riding or anybody who rides quickly for that matter. Most knowledgeable riders trail brake into corners with just the rear brake to help the bike turn in while decelerating. Linked brakes make this difficult unless they have a built in delay or pressure sensor.
Handling wise the X8 is pretty easy to sum up; solid. The X8 is not the most nimble of maxi scooters; it's also not the slowest handler either. The X8 does nothing surprising; which is exactly what you want from anything with two wheels. The X8 seems to perform best through medium speed corners where its weight is felt less; it also rolls from corner to corner with a steady and predictable manner. The suspension handles most road irregularities with ease and generally gives you a smooth ride. The rear shocks also have adjustable settings for preload to cover different rider weights.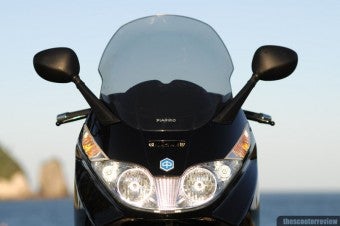 Around town the Piaggio X8 is surprisingly nimble; you won't keep up with a rider on a 125cc in the heaviest traffic as the maxi is always going to be more challenging to move around quickly; but at the traffic's light you'll blast past lesser small cc scooters like they're mere bugs. I had a great time riding the X8 around town and always looked forward to jumping back on it.
The X8 is beautifully made and really does feel like its going to last you many years. Styling wise I think Piaggio really nailed most of the design; it looks both modern and somewhat traditional without looking like its trying too hard. The only real let down is the rear end treatment. Obviously with such a large storage area the back of the scooter was never going to be svelte, although I'm sure that Piaggio could have got the bodywork closer to the frame to narrow the rear bodywork.
Last Updated ( Friday, 08 August 2008 13:39 )