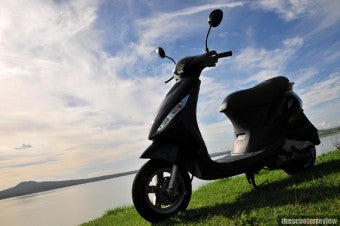 Before I even start this review I have to get this out the open… This will properly shock you, but….The Piaggio Zip '08 off the showroom floor, is so slow that it is almost dangerous. Right, I said it. I firmly believe the restricted, 50cc, four-stroke motor in this scooter only has just enough power to get around in a flat area... and then only if you weigh less than anorexic midget (little person?).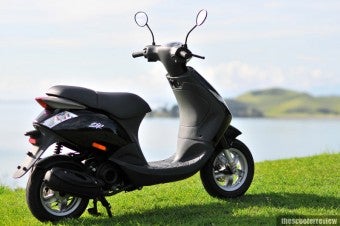 It's a real shame that it's so slow, as the Zip looks sleek and modern; it's a sexy little number. Piaggio have, as per usual, set the bar with build quality. The plastics used are great, the seat is well designed with a good quality covering. The lights are modern, stylish and well built, everything is great... there's just no power. Piaggio do produce a 100cc 4 stroke model which we haven't reviewed yet and I imagine that it would be great bike, as the only real issue I have with the 50cc Zip is the depressing lack of mumbo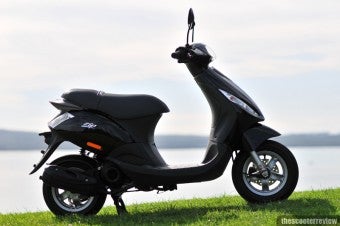 The 50cc Zip comes with 10" alloy rims and 175mm hydraulic disc brake up front, and the obligatory drum on the rear. On the road the Zip feels light and maneuverable, it is low to the ground and weighs approx 92-95kgs wet, the official dry weigh is 89kg. Once again, when there is a small incline any excess weight, be that rider or a full tank of fuel causes the speed to drop away much too quickly. Most 50cc scooters slow down a little when heading up a hill, but the Zip also stops, no really it does! Hitting a small hill, perhaps a 100m climb the bike could only push me up at 30kph(18mph). I was forced to the side and cars cruised by doing almost double my speed...ugh.. the shame... and the danger.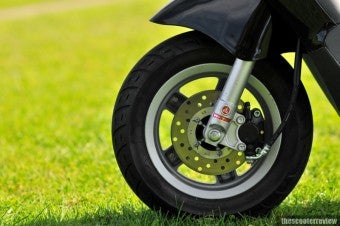 On the flat is cruises comfortably at 50-60km (30 - 37mph) and I managed a top speed run of 65km,(40.3mph) that's a good top speed, but unfortunately its takes an eon to get there. The 0-50kph test proved what I had thought: It only managed 19.9sec, which is pretty shocking and the slowest scooter we have ever reviewed. In that time a 2008 Yamaha Jog could have done the zero to fifty sprint twice... and made a cup of tea... and picked up a date at a bar... ok maybe only if the person being picked was a pretty easy sale.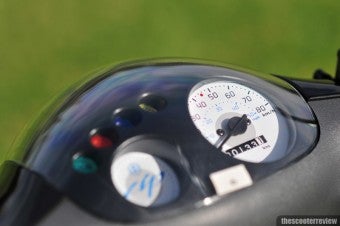 The speedo, although not moving very fast, performed almost perfectly, only being out by 2 kph, showing 48kph at 50kms, unfortunately the large gauge mounted to the left of it did…er..nothing. I'm not sure what it was doing there. Perhaps it was meant to be a fuel gauge, but Piaggio forgot to add it. Oops… But, never fear, there is a orange light that starts to glow when the fuel level drops below about 1.5litres. When riding at night it is so bright that it becomes distracting. Not the best, I much prefer a gauge that tells me what the level is at all times. A cool design feature is the entire cluster of instrumentation is housed in a futuristic, clear plastic sphere, which integrates into the front head-light.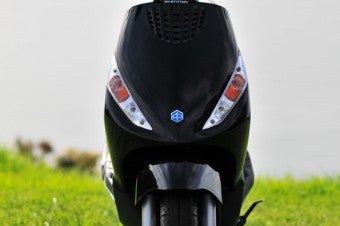 The gas tank, when filled will hold 7.5litres. That's a good sized tank for a lil' fifty, but it gets better… a whole lot better… after our testing we worked out that the 7.5litres would get you about 300kms (186miles). It might take a while, but you could do it. The Zip is a true gas miser, returning just 41.1kms per one liter of gas. In other words 2.4litres per 100kms/ or 96.6mpg! That is one of the best results we've had to date ( 26/5/08).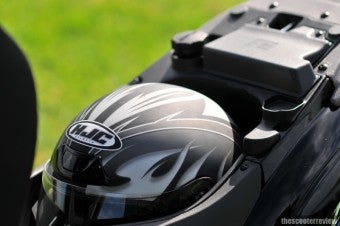 Storage, was very average. My XL full-face helmet didn't come close to fitting in the underseat storage, it would take an open face though. There is a little bag loop, for the shopping, but there isn't a glove box. There is placement for a pillion passenger, by means of extended floorboards, and hidden grips above the rear lights. But I wouldn't like to think how long it would take to ride up a hill with two people on the lil' scooter. I recon it'd be so slow it'd probably end up going backwards. There's an idea, maybe if you rode it backwards it'd be quicker...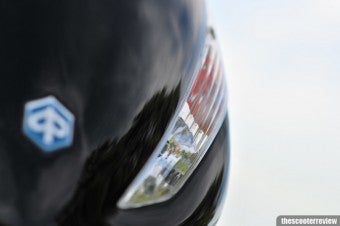 In summing up I'd say the Piaggio Zip would make a great moped for the first time biker, if you didn't need to go fast or far it would be perfect. Perhaps, if you only needed to travel a small distance through a congested city. It is a good looking, light, incredibly economical, and well made scooter. If you really liked the Zip but needed to travel at 50-60km over a few small hills, then you "might" be disappointed with her, perhaps the 100cc model might be for you.
Price
US$1899, AUD$1990, NZD$2400
Lap time
47.8sec
0-50km/h
19.9 Seconds
Top Speed
65kph
Fuel Economy
2.4L/100kms - 96.6 MPG
Speedo Accuracy

50kph displayed = 48kph actual

---

Pros:

Amazing fuel economy, great build quality, good styling, light

Cons:

Restricted mode very slow, doesn't take full-face helmet.

---

Handling
Performance
Fuel Consumption
Value for money
Ease of use
Styling
Build quality

---

Overall Score

69%
Manufacturer Specifications
| | |
| --- | --- |
| Max power at shaft | --- |
| Max torque | --- |
| Engine Type | Single-cylinder 4 stroke |
| Cylinder Capacity | 49cc |
| Seat height | 765mm |
| Dry weight | 89kg |
| Kerb weight | --- |
| Fuel tank capacity | 7.5 liters |
| Starting | Electric & Kickstart |
| Transmission | CVT "Twist and Go" |
| Storage volume | --- |
| Cooling | Air Cooled |
| Bore X stroke | --- |
| Compression ratio | --- |
| Chassis | Steel Tube |
| Front suspension | Telescopic fork |
| Rear suspension | Hydraulic shock |
| Front brake | 175mm Disc |
| Rear brake | 110mm Drum |
| Front wheel/tyre | 180/80-10" |
| Rear wheel/tyre | 120/90-10" |
| Length | 1690mm |
| Width | 680mm |
| Wheelbase | 1215mm |
| Max speed (km/hr) | 65 |
| Type approval | --- |
| Consumption (ECE applicable text cycle) | --- |
| Consumption @km/h - km/l | --- |
| Audible Indicator | no |
| Full helmet storage | no |
| Glove box | no |
| Fuel Guage | no |
| Trip Meter | no |
| Seat release (via remote control) | no |
| Seat release (remote, ignition/switch) | no |
| Alarm | no |
Comments
(5)


Subscribe to this comment's feed
Last Updated ( Wednesday, 06 August 2008 15:06 )