Page 2 of 3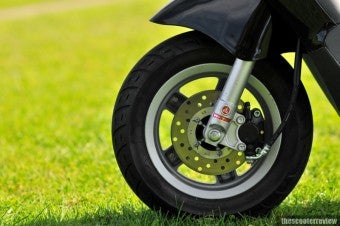 On the flat is cruises comfortably at 50-60km (30 - 37mph) and I managed a top speed run of 65km,(40.3mph) that's a good top speed, but unfortunately its takes an eon to get there. The 0-50kph test proved what I had thought: It only managed 19.9sec, which is pretty shocking and the slowest scooter we have ever reviewed. In that time a 2008 Yamaha Jog could have done the zero to fifty sprint twice... and made a cup of tea... and picked up a date at a bar... ok maybe only if the person being picked was a pretty easy sale.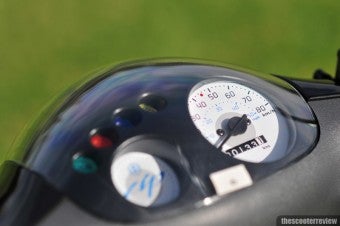 The speedo, although not moving very fast, performed almost perfectly, only being out by 2 kph, showing 48kph at 50kms, unfortunately the large gauge mounted to the left of it did…er..nothing. I'm not sure what it was doing there. Perhaps it was meant to be a fuel gauge, but Piaggio forgot to add it. Oops… But, never fear, there is a orange light that starts to glow when the fuel level drops below about 1.5litres. When riding at night it is so bright that it becomes distracting. Not the best, I much prefer a gauge that tells me what the level is at all times. A cool design feature is the entire cluster of instrumentation is housed in a futuristic, clear plastic sphere, which integrates into the front head-light.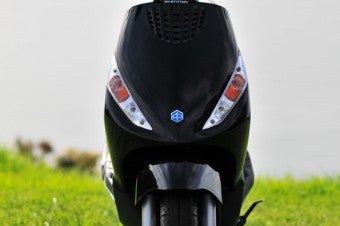 The gas tank, when filled will hold 7.5litres. That's a good sized tank for a lil' fifty, but it gets better… a whole lot better… after our testing we worked out that the 7.5litres would get you about 300kms (186miles). It might take a while, but you could do it. The Zip is a true gas miser, returning just 41.1kms per one liter of gas. In other words 2.4litres per 100kms/ or 96.6mpg! That is one of the best results we've had to date ( 26/5/08).
Last Updated ( Wednesday, 06 August 2008 15:06 )