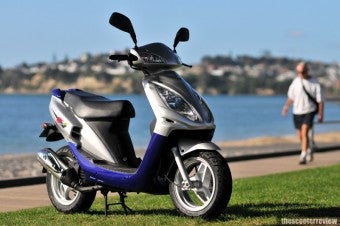 First off I'll tell you right now I'm not going to make fun of the SYM Jet Euro Xs name. I do it all the time as it's an easy gag to open a review; in this case its just a gimme so I'll leave it. I will however make fun of SYMs website again. Here's a quote "Jet Euro X comes equipped with 12 inch tires that provides a good grip on the ground; even when you are riding on very rough and slipped roads, you can enjoy a smooth ride." Well I'm never going to worry now; I've got a good grip on the ground even on slipped roads. Just humor me for a second here, what is a slipped road? I think I know, it's a road that has let it slip…you know, like put on a few pounds. Basically it's a fat road. Personally I've never seen a fat road…maybe they have them in Taiwan. Turn Right after Chung Hua Road make another right onto Rotund St and a left into Jalopy Crescent…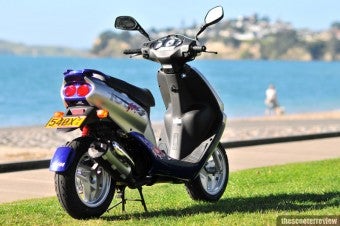 I'm often baffled at the sheer range of different scooter models, every manufacturer seems to have a model for every possible demographic. If you're in the 20.156 year old, white haired, post breakup with a red harried Albanian hermaphrodite demographic, there's a scooter for you. Thati is how I imagine the Jet came about, someone in marketing said let's do a 100cc racey looking two stroke and well, that's what we got. These days the average 100cc machine is a four stroke and most are a wee bit on the slow side. Being a two stroke the SYM is more powerful so somewhat justifies its sportier appearance.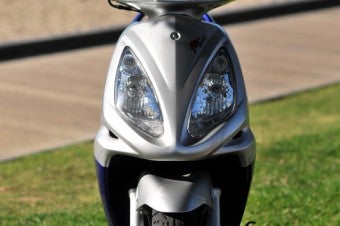 On the road the Jet is a pleasure to ride. It delivers its power with a cool two stroke buzz that almost makes it feel quicker than it is. Suspension is slightly on the hard side but does a reasonable job of ironing out most road imperfections. The front disc brake is of average size and does an adequate job of stopping the bike. Sadly the rear brake is only a drum brake. You'd think a bike supposedly something like a jet fighter would have twin disc brakes? Clearly this is an entry level jet not overly concerned with stopping at the end of the run way.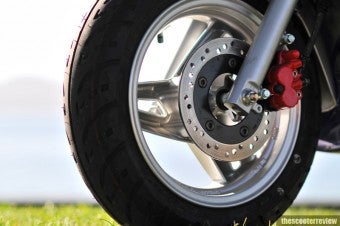 On the ease of use scale the SYM ranks about average. It will take a full face helmet under the seat but you'll have to use the key to access it each time as there's no remote release. There's also no glove box up front for…well gloves. I was expecting fuel consumption to be on the poor side being a 100cc two stroke but was pleasantly surprised to return 3.3L/100kms (71MPG). Obviously you'll have to add two stroke oil every so often which also has to be factored in as good quality oil is rather expensive these days. Oh and those big headlights are very powerful compared to the usual scooter headlights which are normally just glorified candles.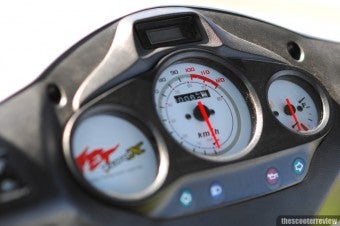 Summing up the SYM Jet Euro X. (Every time I write that I laugh) I'm not entirely sure who the Jet is aimed at, I imagine it's young males who like a sporty looking scooter. The two stroke motor certainly makes it fairly unique in the modern market and it does give it that fun two stroke sound. This scooter is certainly an option if you intend on tuning, as being a two stroke it's much easier to make power gains. The problem I have is that it has some pretty stiff competition from SYMs own Mio100. Both bikes are about the same speed but the Mio is a four stroke so does slightly better gas mileage and doesn't need expensive two stroke oil. Worse still, in New Zealand and Japan you can get a Suzuki Address 125 for less money; definitely the bike I'd buy.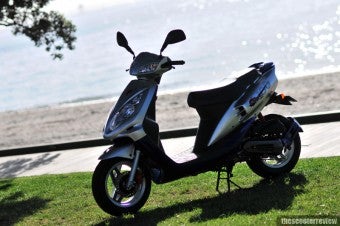 By the way, if you haven't figured it out yet…I'm not always entirely honest. So here begins the piss-taking of the name…What the hell is a Jet Euro X? Standing here looking at the scooter none of these words come to mind. Jet, well no, apart from the functionless air intakes it does not resemble a jet. Euro, sorry no again, it certainly doesn't look remotely euro to me. Finally X, well I imagine they're talking X as in extreme…ahh, yeah, no. The only thing extreme about the SYM is its extremely long name. Now what I see is scooter that is trying very hard to look racey but has ended up a little on the chunky side, so I'm thinking…SYM Tiger Moth Sumo G. Hmmm, I think that's worse.
Price
NZ $2,895 UK £1,499
0-50km/h
6.7 Seconds
50-80km/h
11 Seconds
Fuel Economy
3.3L/100kms - 71MPG
Speedo Accuracy

50kph displayed = 48kph actual

---

Pros:

Punchy two stroke motor, great for tuning

Cons:
No remote seat release, funny name

---

Handling
Performance
Fuel Consumption
Value for money
Ease of use
Styling
Build quality

---

Overall Score

71%
Manufacturer Specifications
| | |
| --- | --- |
| Max power at shaft | --- |
| Max torque | --- |
| Engine Type | Single-cylinder 2-stroke |
| Cylinder Capacity | 98 cc |
| Seat height | --- |
| Dry weight | 94kg |
| Kerb weight | --- |
| Fuel tank capacity | 6.3 litres |
| Starting | Electric |
| Transmission | "Twist and Go" Automatic Transmission (CVT) |
| Storage volume | n/a |
| Cooling | Air cooled |
| Bore X stroke | --- |
| Compression ratio | --- |
| Chassis | Steel Tube |
| Front suspension | Telehydraulic fork |
| Rear suspension | --- |
| Front brake | Disc 190mm |
| Rear brake | Drum 110mm |
| Front wheel/tyre | Front tyre Tubeless, 120/70-12" |
| Rear wheel/tyre | Rear tyre Tubeless, 120/70-12" |
| Length | 1785 mm |
| Width | 680 mm |
| Wheelbase | 1275 mm |
| Max speed (km/hr) | --- |
| Type approval | --- |
| Consumption (ECE applicable text cycle) | --- |
| Consumption @km/h - km/l | --- |
| Audible Indicator | yes |
| Full helmet storage | yes |
| Glove box | no |
| Fuel Guage | yes |
| Trip Meter | no |
| Seat release (via remote control) | no |
| Seat release (remote, ignition/switch) | no |
| Alarm | no |
Comments
(0)


Subscribe to this comment's feed
Last Updated ( Thursday, 07 August 2008 19:29 )