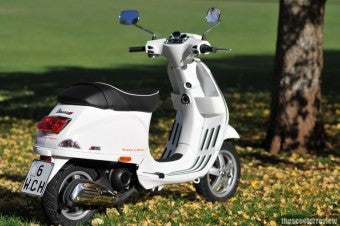 Now if you've read any of my 50cc reviews before you'll probably know that I'm not really a 50cc guy. Obviously some people love them. I can't see how anybody could love a 50cc machine after riding a larger cc scooter but, good for them I guess. See to me it seems rather idiotic that a government body somewhere on earth came up with an arbitrary number for engine size's and somehow most of the world has collectively agreed without giving any real thought as to how sensible this engine cc size actually is. Picture this; you live in Los Angeles, cars move quickly here, even on regular city streets. 50cc scooters simply aren't fast enough to keep up with normal traffic and certainly not when restricted. So why on earth is the engine size restriction 50cc in this territory? How about San Francisco; boy it must be a laugh going up some of those hills on a restricted 50cc four stroke.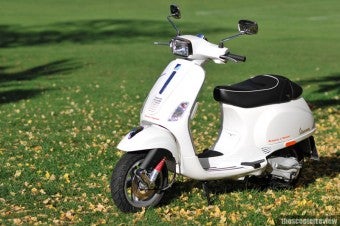 So why buy a 50cc scooter then? Well it's simple really; convenience. The idea goes that you can ride a 50cc scooter on a car license, so that removes the hassle of getting your motorcycle license. Some countries are actually run by people with brains and have separate laws for scooters and motorbikes so you can ride 125cc scooters etc on a car license. Next up however is the absolute priority number one reason most humans buy a 50cc scooter. Cost. A 50cc bike costs little to purchase, a tiny amount to run and normally a small amount to register each year.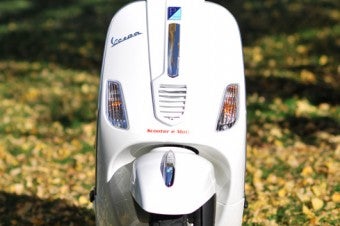 So this cost point brings my rant to the Vespa S 50…it isn't cheap. So who the hell are they aiming this scooter at then? Well I've figured it out. Rich children. See an adult is more likely to purchase a larger cc scooter that can be ridden on a freeway. The Vespa S 50 is targeted squarely at the private school attending, I-pod listening, Volkswagen Golf driving super yuppy child. "Dad I need a scooter to go to school" Dad looks up from his Wall street Journal "Fine Melissa, which one would you like?" "The most expensive one Daddy" The father thinks for a second, "Ahh that would be the Vespa S 50, it's a ridiculous amount of money, I'll order one right now." The yuppy girl smiles and turns her I-pod back on, she smiles at her Dad and says rather too loud because of the Britney Spears track blaring in her headphones. "You know Daddy I should probably get a pony too, we could even get one the same color as my scooter"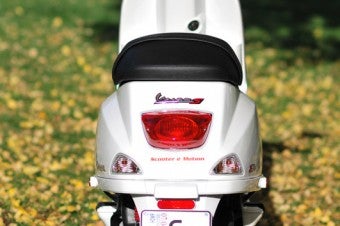 Now don't take all this moaning the wrong way at no point have I said I don't like the S; the Vespa S 50 is a superb scooter. It's actually one of my favorite 50cc scooters, period. Head to head with thirteen different bikes in our 2008 50cc scooter comparison test the Vespa S emerged in a well deserved 2nd place. First off the newly styled and trimmed down Vespa S is a fantastic looking bike if you're into retro styling. Virtually everybody agreed that it was one of the best looking bikes on the market. The Vespa isn't just a styling exercise either, the bike oozes quality. In comparison to the average 50cc scooter the Vespa S is in a different league.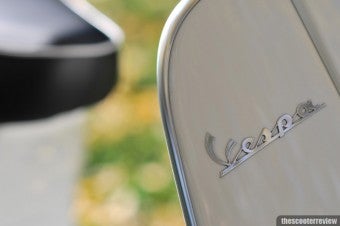 Riding the Vespa S is also a pleasure. It's smaller than Vespa's older LX but still a reasonably large and heavy 50cc bike. Weighing in at 96 kgs it's nearly 30kg heavier than some popular models. This extra weight cuts down on how nimble the bike is but gives it a sure footedness that the smaller lighter bikes can't match. It really comes down to what sort of bike you like. My guess is the Vespa S would suit a bigger rider over an ultra mini yuppy girl child.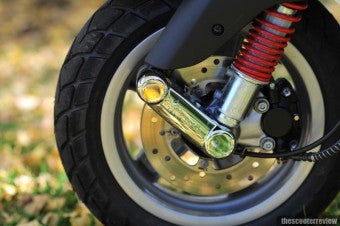 Ease of use is on the high side with the Vespa as it has most modern conveniences. There's room for a full face helmet under the seat, up front there's two open glove boxes, it has good clear gauges and the S includes both a side and centre stand. The only really glaring obvious miss is some kind of remote release for the seat. For a bike that costs eighteen thousand mega dollars more than its competitors you'd think they'd at least give it the same features. Credit also goes to Vespa for giving the S a nice strong front disc brake, sadly they wimped out and only went for a drum brake on the back wheel; well half way is better than no way. Fuel consumption on the Vespa is about average for a 50cc two stroke machine at around 3.1L/100kms (75MPG).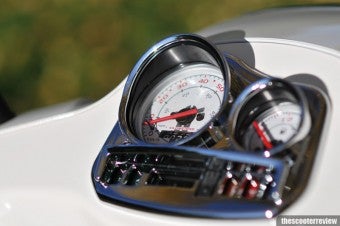 Summing up the Vespa S 50. This is the difficult bit, I'm going to have to run through this with some sort of mathematical breakdown because I feel it's the only way I'll get my point across. Here we go. The Vespa is a fantastic all round bike. I believe it's categorically one of the best 50cc bikes on the market. I don't however like its price at all. In fact to me a premium 50cc bike makes absolutely no sense whatsoever. I'll now explain it as best I can. If you're buying a Vespa S 50 because it saves you having to get your motorcycle license, fine. If it's because that's a hassle, fine too. If it's because of cost…then, not fine. Hell it's miles from fine…it's a practically a thunderstorm.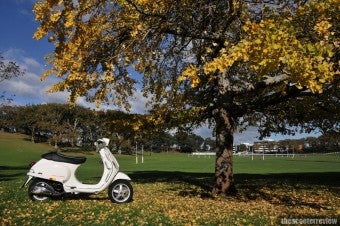 Here are two mathematically sound reasons why the Vespa 50 and 'any' premium 50cc scooters make little or no financial sense. For the exact same amount of money it costs to buy a Vespa S you buy a Honda Today 50 instead and with the $3590 dollars you save on the purchase price over the Vespa you could pay for all your fuel costs for approx seven years…yes you read that correctly SEVEN YEARS. At current fuel prices you'd ride the Honda Today 70,000kms (43,495miles) before you'd spent the same amount…
Or, you could buy a 125cc Suzuki Address, (that does 100kph (62mph) and can be used on the freeway) pay for your motorcycle test, pay for 3 years registration and ride for 33,000kms (20,000miles) for the same price. As you can see the Vespa's high purchase price takes it completely out of the equation. Anyway if you're made of money and just like having the best, buy the Vespa. Logic doesn't always prevail.
Price
US$1899, AUD$3990, NZD$5490
Lap time
45.4sec
0-50km/h
12 Seconds
Top Speed
64kph
Fuel Economy
3.1L/100kms - 75 MPG
Speedo Accuracy

50kph displayed = 46kph actual

---

Pros:

Fantastic styling, great build quality

Cons:
No remote seat release, overpriced


---

Handling
Performance
Fuel Consumption
Value for money
Ease of use
Styling
Build quality

---

Overall Score

80%
Manufacturer Specifications
| | |
| --- | --- |
| Max power at shaft | --- |
| Max torque | --- |
| Engine Type | Single-cylinder 2 stroke |
| Cylinder Capacity | 49cc |
| Seat height | 775mm |
| Dry weight | 96kg |
| Kerb weight | --- |
| Fuel tank capacity | 8.6 liters |
| Starting | Electric & Kickstart |
| Transmission | CVT "Twist and Go" |
| Storage volume | --- |
| Cooling | Air Cooled |
| Bore X stroke | 49/39.3mm |
| Compression ratio | --- |
| Chassis | Sheet steel body with welded reinforcements |
| Front suspension | Single arm link with coil spring and double acting hydraulic shock absorber |
| Rear suspension | Coil spring and double acting hydraulic shock absorber |
| Front brake | 200mm Disc |
| Rear brake | 110mm Drum |
| Front wheel/tyre | Die-cast aluminium alloy 2.50x11" Tubeless 110/70-11" |
| Rear wheel/tyre | Die-cast aluminium alloy 3.10x10" Tubeless 120/70-10" |
| Length | 1745mm |
| Width | 740mm |
| Wheelbase | 1215mm |
| Max speed (km/hr) | --- |
| Type approval | Homologated to Euro 2 |
| Consumption (ECE applicable text cycle) | --- |
| Consumption @km/h - km/l | 36 km/l (at 40km/h) |
| Audible Indicator | no |
| Full helmet storage | yes |
| Glove box | yes |
| Fuel Guage | yes |
| Trip Meter | no |
| Seat release (via remote control) | no |
| Seat release (remote, ignition/switch) | no |
| Alarm | no |
Comments
(7)


Subscribe to this comment's feed
Last Updated ( Wednesday, 18 February 2009 21:13 )