Page 3 of 3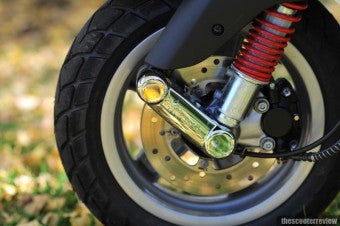 Ease of use is on the high side with the Vespa as it has most modern conveniences. There's room for a full face helmet under the seat, up front there's two open glove boxes, it has good clear gauges and the S includes both a side and centre stand. The only really glaring obvious miss is some kind of remote release for the seat. For a bike that costs eighteen thousand mega dollars more than its competitors you'd think they'd at least give it the same features. Credit also goes to Vespa for giving the S a nice strong front disc brake, sadly they wimped out and only went for a drum brake on the back wheel; well half way is better than no way. Fuel consumption on the Vespa is about average for a 50cc two stroke machine at around 3.1L/100kms (75MPG).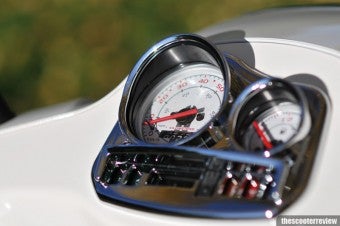 Summing up the Vespa S 50. This is the difficult bit, I'm going to have to run through this with some sort of mathematical breakdown because I feel it's the only way I'll get my point across. Here we go. The Vespa is a fantastic all round bike. I believe it's categorically one of the best 50cc bikes on the market. I don't however like its price at all. In fact to me a premium 50cc bike makes absolutely no sense whatsoever. I'll now explain it as best I can. If you're buying a Vespa S 50 because it saves you having to get your motorcycle license, fine. If it's because that's a hassle, fine too. If it's because of cost…then, not fine. Hell it's miles from fine…it's a practically a thunderstorm.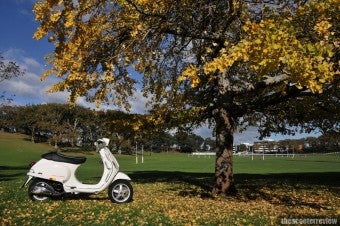 Here are two mathematically sound reasons why the Vespa 50 and 'any' premium 50cc scooters make little or no financial sense. For the exact same amount of money it costs to buy a Vespa S you buy a Honda Today 50 instead and with the $3590 dollars you save on the purchase price over the Vespa you could pay for all your fuel costs for approx seven years…yes you read that correctly SEVEN YEARS. At current fuel prices you'd ride the Honda Today 70,000kms (43,495miles) before you'd spent the same amount…
Or, you could buy a 125cc Suzuki Address, (that does 100kph (62mph) and can be used on the freeway) pay for your motorcycle test, pay for 3 years registration and ride for 33,000kms (20,000miles) for the same price. As you can see the Vespa's high purchase price takes it completely out of the equation. Anyway if you're made of money and just like having the best, buy the Vespa. Logic doesn't always prevail.
Price
US$1899, AUD$3990, NZD$5490
Lap time
45.4sec
0-50km/h
12 Seconds
Top Speed
64kph
Fuel Economy
3.1L/100kms - 75 MPG
Speedo Accuracy

50kph displayed = 46kph actual

---

Pros:

Fantastic styling, great build quality

Cons:
No remote seat release, overpriced


---

Handling
Performance
Fuel Consumption
Value for money
Ease of use
Styling
Build quality

---

Overall Score

80%
Manufacturer Specifications
| | |
| --- | --- |
| Max power at shaft | --- |
| Max torque | --- |
| Engine Type | Single-cylinder 2 stroke |
| Cylinder Capacity | 49cc |
| Seat height | 775mm |
| Dry weight | 96kg |
| Kerb weight | --- |
| Fuel tank capacity | 8.6 liters |
| Starting | Electric & Kickstart |
| Transmission | CVT "Twist and Go" |
| Storage volume | --- |
| Cooling | Air Cooled |
| Bore X stroke | 49/39.3mm |
| Compression ratio | --- |
| Chassis | Sheet steel body with welded reinforcements |
| Front suspension | Single arm link with coil spring and double acting hydraulic shock absorber |
| Rear suspension | Coil spring and double acting hydraulic shock absorber |
| Front brake | 200mm Disc |
| Rear brake | 110mm Drum |
| Front wheel/tyre | Die-cast aluminium alloy 2.50x11" Tubeless 110/70-11" |
| Rear wheel/tyre | Die-cast aluminium alloy 3.10x10" Tubeless 120/70-10" |
| Length | 1745mm |
| Width | 740mm |
| Wheelbase | 1215mm |
| Max speed (km/hr) | --- |
| Type approval | Homologated to Euro 2 |
| Consumption (ECE applicable text cycle) | --- |
| Consumption @km/h - km/l | 36 km/l (at 40km/h) |
| Audible Indicator | no |
| Full helmet storage | yes |
| Glove box | yes |
| Fuel Guage | yes |
| Trip Meter | no |
| Seat release (via remote control) | no |
| Seat release (remote, ignition/switch) | no |
| Alarm | no |
Comments
(7)


Subscribe to this comment's feed
Last Updated ( Wednesday, 18 February 2009 21:13 )