Page 2 of 3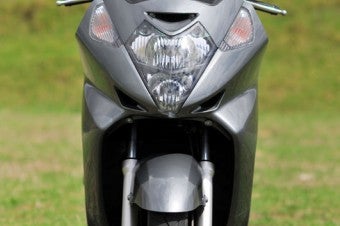 Large maxi scooters are something I've often thought made little sense. Take a small nimble scooter and make it neither small nor nimble. Now that you've added all this size and weight add a healthy increase in power and wallah you have an automatic motorcycle. Sadly this adding a healthy dose of power has been skipped so most maxi scooters until recently have just been large heavy two wheeled vehicles with weak and very unexciting power plants. That however is beginning to change, Scooter manufactures have realized this maxi scooter thing is no fad, there's something to it.

Honda's latest Silver Wing is a sign of things to come. The engine is no longer an oversized, vibration prone single, it's a smooth and reasonably powerful in line twin. The 580cc engine in the Silver Wing makes 50hp and propels the Silver Wing to 100kph in just 8.2 seconds. The best part of this is it does it time and time again, just twist the throttle and wammo, you're cruising at 100kph. CVT transmissions are the future and mark my words, all forms of two wheeled transport will run them twenty years from now. Why however it's taking so long for manufactures to give us motorcycle performance in our maxi's is beyond me. After riding the Silver Wing I was even more convinced of how fun a powerful engine and clever CVT combination can be.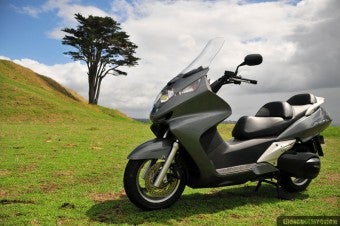 The transmission on the Silver Wing is about as good as it gets in scooter land. Drive is smoothly engaged without the horrible wait some bikes make you endure. Once fully engaged at about 20kph the Silver Wing has a fantastic burst of speed until about 80kph when wind versus the large frontal area begins to slow down the acceleration. We had a Gilera Nexus 500 while test riding the Honda Silver Wing and the Honda simply walked away from the Gilera with its far superior engine and drive train. There's no question the Silver Wing has one of the standout engine and transmission combinations in the maxi scooter world.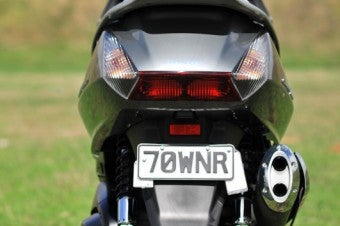 Handling wise the Silver Wing is all about cruising, you can try and hustle it along like a lightweight but this will only last a short time as it's really not in this machines nature. The correct way to ride the Silver Wing is likes so; put your feet forward, sit back into the lumbar support and cruise. The low centre of gravity makes the bike awfully easy to roll from corner to corner. The suspension is on the soft side as Honda were obviously going for the touring market here and hard suspension may be sportier but sure isn't fun over multiple days. The front shock could however be a little firmer as it does dive a little too much under heavy braking. Given the task of the bike; getting you comfortably and effortlessly to your destination, I'd have to say the ride and handling is a success.
Last Updated ( Friday, 08 August 2008 13:49 )