Page 3 of 3
The Silver Wing runs disc brakes front and rear with both an ABS antilock system and CBS; which is Honda's fancy name for linked front and rear brakes on the left lever. Normally I'm not a huge fan of the linked brakes as they don't allow you to trail brake into corners with the rear brake. Honda however realized that this is how most people ride and added a pressure and time switch to the linking of the front brake. So if you you're only using a small amount of pressure for a short time; like when you trail brake into a corner, you'll only get the rear brake. Clever. I'd still prefer regular brakes as I prefer to control them entirely myself. The last thing you want is too much front brake while turning into a corner on a damp day, with regular brakes that can't happen.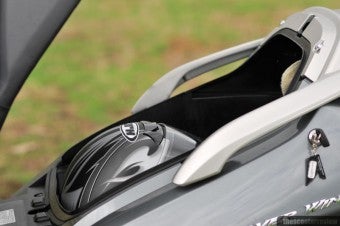 Ease of use wise the Honda is a bit below average for a maxi, it does have a 55 liter under seat storage area which is good but no better than the Piaggio X8 400 and smaller than the MP3 400. Unlike most of its competitors the Silver Wing doesn't have any kind of remote release for the under seat storage either. There are two glove boxes up front for smaller items and one of them is also lockable. This seems like the best compromise in my book for glove boxes although I wish they were a little larger. One ease of use issue that will affect most riders however is the massive effort required to get the bike off the centre stand. For smaller riders it almost impossible to get the bike off the stand on any kind of hill. It is however great fun watching somebody try and possibly a great alternative to training at the gym.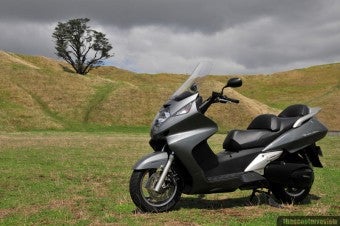 Summing up Honda Silver Wing. When it comes down to it, there aren't a lot of options in the maxi scooter world. Sure there are plenty of different models but if you really want something you a enough power to tour on it really comes down to the Silver Wing or the Suzuki Burgman 650. We're yet to test the big Suzuki but expect things to be pretty tight as on paper there's not much in it. Yamaha also has the T-Max which a slightly sportier version of the maxi idea not unlike the Gilera Nexus. We'll be putting them all head to head soon so we'll have the definitive result. On it's own though the Silver Wing is highly recommended, it's got a great engine and transmission, it's very comfortable for long rides and will likely last a lifetime as like most Honda's it's put together with great care. Oh and don't worry about the old bit, old people are far smarter than younger people. Because…well old people are simply younger people who have lived longer and know more. So why do they ride maxi's? Because they make a hell of a lot of sense. Definitely book the Honda Silver Wing in for a test ride.
A QUICK NOTE: Before you send me a strongly worded email or post an ANGRY comment...I don't actually think maxi scooters make you instantly old...that, if you haven't realized is currently science fiction, the article is what is sometimes called...a joke. It appears I may have to amend my story and add SENSITIVITY to the maxi warnings...that's a joke too...
Price USA $8499 - UK 5500 - AUS $12999
0-50km/h
3.1 Seconds
0-100km/h
8.2 Seconds
50-80km/h
3.2 Seconds
Fuel Economy
6.25L/100kms - 38MPG
Speedo Accuracy

50kph displayed = 45kph actual - 100kph displayed = 94 actual

---

Pros:

Great motor and transmission, very comfortable, good storage

Cons:
Poor gas mileage, Heavy, hard to get off stand, no remote seat release

---

Handling
Performance
Fuel Consumption
Value for money
Ease of use
Styling
Build quality

---

Overall Score

74%
Manufacturer Specifications
| | |
| --- | --- |
| Max power at shaft | 50 HP at 7.500 rpm |
| Max torque | 37lb/ft at 5,500 rpm |
| Engine Type | Twin-cylinder Liquid cooled Fuel Injected 4-valve 4-stroke |
| Cylinder Capacity | 582 cc |
| Seat height | 754mm |
| Dry weight | 218kg |
| Kerb weight | --- |
| Fuel tank capacity | 15.89 litres |
| Starting | Electric |
| Transmission | Honda V-Matic belt-drive system, Automatic Transmission (CVT) |
| Storage volume | 55 Liters |
| Cooling | Water cooled |
| Bore X stroke | 72.0 mm x 71.5 mm |
| Compression ratio | 10.2:1 |
| Chassis | Steel Tube |
| Front suspension | Ø 41 mm telehydraulic fork |
| Rear suspension | Swing arm with dual hydraulic shocks with five-position spring-preload adjustability |
| Front brake | Single disc 256mm |
| Rear brake | Single disc 240mm |
| Front wheel/tyre | 120/80-14 |
| Rear wheel/tyre | 150/70-13 |
| Length | --- |
| Width | --- |
| Wheelbase | 1595 mm |
| Max speed (km/hr) | --- |
| Type approval | --- |
| Consumption (ECE applicable text cycle) | --- |
| Consumption @km/h - km/l | --- |
| Audible Indicator | yes |
| Full helmet storage | yes |
| Glove box | yes |
| Fuel Guage | yes |
| Trip Meter | yes |
| Seat release (via remote control) | no |
| Seat release (remote, ignition/switch) | no |
| Alarm | no |
Comments
(12)


Subscribe to this comment's feed
Last Updated ( Friday, 08 August 2008 13:49 )