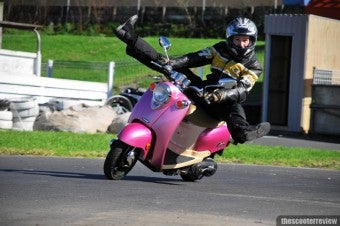 Testosterone is a steroid hormone that promotes libido, increased red blood cell count and more. To me it is a chemical that floats around in the body; the highest concentrations of which can be found in men's bodies. This chemical as far as I can tell is designed to make men stupid. I am no doctor but as far as I can tell it makes men want to drive big, powerful, cars and motorbikes with loads of horsepower which (they think) will make them more attractive to women allowing them to procreate and continue the human race.
It also, apparently, makes men want to fight… generally as far as I can tell to secure the best female specimen for mating… like two bucks clashing antlers in the rutting season. This is a very powerful chemical, it is like a drug, and it is very hard to combat the urges that it awakens in your adolescent years.
Now to ride a scooter you have to battle this inner demon, you have to use your brain instead of your instincts. In other words you have to be very secure in your masculinity… I like to think I am a pretty secure guy; hell I ride a small, silver scooter every day of my life for transport and entertainment. So where am I going with this you ask… well let me tell you. When I dropped into the Keeway distributor to pick up the Keeway Venus 50 all was well… until my contact there said… "Look I don't want you to take this as a slur on your manhood or anything but…" and there, sure enough was a metallic PINK, modern retro scooter. The only way it could be less manly would be if the entire cast of Priscilla Queen of the Desert were perched daintily on the handlebars! This is the first and only time the thought that we really needed a female reviewer crossed my mind. I even considered writing this under a pseudonym… perhaps Mary-Lou…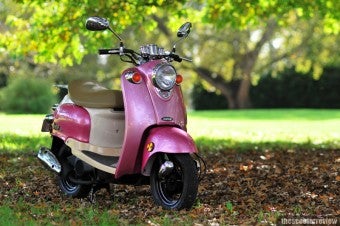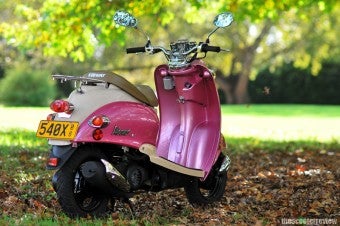 All jokes aside, the first thing you will notice is the paint, not so much the color as the quality. This is a hi tech looking metallic that is well applied and well thought out with contrast provided by a creamy beige panel running along the centre of the bike. The next thing you will notice is the quality of the components. Fit and finish is to a good standard with details like seat and taillights looking like high quality, well-designed units. The detailing continues to good-looking mirrors, chrome plated instrument cluster etc.
So picture if you will a small, shiny, pink scooter being ridden by a large, 6'3" behemoth in jeans, black boots and a leather motorcycle jacket… yes it was a sight to behold. The only thing more surprising than this image was how much I enjoyed the bike. If I ignored the colour (they also come in black) it was an absolute joy. Acceleration was brisk, handling was accurate, brakes were ok considering it has drums all round. This is a nice lightweight machine, clearly designed with the ladies in mind however it also managed to be the fastest 50cc scooter we have tested so far. On flat ground it had no trouble keeping up with traffic up to a whopping 67km/h. It also set what we believe (will be more certain after the 50cc comparison test) is a very fast lap around our test track.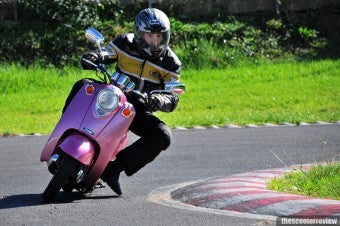 Day to day usefulness was also high with an under seat compartment that easily swallowed a full-face helmet… although upside down. Dash was attractive and easy to read with a separate chrome binnacle mounted below the handlebars that displayed the warning lights; high beam, indicator warning etc. Although this is not the perfect solution it does provide the necessary warnings without cluttering the main display.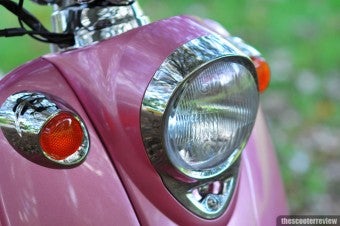 Fuel consumption was very good with this little 50cc two stroke returning 35km/L all the while creating a rather attractive and aggressive exhaust note… well, aggressive for a 50cc machine and very aggressive for anything pink! The Keeway Venus 50 also features an easy to use centre stand to augment the side stand. There is also a kick-start unit to supplement the electric start… a feature that I believe should be retained on all scooters and unfortunately is not
Ok so this machine is not all sunshine and light… the suspension is not especially compliant and combined with the small 10" wheels gives a fairly bumpy ride. Braking is adequate at best, it does stop reasonably well for normal use although the drums do fade quite badly after a hard stop. There is a bag hook at the front but no glove box.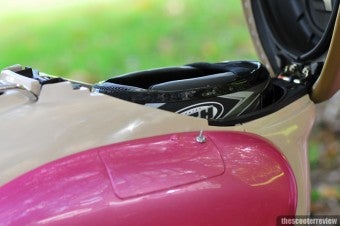 Keeway is a large and prosperous company that in general produces good quality machinery. This is in no small part due to European backing and most likely quality control processes. The Keeway factories also produce several bikes branded for companies other than themselves. Case in point is this very bike, which is basically identical to Vmoto's Milan… This fact makes it less unusual that we liked that bike so much (review up shortly). So keep in mind that if you are tossing up between these two bikes they are virtually the same and the choice should probably be based on dealer support, warrantee period etc.
All in all this is a quick, attractive, easy to operate option at an aggressive price from one of the largest of the Chinese manufacturers. The price and overall quality of this machine combine with its powerful engine and lightweight to create a well balanced commuting option.
Price
NZ$2290, USA $1399

0-50km/h
10.9 Seconds

Top Speed

Lap Time

67Kph

44.0 seconds

Fuel Economy

2.8L/100kms - 85MPG

Speedo Accuracy

50kph displayed = 48kph actual

---

Pros:

Fast, good detail, good storage, capable and useful

Cons:
Bumpy suspension, weak brakes


---

Handling
Performance
Fuel Consumption
Value for money
Ease of use
Styling
Build quality

---

Overall Score

79%
Manufacturer Specifications
| | |
| --- | --- |
| Max power at shaft | 2.57Kw (3.45Hp)@7000rpm |
| Max torque | 3.92Nm (2.89lbs)@7000rpm |
| Engine Type | Single-cylinder 2 stroke |
| Cylinder Capacity | 49.26cc |
| Seat height | --- |
| Dry weight | --- |
| Kerb weight | 70kg (154lbs) |
| Fuel tank capacity | 5.0 liters (1.3 gal) |
| Starting | Electric & Kickstart |
| Transmission | CVT "Twist and Go" |
| Storage volume | --- |
| Cooling | Air Cooled |
| Bore X stroke | 40.0x39.2mm (1.57x1.54in) |
| Compression ratio | 6.9:1 |
| Chassis | --- |
| Front suspension | --- |
| Rear suspension | --- |
| Front brake | Drum |
| Rear brake | Drum |
| Front wheel/tyre | 10" x 3" |
| Rear wheel/tyre | 10" x 3" |
| Length | 1605mm (63.19in) |
| Width | 620mm (24.4in) |
| Wheelbase | 1220mm (48in) |
| Max speed (km/hr) | --- |
| Type approval | --- |
| Consumption (ECE applicable text cycle) | --- |
| Consumption @km/h - km/l | --- |
| Audible Indicator | yes |
| Full helmet storage | yes |
| Glove box | no |
| Fuel Guage | yes |
| Trip Meter | no |
| Seat release (via remote control) | no |
| Seat release (remote, ignition/switch) | no |
| Alarm | no |
Comments
(1)


Subscribe to this comment's feed
Last Updated ( Thursday, 07 August 2008 19:12 )