Page 3 of 3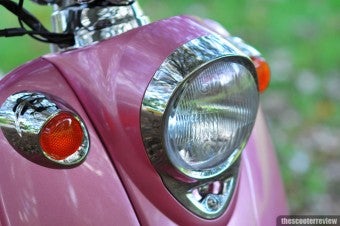 Fuel consumption was very good with this little 50cc two stroke returning 35km/L all the while creating a rather attractive and aggressive exhaust note… well, aggressive for a 50cc machine and very aggressive for anything pink! The Keeway Venus 50 also features an easy to use centre stand to augment the side stand. There is also a kick-start unit to supplement the electric start… a feature that I believe should be retained on all scooters and unfortunately is not
Ok so this machine is not all sunshine and light… the suspension is not especially compliant and combined with the small 10" wheels gives a fairly bumpy ride. Braking is adequate at best, it does stop reasonably well for normal use although the drums do fade quite badly after a hard stop. There is a bag hook at the front but no glove box.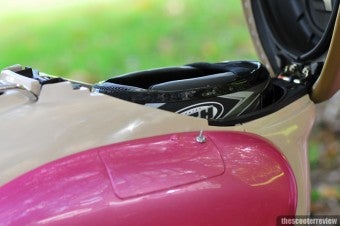 Keeway is a large and prosperous company that in general produces good quality machinery. This is in no small part due to European backing and most likely quality control processes. The Keeway factories also produce several bikes branded for companies other than themselves. Case in point is this very bike, which is basically identical to Vmoto's Milan… This fact makes it less unusual that we liked that bike so much (review up shortly). So keep in mind that if you are tossing up between these two bikes they are virtually the same and the choice should probably be based on dealer support, warrantee period etc.
All in all this is a quick, attractive, easy to operate option at an aggressive price from one of the largest of the Chinese manufacturers. The price and overall quality of this machine combine with its powerful engine and lightweight to create a well balanced commuting option.
Price
NZ$2290, USA $1399

0-50km/h
10.9 Seconds

Top Speed

Lap Time

67Kph

44.0 seconds

Fuel Economy

2.8L/100kms - 85MPG

Speedo Accuracy

50kph displayed = 48kph actual

---

Pros:

Fast, good detail, good storage, capable and useful

Cons:
Bumpy suspension, weak brakes


---

Handling
Performance
Fuel Consumption
Value for money
Ease of use
Styling
Build quality

---

Overall Score

79%
Manufacturer Specifications
| | |
| --- | --- |
| Max power at shaft | 2.57Kw (3.45Hp)@7000rpm |
| Max torque | 3.92Nm (2.89lbs)@7000rpm |
| Engine Type | Single-cylinder 2 stroke |
| Cylinder Capacity | 49.26cc |
| Seat height | --- |
| Dry weight | --- |
| Kerb weight | 70kg (154lbs) |
| Fuel tank capacity | 5.0 liters (1.3 gal) |
| Starting | Electric & Kickstart |
| Transmission | CVT "Twist and Go" |
| Storage volume | --- |
| Cooling | Air Cooled |
| Bore X stroke | 40.0x39.2mm (1.57x1.54in) |
| Compression ratio | 6.9:1 |
| Chassis | --- |
| Front suspension | --- |
| Rear suspension | --- |
| Front brake | Drum |
| Rear brake | Drum |
| Front wheel/tyre | 10" x 3" |
| Rear wheel/tyre | 10" x 3" |
| Length | 1605mm (63.19in) |
| Width | 620mm (24.4in) |
| Wheelbase | 1220mm (48in) |
| Max speed (km/hr) | --- |
| Type approval | --- |
| Consumption (ECE applicable text cycle) | --- |
| Consumption @km/h - km/l | --- |
| Audible Indicator | yes |
| Full helmet storage | yes |
| Glove box | no |
| Fuel Guage | yes |
| Trip Meter | no |
| Seat release (via remote control) | no |
| Seat release (remote, ignition/switch) | no |
| Alarm | no |
Comments
(1)


Subscribe to this comment's feed
Last Updated ( Thursday, 07 August 2008 19:12 )