Page 2 of 3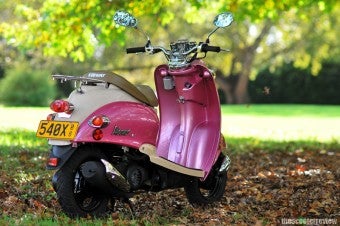 All jokes aside, the first thing you will notice is the paint, not so much the color as the quality. This is a hi tech looking metallic that is well applied and well thought out with contrast provided by a creamy beige panel running along the centre of the bike. The next thing you will notice is the quality of the components. Fit and finish is to a good standard with details like seat and taillights looking like high quality, well-designed units. The detailing continues to good-looking mirrors, chrome plated instrument cluster etc.
So picture if you will a small, shiny, pink scooter being ridden by a large, 6'3" behemoth in jeans, black boots and a leather motorcycle jacket… yes it was a sight to behold. The only thing more surprising than this image was how much I enjoyed the bike. If I ignored the colour (they also come in black) it was an absolute joy. Acceleration was brisk, handling was accurate, brakes were ok considering it has drums all round. This is a nice lightweight machine, clearly designed with the ladies in mind however it also managed to be the fastest 50cc scooter we have tested so far. On flat ground it had no trouble keeping up with traffic up to a whopping 67km/h. It also set what we believe (will be more certain after the 50cc comparison test) is a very fast lap around our test track.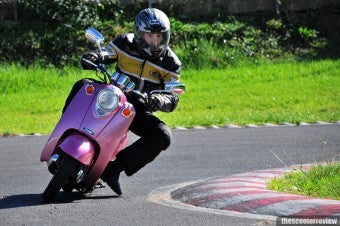 Day to day usefulness was also high with an under seat compartment that easily swallowed a full-face helmet… although upside down. Dash was attractive and easy to read with a separate chrome binnacle mounted below the handlebars that displayed the warning lights; high beam, indicator warning etc. Although this is not the perfect solution it does provide the necessary warnings without cluttering the main display.
Last Updated ( Thursday, 07 August 2008 19:12 )