Page 3 of 3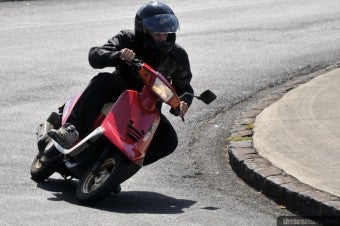 To make matters worse the Jog is fast…yes really, it's fast. With a 0-50kph time of just 9.7 seconds it's considerably quicker than virtually all modern 50cc machines. So based on the assumption that you won't be able to stop one should call it a 0-Death time of 9.7 seconds. The Jog also has a tendency to wheelie; now normally this would be a fun but the Jog is so wheelie prone that it will do it when you're not expecting it. So let's say that inmate reaches the first traffic light and somehow manages to stop safely…well when the light changes they'll twist the throttle and the front wheel will soar into the air; they'll most likely flip backwards and tumble to ground only to be crushed by the large truck who hasn't seen them. It really is a multi tiered killing machine.
The good bits; the light weight and tiny size makes the Jog a total blast to ride around corners; this thing will corner like a speed snorting hyper active ADD suffering rat weasel (They're fast), the suspension is non existent so hopefully you've picked a smooth road because if you haven't you'll probably die. The tiny ten inch wheels and prehistoric suspension certainly don't enjoy mid corner bumps. The fact that you can accelerate faster than the latest expensive Vespa certainly makes it a blast to ride around town too. Nothing beats going faster for less money.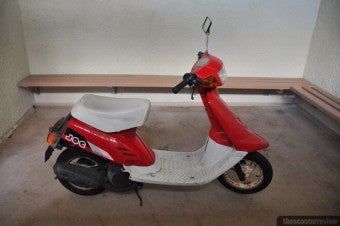 Summing up the Jog is tricky. It's basically an old, rattling piece of junk. A piece of junk that is quicker in a straight line and generally more fun to corner on than most modern 50cc scooters. It really makes you wonder what the hell manufactures have been doing over the last twenty years, with a few little changes the Jog would be killer. Put the fuel tank up front, give it dual discs and some under seat storage but keep the weight the same and you'd have the coolest mini road rocket made…oh and get this, twenty years and probably 100,000kms later the 1988 Jog is still doing 3.5L-100kms or around 67MPG, incredible.
Speedometer accuracy
Displayed Actual
50km/h 45km/h
0-50km/h
9.7 Seconds
 
3.5L/100kms
67MPG

---

Pros:
Cheap as chips, will run forever, great fun to corner on smooth roads, faster than modern bikes.
Cons:
Brakes are total junk, no storage, you'll look like a pauper and friends may avoid you, tiny fuel tank.


---

Handling
Performance
Fuel Consumption
Parts Availability

Tuning potential
Styling
Build quality

---

Overall Score

48%
Manufacturer Specifications
| | |
| --- | --- |
| Max power | 4.5kW |
| Engine Type | Single cylinder, two-stroke |
| Cylinder Capacity | 49 cc |
| Kerb weight | 49 kg |
| Fuel tank capacity | 4 litres |
| Starting | Electric and kick |
| Transmission | "Twist and Go" Automatic Transmission (CVT) with Automatic Clutch |
| Storage volume | none |
| Cooling | Forced air cooled |
| Chassis | Steel Tube |
| Front suspensions | telescopic hydraulic fork |
| Suspensions | jhydraulic/spring damper |
| Front brake | Drums brakes |
| Rear brake | Drum brakes |
| Front tyre | Tubeless 10" |
| Rear tyre | Tubeless 10" |
| Max speed (km/hr) | 60 km/h |
| Audible Indicator | no |
| Full helmet storage | no |
| Glove box | no |
| Fuel Guage | yes |
| Trip Meter | no |
| Seat release (via remote control) | no |
| Seat release (remote, ignition/switch) | no |
| Alarm | no |
Comments
(10)


Subscribe to this comment's feed
Last Updated ( Friday, 20 February 2009 11:19 )