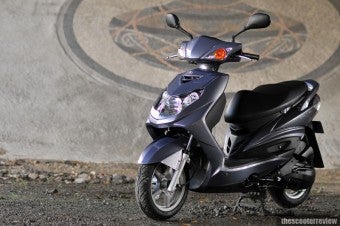 The Swan like Cygnus X 125 is not your traditional scooter, sophisticated with clean compact lines. Cygnus exudes a stylish self-confidence that you might only expect to find in a more expensive, large capacity scooter… According to the Yamaha press release at least. The name is apparently derived from the Latin word for Swan and Yamaha swear it looks like one…if you screw your eyes closed and stare at/through it like those "Magic Eye" images from the '90's you can just about make out the profile of a Swan in the Cygnus…
I'm not sure why Yamaha keep talking about Swans… the fact of the matter is that the Cygnus really is a very good-looking scooter… scooter, not large, graceful bird.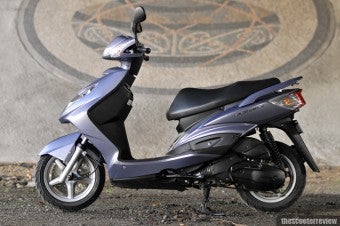 The styling isn't in your face sporty or a throwback to the 60's. Yamaha have clearly tried to put together a contemporary but classic style and they have succeeded. The overall sense is of simple elegance… The Cygnus is well built with quality materials and features virtually everything you need from a modern scooter. Yamaha have moved the fuel tank to the front of the bike leaving enough space under the seat for a full-face helmet (size small sans too many vents) and some wet weather gear or whatever else it is you wish to carry. This trend toward nearly dual helmet storage area is one I hope continues and expands. I realize there is only so far the manufacturers can go while retaining a useable seat height but the precedent has now been set and storage volume can only improve further.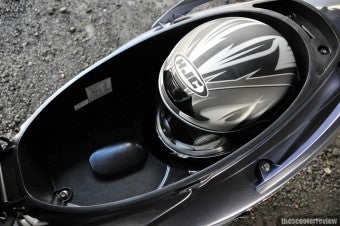 Along with the under seat compartment the Cygnus also has an open, half sized glove box in the front, which is actually a very handy size. The only thing I can really complain about is the lack of a front bag hook… it could be easily added and would make a big difference when picking up the groceries. Rounding off the useful features list the Cygnus comes with a side and centre stand (which is relatively light to use) it also has well-designed, functional headlights that have a bright and wide beam. The high beam especially is thoroughly effective even when there are no streetlights around.

Riding position is one small area in which the Cygnus could be considered lacking… but only if you are a particularly tall (5'10" plus) rider. The seat is quite wide and very soft… the problems for taller riders arrive with the stepped pillion position, which is much harder than the main seat. This marked separation means there is not much ability to move further back on the seat. Again though this is a very minor problem and only for a tall rider… for any normal sized person the seating is well placed and comfortable.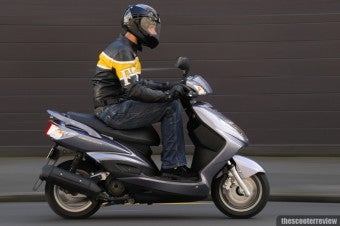 Performance is brisk, and the equivalent of, or better than most other mid range 125cc machines on the market. Due to extremely inclement weather we could not track test the Cygnus but to tell the truth hard riding is probably not really where the Cygnus is in it's element. It feels more of a cruiser than an all out attack weapon. Braking was solid from its disk front and drum rear and repeated heavy stops didn't seem to phase it. Handling was good, the suspension was compliant, possibly a bit too far on the soft side of the equation for my liking. Perhaps a function of this soft suspension was a strange issue that surfaced with the front suspension… it had a pronounced shake through the bars over bumpy road. This was only really noticeble on roads with sharp repeated bumps, especially at speed. It was only annoying in limited situations but it should have been ironed out before the Cygnus hit the showroom floor.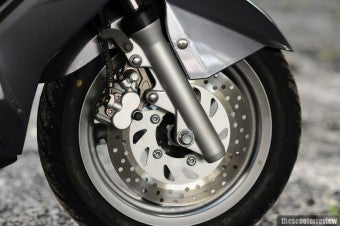 Fuel economy was also very good, especially when taking into account the peppy acceleration. The Cygnus returned 3L/100 (78mpg) around our test circuit. Top speed was around 105kph (65mph) although acceleration from 70kph (46mph) was slow enough to warrant keeping freeway trips infrequent. I must mention though that the Cygnus didn't have any real problem holding 100kph(62mph) speeds once it got there.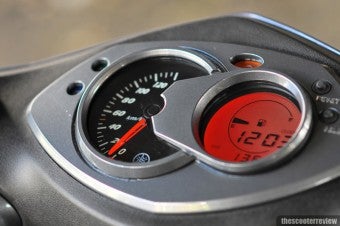 All in all the Cygnus is a solidly built, good looking modern, classically styled machine at a reasonable price (in most territories). The good storage and useability, along with handy acceleration and braking are only slightly let down by the unusual front suspension issues and somewhat cramped (for tall riders) riding position. All in all the Cygnus is well worth a ride, especially for one who wishes to maintain a more "corporate" image and wants something that will not look out of place ridden in a suit*, just don't try and ride it in your local duck pond… you will scare the swans.

*T.S.R. does not advocate the riding of scooters without appropriate protective clothing, unfortunately some people will never learn…
Price
NZ $4,495 Euro €2,495 UK £1,999 Aus $3,999
0-50km/h
6.3
0-100km/h
---
50-80km/h
9.8 Seconds
Lap Time
---
Fuel Economy
3L/100kms - 78MPG
Speedo Accuracy

50kph displayed = 47kph actual

---

Pros:

Fantastic features & Storage, Peppy acceleration, Solid styling

Cons:
Strange front Suspension performance, No good for tall riders


---

Handling
Performance
Fuel Consumption
Value for money
Ease of use
Styling
Build quality

---

Overall Score

79%
Manufacturer Specifications
| | |
| --- | --- |
| Max power at shaft | 8 Kw (10.7 HP) @ 8500 rpm |
| Max torque | 9.3NM (6.9ft/lb) @7500 rpm |
| Engine Type | Fuel injected, Single-cylinder 4-stroke |
| Cylinder Capacity | 124.8 cc |
| Seat height | 785mm |
| Dry weight | 116kg |
| Kerb weight | --- |
| Fuel tank capacity | 7.1 liters |
| Starting | Electric & Kick |
| Transmission | "Twist and Go" Automatic Transmission (CVT) |
| Storage volume | n/a |
| Cooling | Air cooled |
| Bore X stroke | 52.4 x 57.9 mm |
| Compression ratio | 10:1 |
| Chassis | --- |
| Front suspension | Telescopic fork |
| Rear suspension | Unit rear swing arm |
| Front brake | 245mm Hydraulic Disc |
| Rear brake | 150mm Sealed Drum |
| Front wheel/tyre | 110/70-12" |
| Rear wheel/tyre | 120/70-12" |
| Length | 1855 mm |
| Width | 685 mm |
| Wheelbase | 1295 mm |
| Max speed (km/hr) | --- |
| Type approval | --- |
| Consumption (ECE applicable text cycle) | --- |
| Consumption @km/h - km/l | --- |
| Audible Indicator | yes |
| Full helmet storage | yes (small size only) |
| Glove box | yes (half sized, open) |
| Fuel Guage | yes |
| Trip Meter | yes |
| Seat release (via remote control) | no |
| Seat release (remote, ignition/switch) | yes |
| Alarm | no |
Comments
(4)


Subscribe to this comment's feed
Last Updated ( Friday, 20 February 2009 11:27 )