Page 2 of 3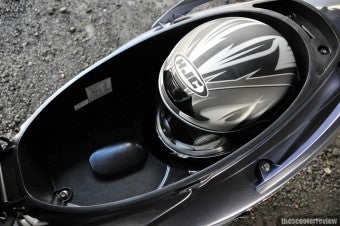 Along with the under seat compartment the Cygnus also has an open, half sized glove box in the front, which is actually a very handy size. The only thing I can really complain about is the lack of a front bag hook… it could be easily added and would make a big difference when picking up the groceries. Rounding off the useful features list the Cygnus comes with a side and centre stand (which is relatively light to use) it also has well-designed, functional headlights that have a bright and wide beam. The high beam especially is thoroughly effective even when there are no streetlights around.

Riding position is one small area in which the Cygnus could be considered lacking… but only if you are a particularly tall (5'10" plus) rider. The seat is quite wide and very soft… the problems for taller riders arrive with the stepped pillion position, which is much harder than the main seat. This marked separation means there is not much ability to move further back on the seat. Again though this is a very minor problem and only for a tall rider… for any normal sized person the seating is well placed and comfortable.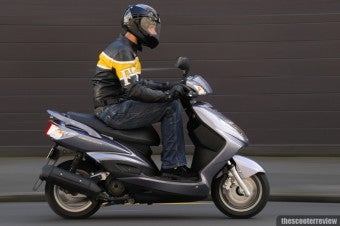 Performance is brisk, and the equivalent of, or better than most other mid range 125cc machines on the market. Due to extremely inclement weather we could not track test the Cygnus but to tell the truth hard riding is probably not really where the Cygnus is in it's element. It feels more of a cruiser than an all out attack weapon. Braking was solid from its disk front and drum rear and repeated heavy stops didn't seem to phase it. Handling was good, the suspension was compliant, possibly a bit too far on the soft side of the equation for my liking. Perhaps a function of this soft suspension was a strange issue that surfaced with the front suspension… it had a pronounced shake through the bars over bumpy road. This was only really noticeble on roads with sharp repeated bumps, especially at speed. It was only annoying in limited situations but it should have been ironed out before the Cygnus hit the showroom floor.
Last Updated ( Friday, 20 February 2009 11:27 )