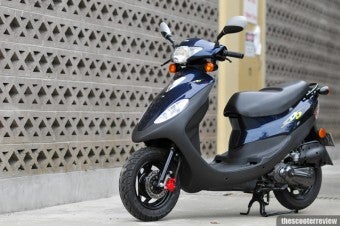 I wasn't sure we would see a direct and strong competitor for the winner of our 2008 50cc Super Battle…Yamaha's Jog. By competitor of course I mean a budget priced scooter that features solid performance, good build quality and fuel consumption in spite of the price tag. However the day may finally have arrived and SYM's DD50 may well be that competitor. There is one big feature that the DD has over the Jog and that is availability, you see if you don't live in Australasia or Asia chances are you won't be able to get a Jog. The DD50 is available virtually worldwide and the price is very reasonable in most territories.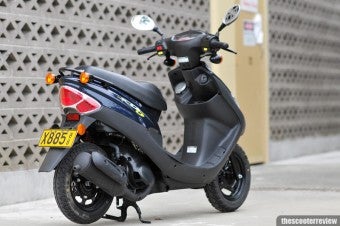 So what is so good about the new budget offering from SYM… for a start, and to me one of the most important features in a 50cc machine… performance. The SYM DD50 shows an ample turn of speed with a 0 – 50kph time of just 11.5 seconds, this is, admittedly a few seconds slower than the Jog but still an admirable figure. Top speed is around 65kph again a very respectable figure and word on the street has it that minor modification will extend both top speed and acceleration even further. Performance doesn't stop at just speed though… stopping and handling have a huge part in how confident and safe you feel using the extra velocity available.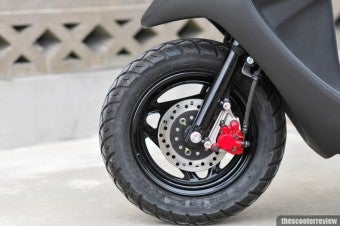 The brakes on the DD are effectively a match for the pace of this SYM and a fair match for the Jog's set-up with a similar disk front and drum rear arrangement. This sounds like a fairly standard 50cc brake layout until you take into account that most bikes at this price point do away with the front disc and give you a twin drum set-up, this is just one more tick on the DD's score sheet.  Next we come to handling… many lower priced 50cc scooters have less than perfect suspension, being either too bouncy or too soft or too bone jarringly hard. The DD bypasses these usual quirks and gives a pliable yet sporty suspension set-up that inspires confidence and begs you to ride the little machine hard.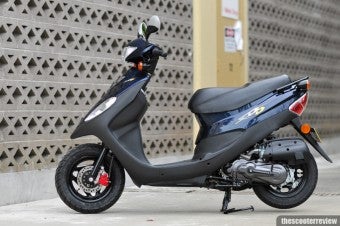 It certainly is a little guy too, with diminutive proportions and weighing in at just 80kgs the DD is simple to move around and to get on and off the center stand. The only downside to the size is that it probably isn't particularly suited to larger riders, mainly due to the low handlebar and seat combination meaning that bars and knees often come into contact with each other… never an ideal scenario.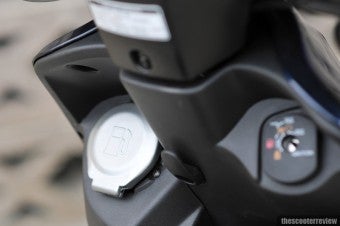 The light weight isn't the only thing that assists in the ease of use stakes, the SYM DD50 features an absolutely marvelous ignition set-up that allows control to open both the seat and the fuel cap from the key, this is a great feature that is even more useful than it sounds. In fact you can even open the seat while the engine is still running...wonders will never cease. The under-seat compartment is of a reasonable size and will take a very small full-face helmet. There is no glove compartment up front due to the fuel filler taking up the space where it would normally go. However moving the filler allows more space for storage under the seat… overall this is a better use of space.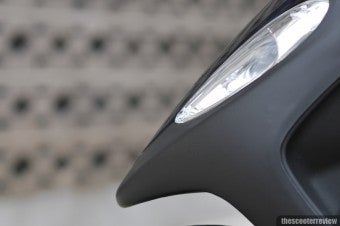 The DD is not particularly imposing but the styling is more modern than many of it's contemporaries that look more like throwbacks to the '80's. The modern design is sleek and more unique than most, enhanced by attractive details such as the lights, chrome accents and two-tone mirrors.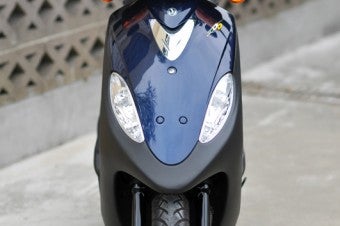 SYM have done a fantastic job with their production cost vs retail with this machine, somehow they have managed to put together a bike that most manufacturers would put to market at a sticker price potentially 10 or 20% higher than the DD50 without downgrading the final package specification. Over all the SYM DD50 is a great machine, with a reasonable entry price. The combination of peppy performance, decent brakes and fantastic handling make this a serious contender for your scooter-purchasing dollar. When you add to this combination solid fuel economy, good storage, low weight and one of the best ignition switches out the DD really starts to stand out. Would it take out the Jog? If you can get them both in your market ride them both… if not I have no doubt that you will be thrilled with this fine machine.
Price
NZ $2,190 USA $1,690, Euro €1,199

0-50km/h
11.5 Seconds
0-100km/h
---
Top Speed
65kph (40MPH)
Lap Time
---
Fuel Economy
3.0L/100kms - 78MPG
Speedo Accuracy

50kph displayed = 48kph actual

---

Pros:

Price, one of the fastest 50cc scooters, lightweight

Cons:
A bit slow off the mark


---

Handling
Performance
Fuel Consumption
Value for money
Ease of use
Styling
Build quality

---

Overall Score

82%
Manufacturer Specifications
| | |
| --- | --- |
| Max power at shaft | --- |
| Max torque | --- |
| Engine Type | Carburator fueled, Single-cylinder 2-stroke |
| Cylinder Capacity | 49.4cc |
| Seat height | 730mm |
| Dry weight | 80kg |
| Kerb weight | --- |
| Fuel tank capacity | 6.1 liters |
| Starting | Electric & Kick |
| Transmission | "Twist and Go" Automatic Transmission (CVT) |
| Storage volume | --- |
| Cooling | Air cooled |
| Bore X stroke | --- |
| Compression ratio | --- |
| Chassis | --- |
| Front suspension | Telescopic fork |
| Rear suspension | Unit Swingarm |
| Front brake | 160mm Disc |
| Rear brake | Drum |
| Front wheel/tyre | 90/90 - 10" |
| Rear wheel/tyre | 90/90 - 10" |
| Length | 1660 mm |
| Width | 630 mm |
| Wheelbase | 1155mm |
| Max speed (km/hr) | --- |
| Type approval | Euro 2 |
| Consumption (ECE applicable text cycle) | --- |
| Consumption @km/h - km/l | --- |
| Audible Indicator | yes |
| Full helmet storage | yes (very small size only) |
| Glove box | no |
| Fuel Guage | yes |
| Trip Meter | no |
| Seat release (via remote control) | no |
| Seat release (remote, ignition/switch) | yes |
| Alarm | no |
Comments
(8)


Subscribe to this comment's feed
Last Updated ( Thursday, 16 October 2008 08:11 )