Page 2 of 3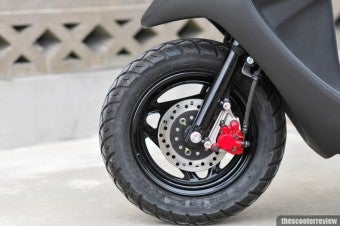 The brakes on the DD are effectively a match for the pace of this SYM and a fair match for the Jog's set-up with a similar disk front and drum rear arrangement. This sounds like a fairly standard 50cc brake layout until you take into account that most bikes at this price point do away with the front disc and give you a twin drum set-up, this is just one more tick on the DD's score sheet.  Next we come to handling… many lower priced 50cc scooters have less than perfect suspension, being either too bouncy or too soft or too bone jarringly hard. The DD bypasses these usual quirks and gives a pliable yet sporty suspension set-up that inspires confidence and begs you to ride the little machine hard.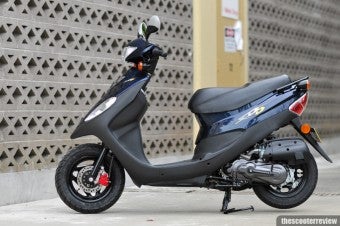 It certainly is a little guy too, with diminutive proportions and weighing in at just 80kgs the DD is simple to move around and to get on and off the center stand. The only downside to the size is that it probably isn't particularly suited to larger riders, mainly due to the low handlebar and seat combination meaning that bars and knees often come into contact with each other… never an ideal scenario.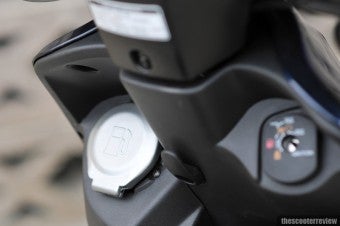 The light weight isn't the only thing that assists in the ease of use stakes, the SYM DD50 features an absolutely marvelous ignition set-up that allows control to open both the seat and the fuel cap from the key, this is a great feature that is even more useful than it sounds. In fact you can even open the seat while the engine is still running...wonders will never cease. The under-seat compartment is of a reasonable size and will take a very small full-face helmet. There is no glove compartment up front due to the fuel filler taking up the space where it would normally go. However moving the filler allows more space for storage under the seat… overall this is a better use of space.
Last Updated ( Thursday, 16 October 2008 08:11 )