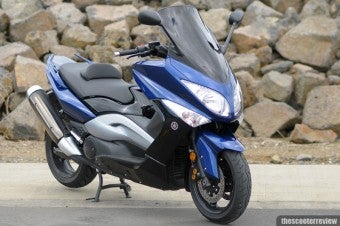 For as long as I can remember (about four minutes on most days) the Yamaha T-Max has been the sports orientated maxi scooter of choice. In fact, it's really been the only choice as it hasn't had a direct competitor other than Gilera's Nexus 500ie. Things have changed with the introduction of the new Gilera GP800 and the T-Max has suddenly found itself in the position of having to play catch-up. There's been a lot of talk on-line and even in our own comments section about the various merits of both bikes. I've not been able to offer a definitive opinion of my own as I simply hadn't ridden the latest T-Max in anger. I have now…so I'll unleash my rather vivacious opinion.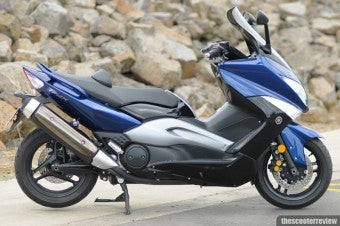 I'd got sick of people telling me the T-Max was better at all manner of things than other maxi scooters and like the normal human reaction, I'd gone a bit negative because of it. Well I was wrong. The T-Max is a superb maxi scooter; in fact I'd say it sets the benchmark in most performance categories. First off the T-Max is lighter than most of its direct competitors. At 203kg (447lbs) it's 13kg (28lbs) lighter that the Gilera Nexus 500ie, 15kg (33lbs) less than the Honda Silver Wing, 32kg (70lbs) lighter than the Gilera Gp800 and a massive 35kg (77lbs lighter than the bulbous Suzuki Burgman 650). It's this light weight that immediately hands the T-Max an advantage in the handling department.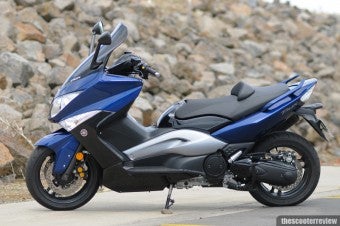 In direct comparison the T-Max feels more nimble, changes direction faster, and generally allows you to ride more aggressively than its competitors. It's not just the lighter weight that gives the T-Max superior handling, it's also the product of a well engineered cast aluminum frame that leaves other scooters looking a little on the wobbly side. Now add the best set of brakes of any maxi scooter available and you have a recipe for success. The motorcycle derived four piston monobloc brakes on the 2008 T-Max are reassuringly firm, offer plenty of power and superb feedback. The Gilera GP800 and Nexus also have superb brakes but the Yamaha just manages to take them with its superior set-up. Suspension wise the Yamaha T-Max seems about perfect for most conditions. Surprisingly the T-Max doesn't offer the kind of adjustability that Gilera offer in the Nexus and GP800 but for most people this won't be an issue. Very lightweight or heavier riders would probably prefer to be able to customize the suspension to their weight. The Gilera GP800 offers the best adjustability but it's hardly a deal breaker. In early 2009 we're running a massive week long maxi scooter comparison test and we'll be able to get a better idea of which bikes suspension set-up is the best.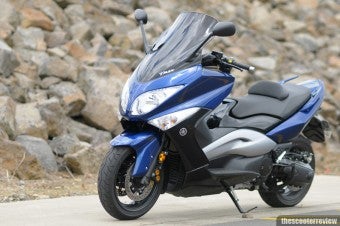 I'll move on to the bad bits. Yes the T-Max is a wonderful scooter, yes it handles the best, and yes it runs the best set of brakes. Sadly the engine is a let down. I imagine many years ago a 32kw (43hp) engine was good. Ahh no…a 500cc engine making only 43hp was crap back in 1990, hell 250cc motorcycles were making 50hp back then. The T-Max was making 40hp in 2001, that means in eight years (the 2009 T-Max is unchanged) Yamaha have only been able to find 4hp. That is what I would call…a joke. Now don't get me wrong, it's not just Yamaha. It's nearly all maxi scooter manufactures and for some reason they seem unable to put proper engines in their scooters. Get with the program already, it's 2008. A solid 75/100hp engine is what a sports orientated scooter needs. Thankfully Gilera have seen the light and given us the 75hp GP800, hopefully Yamaha will answer back with a more powerful T-Max. It really needs it.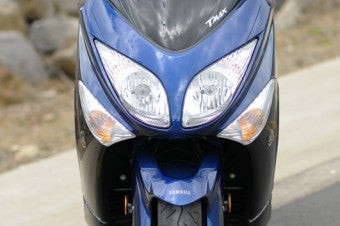 What power the horizontally opposed 499cc v-twin does make is very smooth and quite useable. Sadly the CVT transmission is a little on the restrained side so it's not till you hit 50kph (31MPH) that you really get full power. This means that regardless of its lightweight the T-Max is actually slower than EVERY SINGLE ONE of its competitors. It hits 100kph in 10.5 seconds which is 2.3 seconds slower than the Honda Silver Wing and a massive 5.1 seconds slower than the GP800. The GP800 can actually accelerate to 100kph (62MPH) then come to a complete stop before the T-Max even reaches 100kph. That is beyond a joke, Yamaha market the T-Max as "The Super Sport Scooter", are they taking the piss?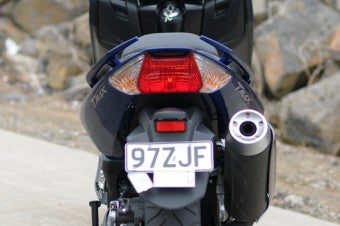 I know power is not everything but, come on. The T-Max is slower than all of its competitors in a straight line. In fact most mid size scooters like the Vespa GTS and Honda SH 300 will dust it to 50kph (31MPH) and give it a good run for its money to 100kph. The Yamaha T-Max needs a new engine. It's that simple.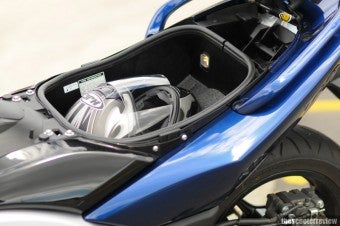 Ease of use wise the T-Max is a mixed bag. Storage is below average for a maxi scooter and it really only holds a single full face helmet and a few little extras. Bikes like the Honda Silver Wing and Piaggio X8 devour far more gear and make much better long distance machines. Despite its lightweight the T-Max is also fairly hard to move around due to its relatively high seat. It takes a real effort to move backwards on any kind of incline. Fuel consumption ran 47MPG on our test which is about average for a maxi scooter.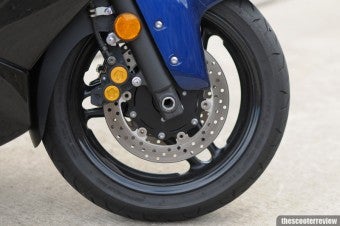 Summing up the T-Max. Now forget all my moaning about power outputs for just a moment. All up the T-Max is a superb maxi scooter. It's the best handling of any maxi scooter on the market, it has the best brakes of any maxi I've ridden and is generally the best bike to ride through a section of twisty corners. The build quality is top notch and very comparable to the likes of the Gilera Nexus 500ie. Styling wise Yamaha have done a superb job and I'd say it's better than all but the Gilera Nexus in that department. Ease of use wise it's about middle of the road and being a Yamaha I'd expect it to be very reliable.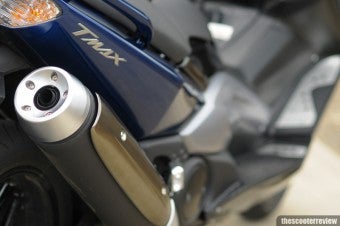 So who's it for then? This is the difficult bit for me. I'm confused who the buyer is. Look at it this way; if you're into long distance riding there's no question bikes like the Burgman and Silver Wing are better suited. If you're buying it as a commuter then it works well but to be honest a middle weight bike like the SYM Citycom 300i will work much better in town and cost less than half as much as the T-Max. If you're buying the T-Max because of its supposed sports angle over bikes like the Gilera Nexus, well rightly so. It's the best handling maxi scooter on the market. However, part of what makes a sports bike/scooter fun to ride is powerful acceleration, or at the very least, average acceleration. Sadly the T-Max falls short in this department. The GP800 is so much more fun to ride because of its more characterful and vastly more powerful engine that it easily negates the T-Max's slightly superior handling. For me the T-Max is the best maxi on the market, with a very boring engine. Have a read on what I wrote on the Gilera Nexus as it has much the same issue; great scooter, weak and boring engine.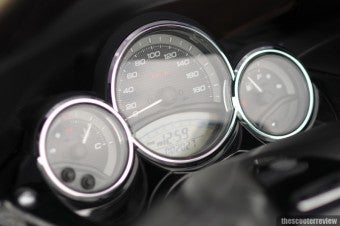 It really comes down to this. Right now it goes…if you ride long distance; buy the Suzuki Burgman or the Honda Silver Wing.; both have more power, cover long distances in more comfort and carry more luggage. If you want some excitement on your journey, buy the GP800 as even though it's more expensive, heavier and not quite as nice handling as the T-Max, its engine is SO MUCH better that it isn't even a comparison. Message for Yamaha, please please bolt a powerful and exciting engine into the T-Max. With that done it would actually be a super sports scooter.
 
Price
UK £5,999 USA $7,999
0-50km/h
4.4 Seconds
0-100km/h
10.5 Seconds
50-80km/h
3.8 Seconds
Lap Time
---
Fuel Economy
3.8L/100kms - 60MPG
Speedo Accuracy

50kph displayed = 47kph actual - 100kph displayed = 95 actual

---

Pros:
Superb handling, best brakes in class, solid build quality, modern styling

Cons:
Weak and boring engine


---

Handling
Performance
Fuel Consumption
Value for money
Ease of use
Styling
Build quality

---

Overall Score

84%
Manufacturer Specifications
| | |
| --- | --- |
| Max power at shaft | 32 Kw (43 HP) |
| Max torque | --- |
| Engine Type | Parallel Twin-cylinder Liquid cooled 4-stroke |
| Cylinder Capacity | 499 cc |
| Seat height | 800mm |
| Dry weight | 203kg |
| Kerb weight | --- |
| Fuel tank capacity | 15 litres |
| Starting | Electric |
| Transmission | "Twist and Go" Automatic Transmission (CVT) |
| Storage volume | n/a |
| Cooling | Water cooled |
| Bore X stroke | 66.0 x 73.0 mm |
| Compression ratio | 11:1 |
| Chassis | CF (Controlled Fill) die cast aluminium frame |
| Front suspension | Ø 43 mm Telescopic fork |
| Rear suspension | Swingarm |
| Front brake | Radial twin 267mm discs with four piston monobloc calipers |
| Rear brake | Radial 267mm disc |
| Front wheel/tyre | 120/70R-15 |
| Rear wheel/tyre | 160/60R-15 |
| Length | 2195 mm |
| Width | 775 mm |
| Wheelbase | 1580 mm |
| Max speed (km/hr) | --- |
| Type approval | Euro3 |
| Consumption (ECE applicable text cycle) | --- |
| Consumption @km/h - km/l | --- |
| Audible Indicator | no |
| Full helmet storage | yes |
| Glove box | no |
| Fuel Guage | yes |
| Trip Meter | yes |
| Seat release (via remote control) | no |
| Seat release (remote, ignition/switch) | yes |
| Alarm | no |
Comments
(12)


Subscribe to this comment's feed
Last Updated ( Friday, 20 February 2009 11:21 )