Page 2 of 4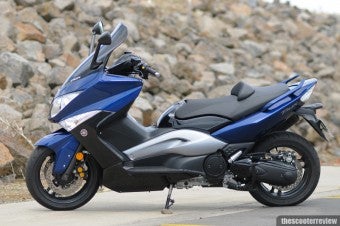 In direct comparison the T-Max feels more nimble, changes direction faster, and generally allows you to ride more aggressively than its competitors. It's not just the lighter weight that gives the T-Max superior handling, it's also the product of a well engineered cast aluminum frame that leaves other scooters looking a little on the wobbly side. Now add the best set of brakes of any maxi scooter available and you have a recipe for success. The motorcycle derived four piston monobloc brakes on the 2008 T-Max are reassuringly firm, offer plenty of power and superb feedback. The Gilera GP800 and Nexus also have superb brakes but the Yamaha just manages to take them with its superior set-up. Suspension wise the Yamaha T-Max seems about perfect for most conditions. Surprisingly the T-Max doesn't offer the kind of adjustability that Gilera offer in the Nexus and GP800 but for most people this won't be an issue. Very lightweight or heavier riders would probably prefer to be able to customize the suspension to their weight. The Gilera GP800 offers the best adjustability but it's hardly a deal breaker. In early 2009 we're running a massive week long maxi scooter comparison test and we'll be able to get a better idea of which bikes suspension set-up is the best.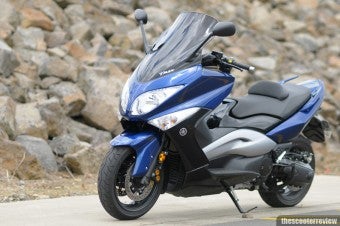 I'll move on to the bad bits. Yes the T-Max is a wonderful scooter, yes it handles the best, and yes it runs the best set of brakes. Sadly the engine is a let down. I imagine many years ago a 32kw (43hp) engine was good. Ahh no…a 500cc engine making only 43hp was crap back in 1990, hell 250cc motorcycles were making 50hp back then. The T-Max was making 40hp in 2001, that means in eight years (the 2009 T-Max is unchanged) Yamaha have only been able to find 4hp. That is what I would call…a joke. Now don't get me wrong, it's not just Yamaha. It's nearly all maxi scooter manufactures and for some reason they seem unable to put proper engines in their scooters. Get with the program already, it's 2008. A solid 75/100hp engine is what a sports orientated scooter needs. Thankfully Gilera have seen the light and given us the 75hp GP800, hopefully Yamaha will answer back with a more powerful T-Max. It really needs it.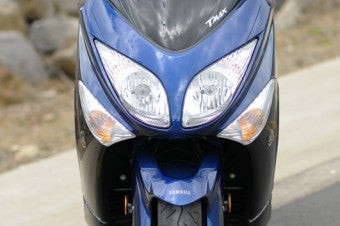 What power the horizontally opposed 499cc v-twin does make is very smooth and quite useable. Sadly the CVT transmission is a little on the restrained side so it's not till you hit 50kph (31MPH) that you really get full power. This means that regardless of its lightweight the T-Max is actually slower than EVERY SINGLE ONE of its competitors. It hits 100kph in 10.5 seconds which is 2.3 seconds slower than the Honda Silver Wing and a massive 5.1 seconds slower than the GP800. The GP800 can actually accelerate to 100kph (62MPH) then come to a complete stop before the T-Max even reaches 100kph. That is beyond a joke, Yamaha market the T-Max as "The Super Sport Scooter", are they taking the piss?
Last Updated ( Friday, 20 February 2009 11:21 )