Page 3 of 4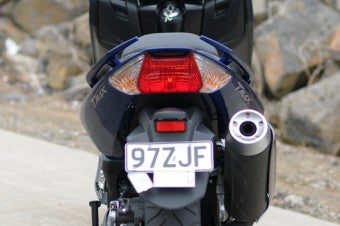 I know power is not everything but, come on. The T-Max is slower than all of its competitors in a straight line. In fact most mid size scooters like the Vespa GTS and Honda SH 300 will dust it to 50kph (31MPH) and give it a good run for its money to 100kph. The Yamaha T-Max needs a new engine. It's that simple.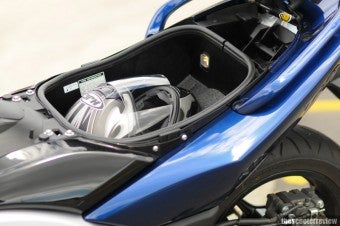 Ease of use wise the T-Max is a mixed bag. Storage is below average for a maxi scooter and it really only holds a single full face helmet and a few little extras. Bikes like the Honda Silver Wing and Piaggio X8 devour far more gear and make much better long distance machines. Despite its lightweight the T-Max is also fairly hard to move around due to its relatively high seat. It takes a real effort to move backwards on any kind of incline. Fuel consumption ran 47MPG on our test which is about average for a maxi scooter.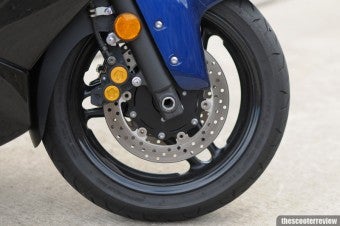 Summing up the T-Max. Now forget all my moaning about power outputs for just a moment. All up the T-Max is a superb maxi scooter. It's the best handling of any maxi scooter on the market, it has the best brakes of any maxi I've ridden and is generally the best bike to ride through a section of twisty corners. The build quality is top notch and very comparable to the likes of the Gilera Nexus 500ie. Styling wise Yamaha have done a superb job and I'd say it's better than all but the Gilera Nexus in that department. Ease of use wise it's about middle of the road and being a Yamaha I'd expect it to be very reliable.
Last Updated ( Friday, 20 February 2009 11:21 )