Page 1 of 3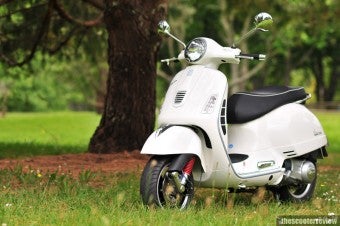 Being cool is somewhat complicated. See if you were Fonzi you were cool, however...times change. If you were to continue wearing a leather jacket and saying  "Aaaaayyyyyy" while sticking your thumb up to every random person you met in 2009 you probably wouldn't be considered cool. You'd probably be considered what is commonly known as a "Twat". The message here is simple, in order to continue being at the peak at of coolness one needs to continually be aware of the changing state of cool. Hell, even the word cool goes in and out of being cool. Weird.
There is something that transcends this problem. It's called a Vespa. Think about it. Now I know scooters aren't considered the coolest things in the world, fair enough. But…the Italian Vespa has been cool for an awfully long time. Seriously, they don't look all that different nowadays and pretty much do the same job and provided you wear the appropriate clothing and don't talk like a nerd, you too can actually look quite cool riding a Vespa.

This brings me to the GTS 300 Super, currently it's the coolest Vespa. Now I realize it's a bit chunky looking, I know the Vespa S 125 is a nicer looking bike but…the 300 is; a 300. (Actually it's only a 278cc, but that ruins my gag) When you're cruising comfortably along the freeway at 70mph you'll understand why a 300 is cooler than a 125.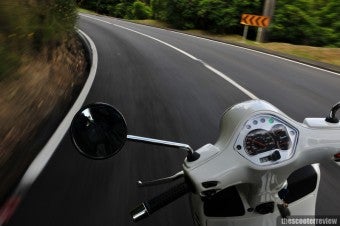 This review could have been as simple as a one liner. It's a GTS 250 with some new plastic bits and a slightly bigger engine, end of review. Essentially that's what we have here. Vespa have taken the very successful GTS 250 and added a slightly more powerful motor…and I mean slightly. The 250 made 21hp and the 300 makes 22hp. That seems a bit like a joke. Why bother going to all the hassle of fitting a new engine if it only makes one extra horsepower. Well that is not the full story. The real benefit here is torque, the new 300 makes 22.3Nm at 5000 rpm. This is a fair amount more than the 250 and it's lower down the rev range. This means the 300 is faster off the mark and holds speed much easier up hills. Interestingly we've not tested a standard GTS 250, our test bike had modifications that made it considerably faster than standard. Well the 300 Super still beats it to 100kph (62MPH) by about half a second. A standard GTS 250 would be even further behind.
Last Updated ( Thursday, 19 February 2009 10:38 )