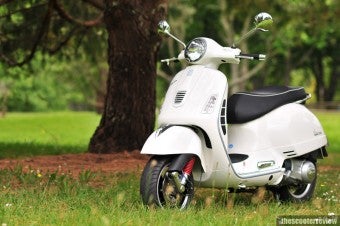 Being cool is somewhat complicated. See if you were Fonzi you were cool, however...times change. If you were to continue wearing a leather jacket and saying  "Aaaaayyyyyy" while sticking your thumb up to every random person you met in 2009 you probably wouldn't be considered cool. You'd probably be considered what is commonly known as a "Twat". The message here is simple, in order to continue being at the peak at of coolness one needs to continually be aware of the changing state of cool. Hell, even the word cool goes in and out of being cool. Weird.
There is something that transcends this problem. It's called a Vespa. Think about it. Now I know scooters aren't considered the coolest things in the world, fair enough. But…the Italian Vespa has been cool for an awfully long time. Seriously, they don't look all that different nowadays and pretty much do the same job and provided you wear the appropriate clothing and don't talk like a nerd, you too can actually look quite cool riding a Vespa.

This brings me to the GTS 300 Super, currently it's the coolest Vespa. Now I realize it's a bit chunky looking, I know the Vespa S 125 is a nicer looking bike but…the 300 is; a 300. (Actually it's only a 278cc, but that ruins my gag) When you're cruising comfortably along the freeway at 70mph you'll understand why a 300 is cooler than a 125.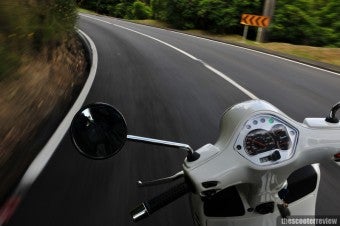 This review could have been as simple as a one liner. It's a GTS 250 with some new plastic bits and a slightly bigger engine, end of review. Essentially that's what we have here. Vespa have taken the very successful GTS 250 and added a slightly more powerful motor…and I mean slightly. The 250 made 21hp and the 300 makes 22hp. That seems a bit like a joke. Why bother going to all the hassle of fitting a new engine if it only makes one extra horsepower. Well that is not the full story. The real benefit here is torque, the new 300 makes 22.3Nm at 5000 rpm. This is a fair amount more than the 250 and it's lower down the rev range. This means the 300 is faster off the mark and holds speed much easier up hills. Interestingly we've not tested a standard GTS 250, our test bike had modifications that made it considerably faster than standard. Well the 300 Super still beats it to 100kph (62MPH) by about half a second. A standard GTS 250 would be even further behind.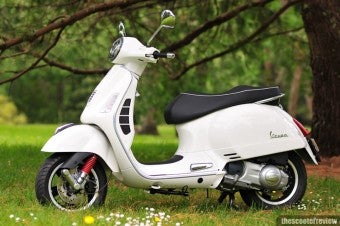 This extra torque means the 300 is a joy to ride out on the road (that saying 'out on the road' really is unnecessary, I mean where else is it gonna be. Out on the ocean, I mean come on, it's a scooter. It's not a boat, it's not a plane. What are going to do ride it on a water bed and say "out on the water bed it really handles well". Anyway.) I'd have to say I had much more fun on the Vespa 300 than I have on most scooters. The extra power means you can actually go for a ride to the beach…now I don't mean the beach down the road. I'm talking an hours ride away. Not something I'd normally do on a scooter. Normally I'd bet bored. Not so on the 300. This thing could nearly replace a motorcycle. This brings me to the big question…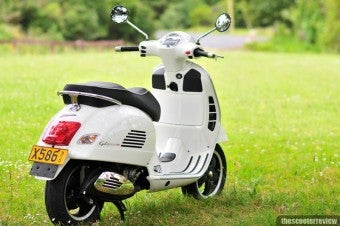 Why nearly? I don't get this. The Vespa GTS 300 Super is a response to the massive success of Honda's SH300. Now read carefully. The Honda makes 27Hp, the Vespa makes 22hp. It may not sound like much but, it is. Out on the water bed it means the Honda hit's 100kph (62MPH) in 10.9 seconds vs 13.9 on the Vespa. That IS a lot faster. So my point; why didn't Vespa make the engine an actual 300cc and give it the same or more power than the Honda? Is it possible the Vespa engineers live in a sandpit and breathe through straws? I say engineers because I'm CERTAIN the marketing department is VERY aware of the SH300s sales success. See as far as I'm aware in order to compete with a competitor you normally need to match there offering and then add something of your own. This is how the car industry has worked for many years. Obviously the scooter market is different. You simply deliver less and wammo, everybody buys it.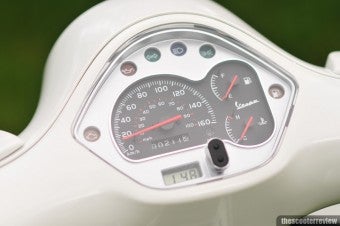 Living with the GTS 300 is going to be virtually the same as the GTS 250. It does about the same gas mileage of 64mpg. It handles very similarly and still doesn't take a full face helmet. This still amazes me as anybody who rides on the freeway with an open face helmet has clearly never seen what happens when you have an accident wearing one. Vespa have done a great job of the new centre stand as it is miles easier to use than the stand on the 250.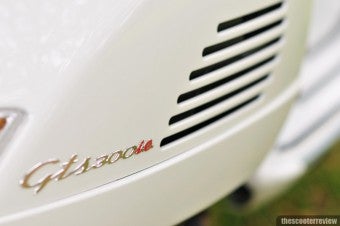 Summing up the Vespa GTS 300 Super. The Vespa 300 is a fantastic bike; it really shows you why people love Vespas. It just does everything incredibly well and you look cool while it's happening. Now if you already own a GTS 250 it probably isn't worth an upgrade. I know this won't stop people doing so as some people simply have to have the latest regardless of whether it's better or not (perhaps if you already have the 250 just buy a new exhaust and give the old girl a tune up? Ed). If you're looking for the best full size scooter on the market then the 300 is certainly in the ball game. The problem is this. The Honda is still a better bike on paper. The Honda runs more power, handles far better and has far better, ABS, brakes. All this for about the same money. If Vespa wants the sales crown back it needs to get into the new millennium and quickly. Quote me on this. A GTS 300/400 with 35hp and ABS brakes would be a massive hit. If they delivered it at SH money it would be the best selling full size scooter on Earth. It's just a question of whether Vespa build it now or after Honda delivers the SH 400. The clock is ticking.
Price
UK £3,671 AUS $8,990 USA $6,199 NZ $9,990
0-50km/h
4.0 Seconds
0-100km/h
13.9 Seconds
50-80km/h
4.3 Seconds
Lap Time
---
Fuel Economy
3.8L/100kms - 47MPG
Speedo Accuracy

50kph displayed = 41kph actual - 100kph displayed = 89 actual

---

Pros:
Cool, solid torque, good performance, comfortable, cool.

Cons:
Price, HP, lack of real upgrade from 250


---

Handling
Performance
Fuel Consumption
Value for money
Ease of use
Styling
Build quality

---

Overall Score

84%
Manufacturer Specifications
| | |
| --- | --- |
| Max power at shaft | 15.8kw (22bhp) at 7500rpm |
| Max torque | 22.3Nm of torque at 5000rpm |
| Engine Type | Single cylinder Liquid cooled 4-stroke |
| Cylinder Capacity | 278Â cc |
| Seat height | 790 mm |
| Dry weight | 148.0 kg |
| Kerb weight | --- |
| Fuel tank capacity | 9.2Â litres |
| Starting | Electric |
| Transmission | "Twist and Go" Automatic Transmission (CVT) |
| Storage volume | n/a |
| Cooling | Water cooled |
| Bore X stroke | |
| Compression ratio | |
| Chassis | Load-bearing steel chassis with welded structural supports |
| Front suspension | Single arm with dual-acting hydraulic shock absorber and co-axial spring |
| Rear suspension | Twin dual action shock absorbers with adjustable preload |
| Front brake | Single disc 220 mm, Dual Piston Caliper |
| Rear brake | Single disc 220 mm, Dual Piston Caliper |
| Front wheel/tyre | 120/70-12 |
| Rear wheel/tyre | 130/70-12 |
| Length | 1940Â mm |
| Width | 755Â mm |
| Wheelbase | 1,395 mm |
| Max speed (km/hr) | --- |
| Type approval | Euro3 |
| Consumption (ECE applicable text cycle) | --- |
| Consumption @km/h - km/l | --- |
| Audible Indicator | no |
| Full helmet storage | no |
| Glove box | no |
| Fuel Guage | yes |
| Trip Meter | no |
| Seat release (via remote control) | no |
| Seat release (remote, ignition/switch) | yes |
| Alarm | no |
Comments
(6)


Subscribe to this comment's feed
Last Updated ( Thursday, 19 February 2009 10:38 )