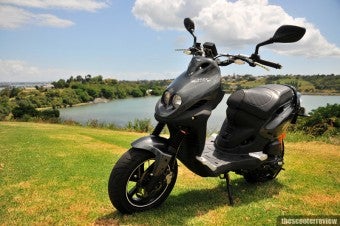 First off let's get something sorted. Do not ride this scooter naked! See I tend to take things literally, so I ripped my clothes off and went for a spin. I was cruising down the local high street and I was getting some serious stares. I was thinking, hot damn this is one cool looking scooter, everybody is looking at it. I did hear one guy say something like "look at that little fifty, it's tiny"…that's when I realized what was going on.
These people weren't staring at the bike; they were staring at my nakedness. Suddenly the "tiny" comment made more sense. I rode home as fast as the PMX would allow. Ahhh come on give me a break…it was cold out.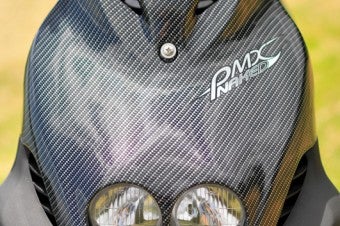 So why's it called a naked? Well when motorcycle manufacturers started taking the fairings off motorcycles to make them well fairningless, the term naked was coined. So a motorcycle without fairings is called a naked. What's the reason for taking these fairings off then? Well it serves no known purpose other than making the bike look different. First off there's less weather protection and obviously on a motorcycle you take a hammering from the wind. Why do people buy these nakeds? People are like sheep, we simply do as others do. So what's the word on the PMX Naked? The word is PARTY.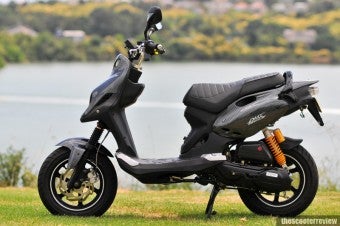 Like the old 1988 Yamaha Jog and the Suzuki Street Magic the PMX has found its way into the rarefied company of PARTY bikes. This basically means that you won't just get on and ride this scooter, you will have a PARTY. Everywhere you go you will travel at maximum velocity while doing all manner of life threatening activities. At one point I was airborne, upside down and singing a 1950s rock & roll tune called Lordy Miss Claudy. That's what will happen. Be prepared for it. If your idea of riding to work is comfortably sitting in traffic while humming some Hootie tunes, this is not your scooter. If however setting yourself on fire and breaking the sound barrier while air guitar'n some System of The Down in the general direction of all the poor sheep like caged masses… then the PMX is gonna be all you.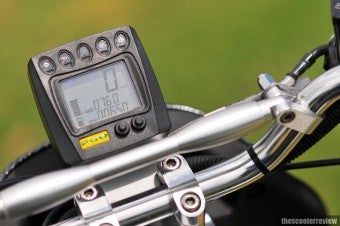 Basically the PMX Naked is a hotted up PGO PMX. It works like this, take a mid size 12 inch wheeled scooter and add some trick parts. PGO binned the usual boring paint and covered the bike with fake carbon fiber. Next they replaced the front brake with a larger wavy disc and braided lines then added billet style brake levers. Still not happy they added a higher spec rear shock, high performance muffler, high tech digital dash and the most important bit; high and wide Moto X bars. The result is a crazy looking half scooter half moto x looking road rocket. So does all this tuning actually make it more fun than a normal scooter. Well…hell yes.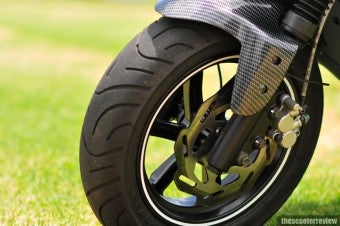 The PMX hit 50kph (31MPH) in 7.9 seconds which makes it the fastest 50cc scooter we've tested to date. Combine the extra peppy performance with proper suspension, the high and wide bars and you get a 50cc scooter that is significantly more fun to ride than most competing bikes. Put simply the PMX out handles pretty much every other scooter on the road. If street carving is your game there isn't another option. If you're interested the Naked did all the normal scooter stuff well too. Good MPG, good storage, light weight and easy to move around…oh and it seems very well made so should last a fair while.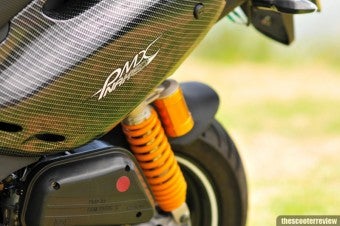 The bad bits. I'm sitting here trying hard to come up with anything wrong with the PMX. Ahh you'll a get a bit more wet ('more wet' is funnier than wetter) in the rain, the seat could be a little lower, no front lockable glove box. Who cares, the PGO PMX Naked is not designed for convenience, it's designed to slay the living and destroy the earth…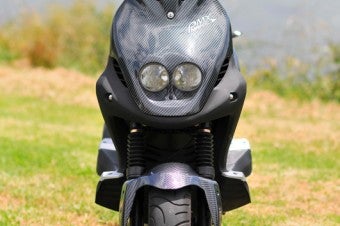 Summing up the PMX. You'll pay about $500-$750 more for the PMX over a regular 50cc scooter but if you want the fastest most fun 50cc bike on the market you simply won't care that it costs more. If your middle name is 'BIG AIR' then take it for a test ride asap, if you're middle name is 'Soggy bus ticket' then stick with your remote controlled car NiCad powered eco bike..
Price
UK £1599 NZ $2,990 Aus $3,495

0-50km/h
7.9 Seconds (fastest 50cc as of 24/2/09)
0-100km/h
---
50-80km/h
---
Lap Time
---
Fuel Economy
3.6L/100kms - 65MPG
Speedo Accuracy

50kph displayed = 46kph actual

---

Pros:
Fast, Fun, Looks great
Cons:
Um... Less weather protection? Storage?

---

Handling
Performance
Fuel Consumption
Value for money
Ease of use
Styling
Build quality

---

Overall Score

84%
Manufacturer Specifications
| | |
| --- | --- |
| Max power at shaft | 3.4kw at 7000rpm |
| Max torque | 5Nm of torque at 6500rpm |
| Engine Type | Single cylinder Fan cooled 2-stroke |
| Cylinder Capacity | 49.2cc |
| Seat height | 830 mm |
| Dry weight | 82 kg |
| Kerb weight | --- |
| Fuel tank capacity | 5.1 litres |
| Starting | Electric and Kick |
| Transmission | "Twist and Go" Automatic Transmission (CVT) |
| Storage volume | --- |
| Cooling | Fan (Air) Cooled |
| Bore X stroke | 40 x 39.2mm |
| Compression ratio | Â  |
| Chassis | --- |
| Front suspension | --- |
| Rear suspension | --- |
| Front brake | Single wavy disc 218 mm, Dual Piston Caliper |
| Rear brake | 110mm Drum |
| Front wheel/tyre | 120/70-12 |
| Rear wheel/tyre | 130/70-12 |
| Length | 1667 mm |
| Width | 780 mm (excl mirrors) |
| Wheelbase | 1,173 mm |
| Max speed (km/hr) | --- |
| Type approval | Euro3 |
| Consumption (ECE applicable text cycle) | --- |
| Consumption @km/h - km/l | --- |
| Audible Indicator | --- |
| Full helmet storage | --- |
| Glove box | yes (half size) |
| Fuel Guage | yes |
| Trip Meter | yes |
| Seat release (via remote control) | no |
| Seat release (remote, ignition/switch) | no |
| Alarm | no |
Comments
(4)


Subscribe to this comment's feed
Last Updated ( Wednesday, 01 April 2009 10:02 )