Page 2 of 3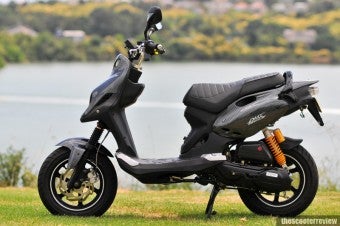 Like the old 1988 Yamaha Jog and the Suzuki Street Magic the PMX has found its way into the rarefied company of PARTY bikes. This basically means that you won't just get on and ride this scooter, you will have a PARTY. Everywhere you go you will travel at maximum velocity while doing all manner of life threatening activities. At one point I was airborne, upside down and singing a 1950s rock & roll tune called Lordy Miss Claudy. That's what will happen. Be prepared for it. If your idea of riding to work is comfortably sitting in traffic while humming some Hootie tunes, this is not your scooter. If however setting yourself on fire and breaking the sound barrier while air guitar'n some System of The Down in the general direction of all the poor sheep like caged masses… then the PMX is gonna be all you.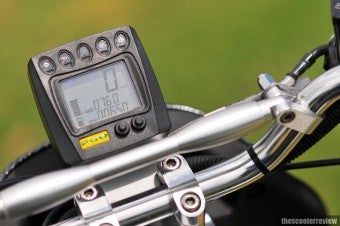 Basically the PMX Naked is a hotted up PGO PMX. It works like this, take a mid size 12 inch wheeled scooter and add some trick parts. PGO binned the usual boring paint and covered the bike with fake carbon fiber. Next they replaced the front brake with a larger wavy disc and braided lines then added billet style brake levers. Still not happy they added a higher spec rear shock, high performance muffler, high tech digital dash and the most important bit; high and wide Moto X bars. The result is a crazy looking half scooter half moto x looking road rocket. So does all this tuning actually make it more fun than a normal scooter. Well…hell yes.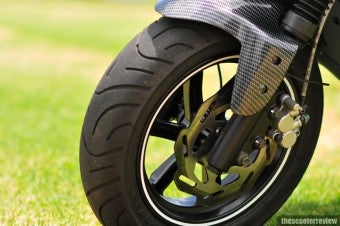 The PMX hit 50kph (31MPH) in 7.9 seconds which makes it the fastest 50cc scooter we've tested to date. Combine the extra peppy performance with proper suspension, the high and wide bars and you get a 50cc scooter that is significantly more fun to ride than most competing bikes. Put simply the PMX out handles pretty much every other scooter on the road. If street carving is your game there isn't another option. If you're interested the Naked did all the normal scooter stuff well too. Good MPG, good storage, light weight and easy to move around…oh and it seems very well made so should last a fair while.
Last Updated ( Wednesday, 01 April 2009 10:02 )